10 Best Audio to Text Converters - In the past, every idea required manual typing to document it in written form. Constant typing or writing isarduous, and take a break every once in a while. Such hindrances influence efficiency. An ideal scenario involves automatic the Speech-to-Text conversion.
Transcribing is an effective substitute to writing and typing. Transcribing is the art of converting thoughts and speech into written form. In the modern world, there are software for speech-to-text conversion. There are 10 Amazing Audio to Text Converters You Should Try.
Audio to Text Converters detect a voice and records it as text. There are audio-to-text converters for multiple languages. These software programs help you document an audio file as text. You only need to feed the software the audio file. The software presents the audible language in written form.
Audio to text converters are beneficial to you at office and home. You can record your thoughts in physical form using such programs. The system types out the words you speak into your microphone on automatic. In a professional environment, you work with several audio files. Certain jobs require you to convert audio to text for better analysis of an idea. There are a lot of ways audio to text conversion software come in handy.
The opposite to it is the Text-to-Speech converter. Such software packages take the text and turn it to audible speech. They have their own field of use.
10 Best Audio to Text Converters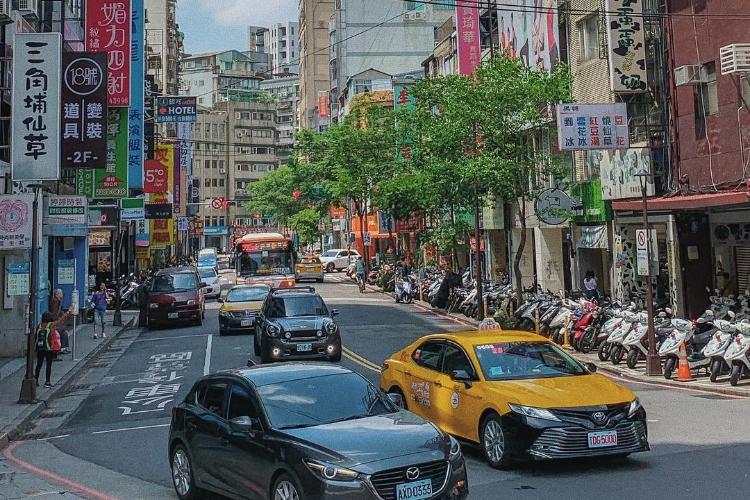 There are a lot of audio-to-text applications available online and on the Store. Each has different features and selective languages they work for. You need to have a purpose to use an audio to text converter. This aim helps decide which converter works best to complete your task. Afterwards, you can choose the audio to text converter and work.

Native Mobile Speech to Text Converter Apps
There are mobile applications that convert text to audio. They take an audio file on your Smartphone and create a text file as a copy. You can also input ideas to the application through the microphone. The application types out your words as text to document your thoughts.
One application for the purpose is Speechnotes. The multipurpose application is amazing for writers and thinkers alike. It saves you the effort of understanding and manual typing of audio files. You can feed it an audio file and it gives you the written text. The accuracy of the text depends on the audible quality of the audio.
Follow the link to install Speechnotes on your Android from Google Play.
Online Audio to Text 360 Converter - Site Link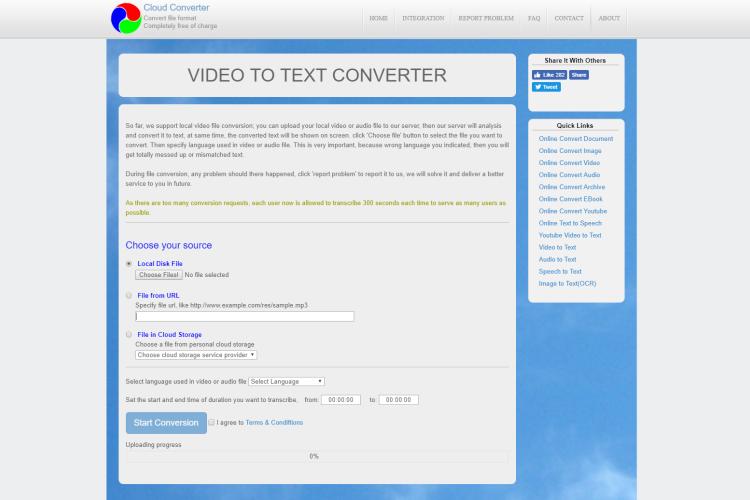 Other than applications, there are Online Audio to Text Converters. These web applications require no installation. They take an upload of an audio file and convert it to text. A lot of such websites are multilingual. They accept audio files in over one language. The final text file is available for saving, copying, etc.
A free online audio to text converter is 360converter. It is more than an audio converter to text files. It also has Video-to-Text, Speech-to-Text, and OCR options. On the web application, you can:
· Browse through your system to upload an audio file for conversion.
· Fill in the audio file as a URL from the internet.
· Insert an audio file from your Google Drive or Dropbox.
The tool is multilingual and takes files in the languages:
· English.
· Chinese.
· French.
· Hindi.
It also provides the time to convert the audio file to text. The PDF containing the text to the audio is available for download to your system. You can use the document for your purposes.
The accuracy of the text varies with the quality of the audio file. Most audio files have noise signals, which interfere so.
Use the 360converter link to convert your audio files to text.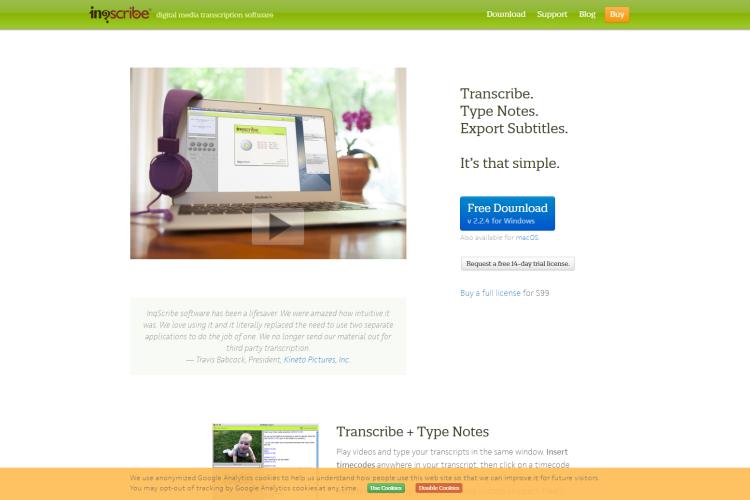 InqScribe is an incredible audio to text converter. It is one of the best, if not THE Best converter available online. Its conversion accuracy is near perfect. The accuracy levels are a degree higher in comparison to other converters. The tool is considerable for work in a professional field.
You can download the software on your system through the link in the title. It is a definite step up from installing conversion applications from the Store. The tool is bigger than a simple audio to text converter. But its audio to text conversion quality gives it an edge over other tools.
InqScribe has another major use than Audio and Speech-to-Text conversions. The software processes full-length movies to create subtitles. The subtitles are available for export. You can upload these subtitles to the internet and add them to your movie. It is an easy and amazing way to generate subtitles to videos.
Free Audio to Text Bear File Converter - Site Link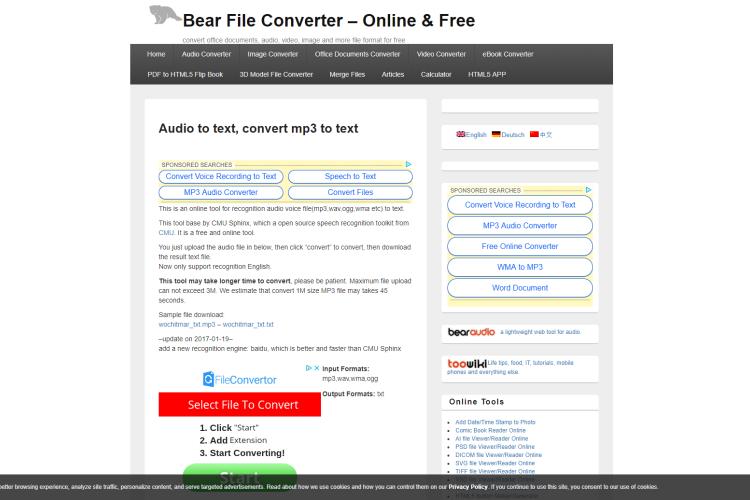 Bear File Converter is another online Audio to Text Converter. The tool is free, and open to everyone for use.
It uses the Open Source Speech Recognition Toolkit of CMUSphinx. A recent update introduces a second conversion engine: Baidu. The software accepts four audio file extensions: mp3, wav, wma, and ogg. The output file has a txt (notepad) extension.
There are certain limitations to Bear File Converter. These are:
· Audio Length: the upper limit of the audio file length is 3 minutes.
· Language: the software takes audio files in one language only, i.e. English.
· Conversion Time: Bear File Converter is not the fastest around. It has lengthy conversion times.
Convert your short English audio files to text using the link in the title.
Sobolsoft is the best conversion tool for mp3 audio files. It has an excellent noise dissipation software for mp3 conversions. This makes for an accurate output text file to the input audio.
Instead of an audio to text converter, consider it a mp3 to text converter. It takes only mp3 audio files and no other formats. There are no limitations on the audio file size or length. The output file is a professional level text imitation of the input mp3 file.
Download the Trial Version of Sobolsoft through the link in the title. It requires installation on your system before use. The download source also provides various tutorials. These are on software installation, description and use.
Give your mp3 audio files a form using Sobolsoft.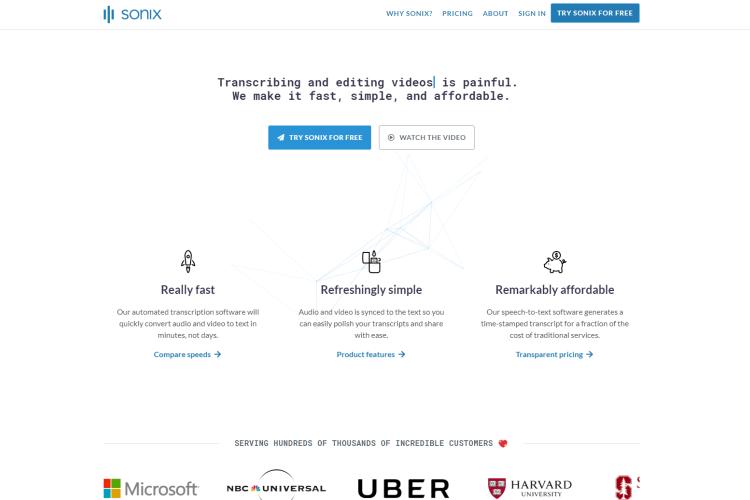 Sonix is a User-Friendly audio to text converter. It has an interactive interface that makes you want to use it. Their software is amazing for both business and personal use. It deserves a place among the best of its kind.
The program has three Pricing packages for use:
· Professional (Single-User):$11.25 per month subscription.
· Business (Multi-User):$16.50 per month subscription.
· Enterprise (Large Teams): $49.50 per month subscription.
The price is hefty, but it is worth every penny. Among the non-free software, Sonix is "Remarkably Affordable" for the service it provides.
The audio to text conversion process is "High Speed" and "Simple." The quality of the output text file is second to none. The conversion system incorporates Artificial Intelligence for fast and accurate results.
You can download the free Trial through the link in the title. They provide the step-by-step registration process, and tutorials on its use.
Premium Audio to Text AmberScript Converter - Site Link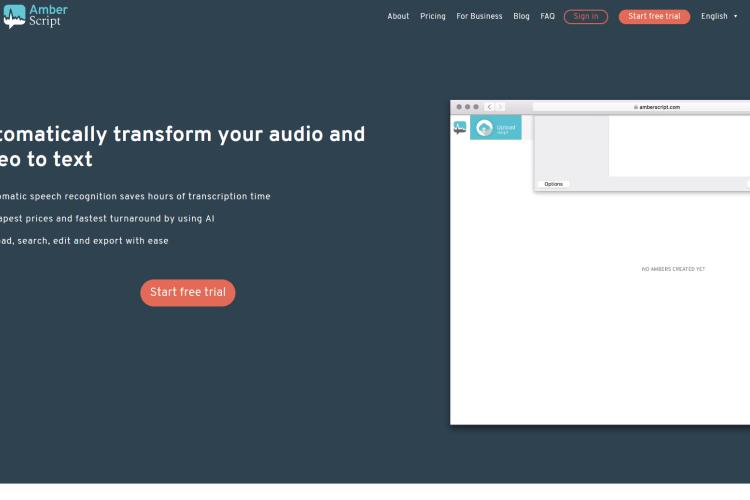 AmberScript is yet another AI integrated software. The platform has multiple features for different users.
AmberScript provide two premium audio to text conversion processes:
· Direct: A rough text draft from the audio. You can edit this text file in their online editor. It is versatile, and available in 29 languages.
· Perfect: An automatic audio and video to text converter that produces a perfect copy. You receive a notification on the completion of the task.
They have three pricing options for transcription time. These include:
· Direct Hourly: $10 per hour of uploaded audio or video.
· Direct Monthly: $40 per month, 5 hours of uploaded audio or video.
· Perfect Per Minute: $1.00 per minute of uploaded audio or video.
The conversion rates are excellent, with a lot of features. AmberScript provides high speed audio to text conversions. The output text file is available in different formats.
Go through the title link to get AmberScript on your system.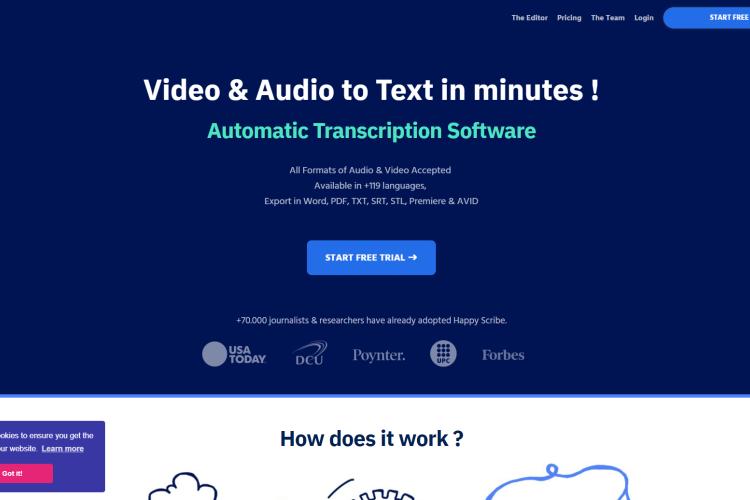 Happy Scribe is one of the most versatile audio to text converters. The software has many users and high-profile admirers in the market. It is an automatic audio to text transcription software.
The amazing Happy Scribe features include:
· It can process all formats of Audio and Video.
· It is available in over 119 languages.
· The output text file has multiple formats: txt, PDF, Word, etc.
Happy Scribe is a "Lightning fast transcription" software. You can upload an audio file of any size for conversion to text. The software has a high accuracy level. But if you are not satisfied with the result, Happy Scribe has an online editor for use on the text files.
Use the Happy Scribe service by following the link in the title.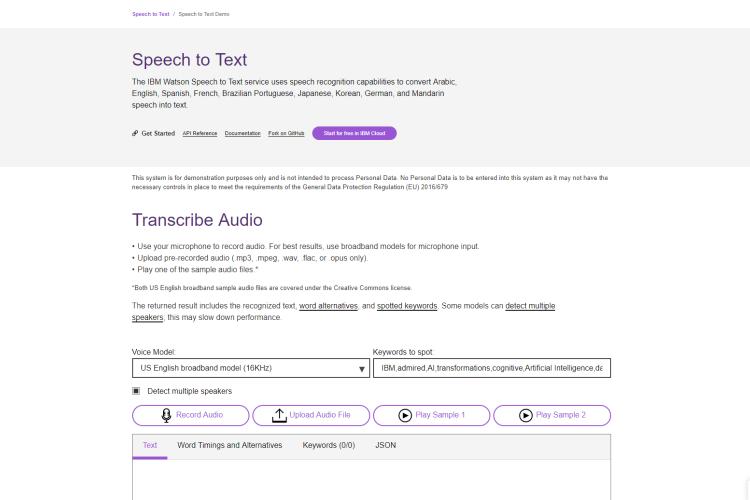 Speech to Text Demo is both an audio to text and Speech-to-Text converter. It highlights important parts in the output text file as Keywords.
The speech-to-text converter uses a microphone for input. Broadband microphones serve best for the purpose. There are options for different frequency level microphones for better results. Multiple speakers can have a simultaneous audio to text conversion. They provide a clear, audible input to the software for conversion.
It can process 9 different languages. These include Arabic, English, Korean, German, Spanish, French, Brazilian Portuguese, Japanese, and Mandarin.
You can also input an audio file for conversion to text. The audio file format support includes mp3, mpeg, wav, fla, and opus extensions.
The IBM Watson Speech to Text Demo is available through the link in the title.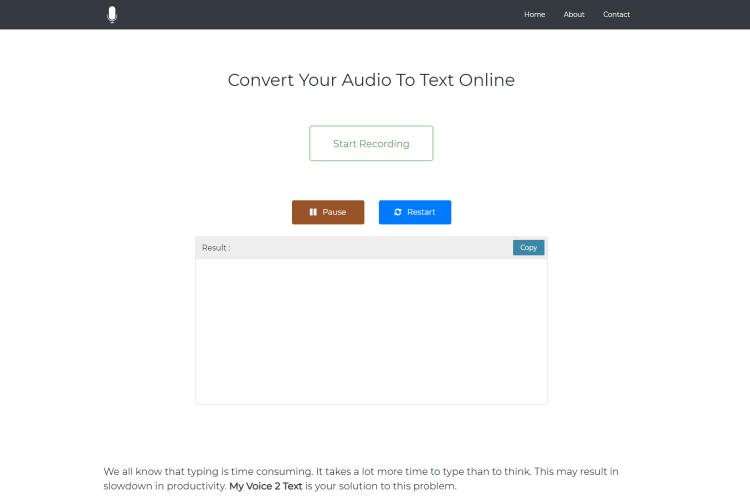 My Voice 2 Text is a free Speech-to-Text converter available online. It does not require downloads or installation. You can start "Real-time conversions" right away.
The software has an AI induction to increase accuracy and reduce conversion time. The platform is amazing to give a physical form to your ideas and thoughts.
You can copy and paste the output text into any program that supports the text. This makes My Voice 2 Text simple, fast and reliable.
Write your voice right now through My Voice 2 Text, available through the Title link.
Conclusion
Audio-to-Text and Speech-to-Text converters are a major help in personal life and businesses. They increase productivity with automatic Voice-to-Text conversion systems. This helps bring ideas to life and builds effective communication.
There are applications and online converters that serve the purpose. All of them have different features and benefits. The 10 Amazing Audio to Text Converters You Should Try are some of the best in the business. Use all of them to give form to voice.