Free Best Video Downloader App for Android in 2023 - Android devices come with their own default or installed download manager. This download manager apps, as good as they come, have their own limit.
Why Looking for a Video Downloader App for Android in 2023?
You cannot use it to download videos sometimes. For instance, Google Chrome app will only redirect you to the YouTube app where you can only save videos. This is one reason the need for android videodownloaders become important. With these apps, you can easily download videos from anywhere as long as you can copy the link of the video.
Free List of Best Video Downloader App for Android in 2023
That said, here are our top 10 best android video downloader apps. For streaming services, check it out here - the 100% list of free movies websites online for the ultimate entertaining experience.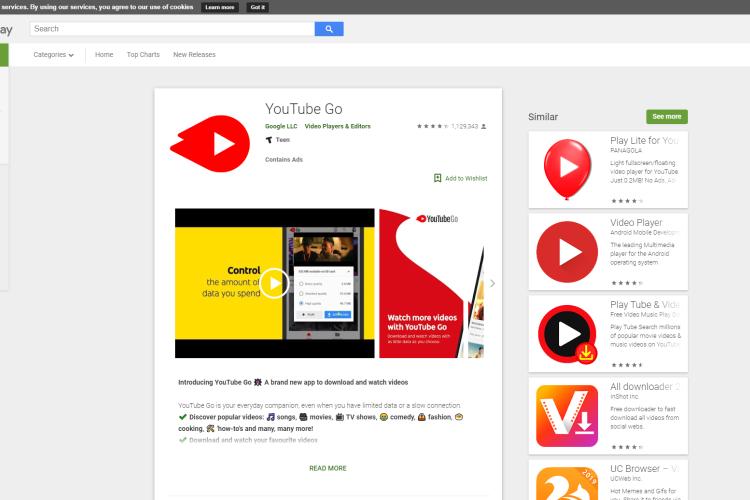 This is a video downloader created by Google LLC. It is a new app released in 2018 but has grown to show just how useful it can be. With YouTube Go, you can bypass the restrictions placed by channel owners on their videos. It is an official app from YouTube.
Youtube Go allows you to not only stream videos but gives you the ability to download them if you want to. The videos are available for download in Basic, Standard and High quality.
You can download the videos in only three formats, Basic, Standard and High Quality. There is no option to download in higher resolution as of now.
YouTube Go also has a sharing feature that allows you to share downloaded videos without stress. If you do not want this app, there are still tons of app you can check that can download YouTube videos as well as other downloads.
Download Link:- HERE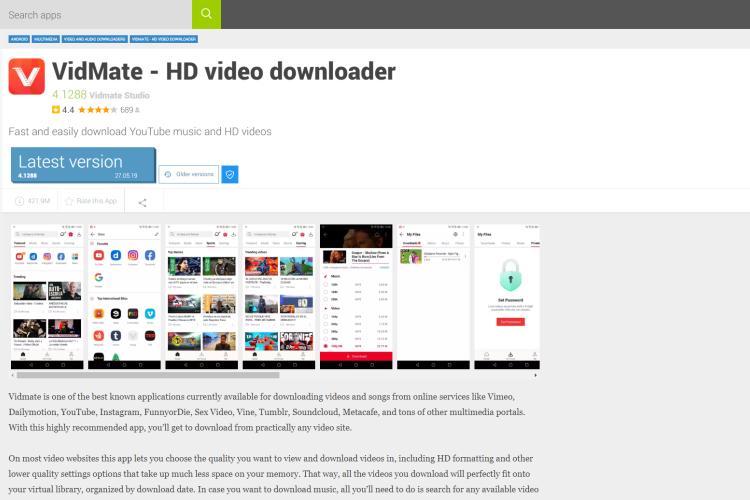 Vidmate is another downloader app that allows users to download videos from almost any websites. While it is good for streaming, you need to have a very powerful device to enjoy it. It also allows you to download any type ofmovie, tv series and shows as long as you have the download link. It combines all these with incrediblyfast download speed.
New updates to the app and verified on another website, it adds even more features to the app. Some of them include
- a revamped download pause and resume ability. This will make downloading under unstable network easier to cope with;
- getting download links directly from the app without using a browser.
Vidmate also comes with the feature that allows users to customize the download speed of the video they are downloading.
One important feature that makes Vidmate a must have app is that it comes with vault capabilities. This means thatit allows you to hide sensitive videos without other people having access to it.
You have to download Vidmate as an apk file from the developer's official website as it is not available on the Google Play store.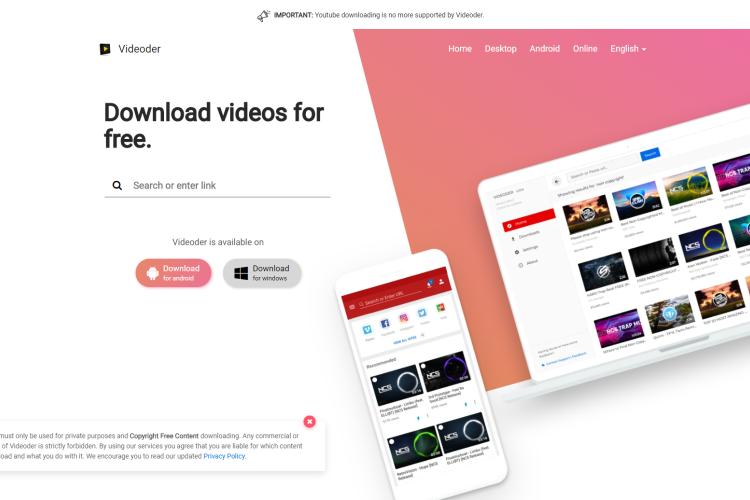 This is another powerful video downloader that can download YouTube Videos. Also, you can use it to download, stream videos from popular websites including social media ones – Facebook, Instagram, etc.
One of the unique thing about the app is that it supports downloading and streaming of videos in all formats possible including 4K.
Another thing is the ability to convert videos. With this feature, you can without stress, extract audio in videos from the supported websites. The list of all supported websites can be easily accessed from the homepage.
Videoder has an impressive UI, different themes that allow you to customize the app as you see fit. It also has fast speed downloads and a built-in video player. It is completelyfree to use – no in-app purchases –but has few ads.
The complete app is not available on Playstore so you have to download the app from the official website. There is a plug-in, videoder premium, on PlayStore that removes the ads but you have to pay for it.
Download Link: HERE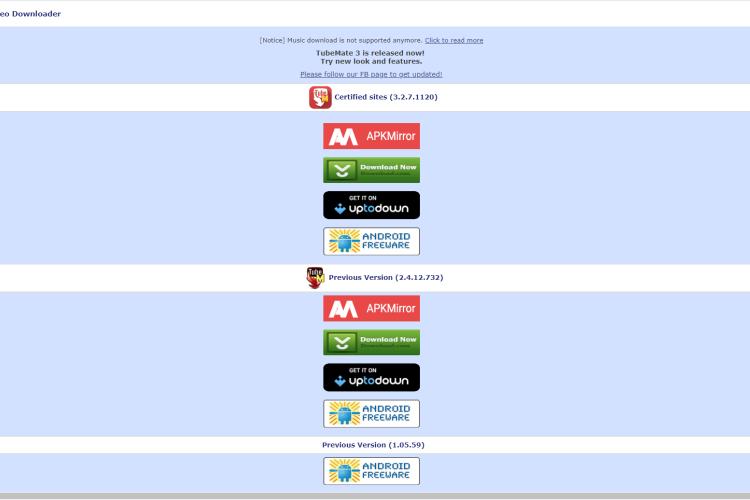 Nearly all video downloader apps can download videos from YouTube and TubeMate does not disappoint. It comes with a user-friendly interface that isexquisite to look at. It has a built-in browser which you can use to download to access the sites you want to download the videos from.
You can download videos in any quality and file format you want. You can also use TubeMate to extract audio files from Video but you need an add-on app to do that. The app has enough ads that can get you worked up if you are not patient to navigate through it.
TubeMate offers a special feature to users when downloading from YouTube. The special feature needs you to only copy the link of the video you want to download. TubeMate will automatically show a download option without opening the app.
Download Link: HERE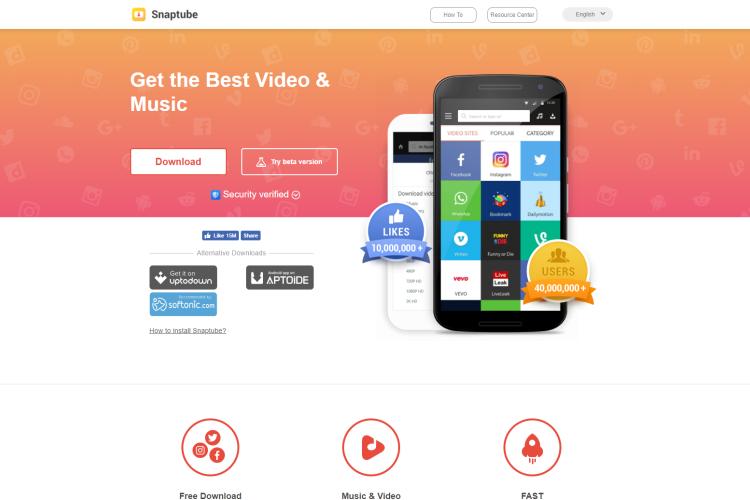 From personal experience with this app, I can very much say it is an app that can handle whatever you throw at it! SnapTube supports downloading from major websites like every other video downloader. It allows you to download in the video quality and format you want. You can also convert video files into audio files with no additional app.
With SnapTube, you can download WhatsApp status without having to download another app for the purpose. Therefore I love the app.
Another cool feature is that when downloading from YouTube, you can download a whole Playlist with just one click. Most of the other video downloading apps out there does not support this.
SnapTube is not available on the Google Play store. You can download the app from the official site of the app's developer.
Download SnapTube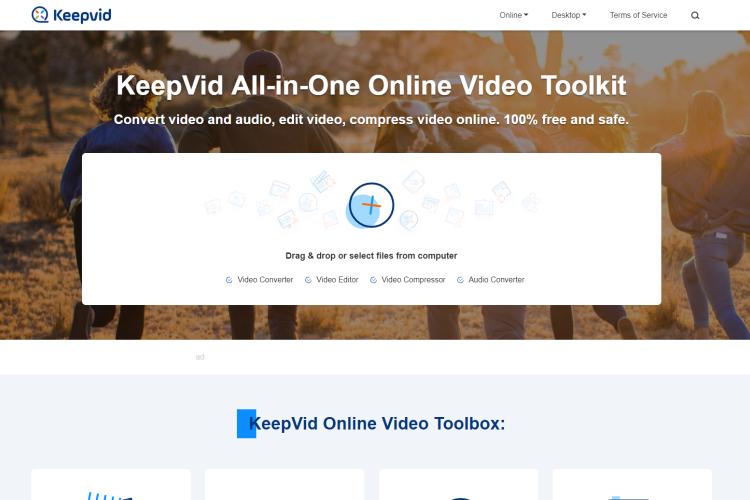 Keepvid does exactly what its name implies, it allows you to keep videos from any of your favorite websites. It has a user-friendly interface that makes it easy to use.
It comes with features that allow you to download your videos in a high-quality format. You can also download the audio files of videos although you need to install any plugin to do this.
Download KeepVid
YT3 YouTube Video Downloader - App Link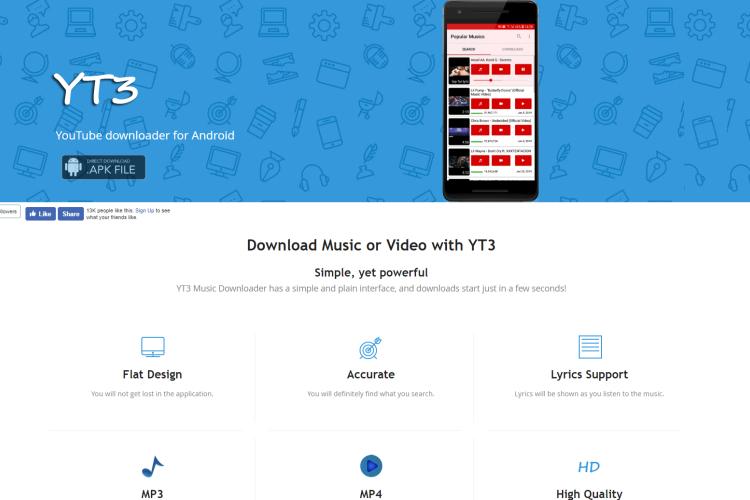 This app is the only app you need if you want to download YouTube videos. With a user-friendly interface, it has all you will need to when downloading YouTube videos.
It comes with a built-in converter that can convert any YouTube Video into Mp3 i.e. Audio file. This means you need not download any additional plug-in to extract audio files.
You can download videos in either low or high quality. It also allows for fast downloading speeds. When playing songs through the app, it allows you to download lyrics which will play along with the song. If you are just downloading the song, you do not have to download lyrics as it will automatically do that for you.
Download YT3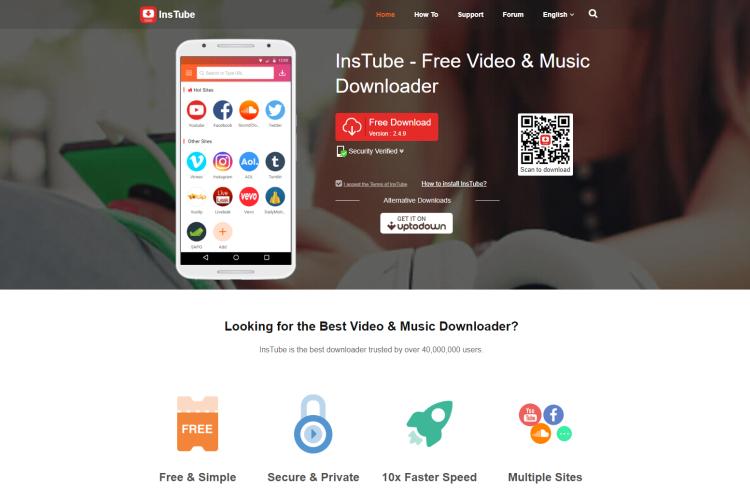 InsTube is another interesting app that supports video downloads from Twitter, YouTube and many more. With InsTube, you can easily watch, download and share downloaded videos.
It has a very smooth UI that makes customizing very easy. It also comes with fast downloading speed.
It also allows users to bookmark any link they want. It also comes with vault-like encryption that enables users to hide private and sensitive videos.
You can download videos in whatever quality and format you want as long as the video supports it.
Download InsTube
Android Video Downloader (AVD) - App Link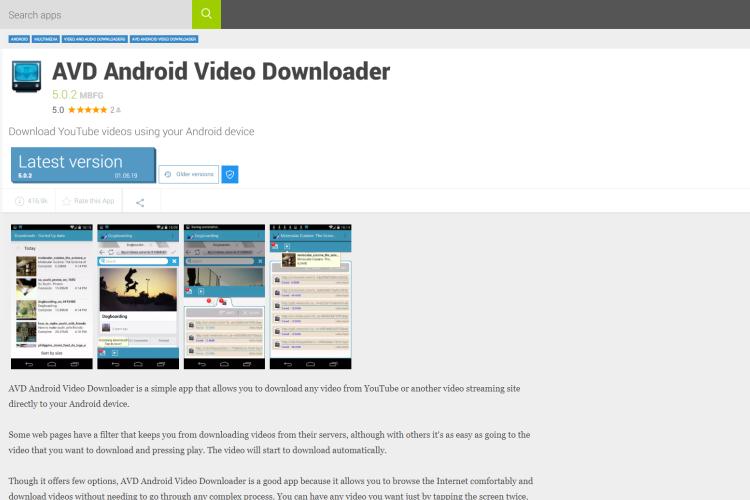 Android Video Downloader is another video downloader for android where you can download videos easily. You can also extract audio from videos as an mp3 file. You can also download Movies from other websites as long as you have the download link.
It allows fast downloading speed and a preview option which you can use to get a glimpse of what you want to download before you download it. It also shows lyrics when you listen to music on the app. The video qualities you can download in are Hd, 1080p, and 4k.
You should note that you cannot download YouTube videos with AVD. It is not available on PlayStore but you can download it from HERE.
NewPipe - App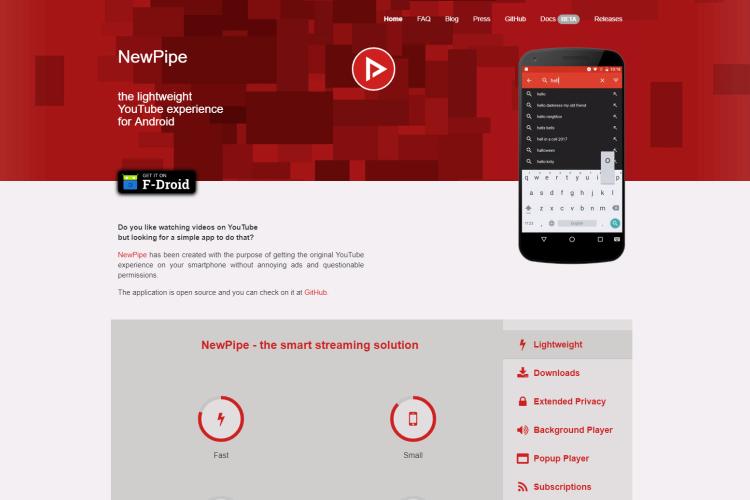 This is the last video downloading the app on this list. It is impressively built and with a brilliant UI. You can stream, listen and download YouTube videos on the app.
What makes NewPipe even more superb is that it has none ads. You can enjoy your experience on the app without having to navigate through annoying ads. It comes with fast downloading speed and also supports customization.
The app also comes with features that allow you to play songs from YouTube in the background with the app minimized. It also has a video pop-up mode that will continue to play in a small size over other apps.
In addition, the app supports downloading in 1080p and 4k video quality. You can also extract and download audio files of videos.
You can download the app here
Conclusion on the Best Android Video Downloader App in 2023
Note: Pretty much every app that allows you to download YouTube videos are not available for download on PlayStore. This is because they bypass the laws put in place by YouTube. Hence, most of the links to download some apps here will redirect you to external websites.
Hopefully, this article will make the task of downloading videos easier.