Best KissAnime Alternatives - Anime is cartoon-styled movie originated from Japan. Anime has become so popular for many reasons; maybe for its low budget production or for its suitability for all types of storylines, and how it attracts fans of all age and race. People love anime for various reasons, but in general, anime features creative scenes, characters, and concepts, maybe that alone are responsible for its popularity. Before diving deep into sites similar to KissAnime, check out our list of best anime sites for your entertainment and relaxation.
List of Best KissAnime Alternatives for Free
There are hundred thousands of anime out there, you can never watch them all, but at least you can try and watch those that are online by streaming them. There are numerous sources you can stream anime movies, but to be honest, the streaming experience from each source differs. Some are enjoyable, and you will anticipate streaming your next anime movie, some will annoy you with endless advertisements to the point of giving up on streaming the current anime movie to the end, and some will charge you almost all your savings. However there are some anime movie streaming sites that will cost little or nothing for great streaming service, KissAnime falls under this category but for some reasons, you may not like KissAnime and may be looking for alternatives, highlighted below are 12 suitable alternatives for KissAnime.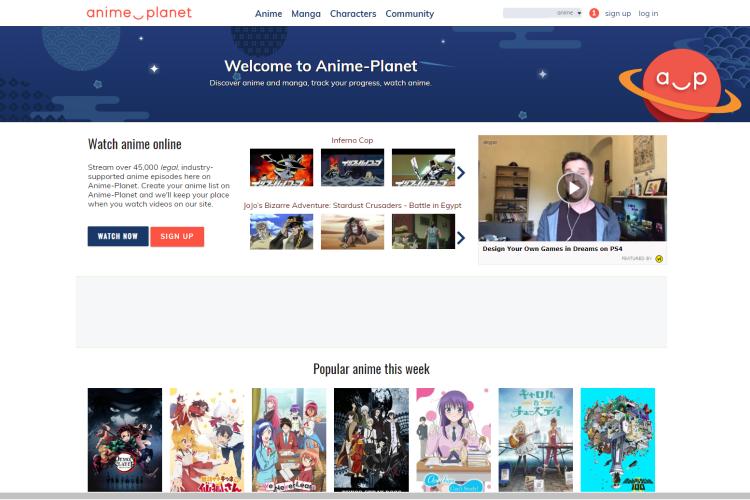 Anime-Planet should be the first alternative to consider while searching alternatives for KissAnime; the website has everything to enjoy seamless anime streaming experience. The site also creates a community where lovers of anime can meet and discuss various topics relating to the animes.
Everything about Anime-Planet including the design is premium-like; if not for the free service, it can be categorized as a standard premium streaming website. The website host around forty-five thousands of anime episodes that are legally curated, movies and trailers are available as well.
Anime-Planet is the place to find the most popular anime series, including original Manga series. Upcoming, recommendations, user reviews, etc. are what guide you through the vast collection hosted by Anime-Planet. As great as this website is, it is completely free and does not require registration.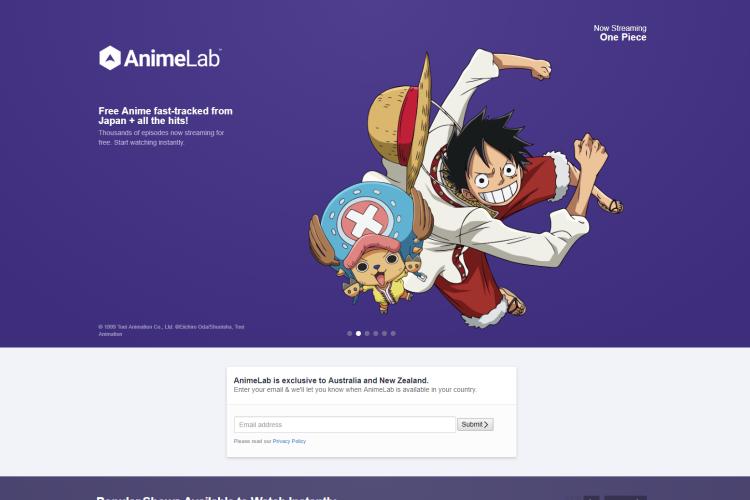 If you were aware of AnimeLab earlier before you knew KissAnime, you wouldn't have to bother exploring KissAnime at all. Whatever anime series or movie you are looking for is available on AnimeLab; the site owns one of the biggest anime collections in the whole world.
AnimeLab website design combines simplicity, beauty, and modern technology, merely hovering each movie thumbnails reveal adequate information that you would have been redirected to another page to see, the type of information revealed while hovering include overview of the movie, ratings, number of episodes contained if it is a series, and lot more.
You can stream from AnimeLab with various devices such as Smart TVs, Android Devices, Ios, Xbox consoles, PlayStation, etc. Note that AnimeLab is limited to users from two countries only, which are New Zealand and Australia. However, you can get around the restriction with VPNs, search online for free and efficient ones.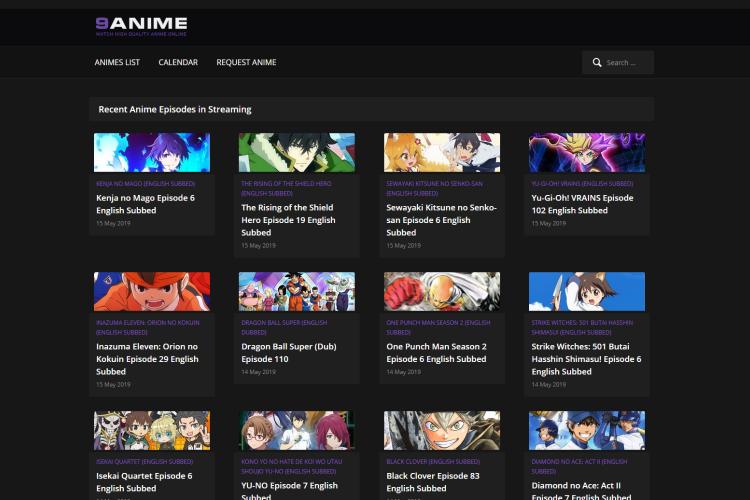 One of the best alternatives to replace Kiss Anime is the 9Anime streaming website; it features everything 9Anime features, and you can also download your favorite Anime to your device. Like Kiss Anime, 9Anime has millions of users actively using the website every day.
9Anime interface is excellent and user-friendly, coupled with the vast anime movie database, 9Anime is indispensable if you are a true fan of anime and love streaming it online. Another feature of 9Anime is that you can stream your favorite anime movie on demand, i.e., if you can't find your favorite anime movie among the existing collection, then you can send a request to 9Anime administrators, and they will upload it within a very short time (sometimes in less than 24 hours).
9Anime is completely free, but you should be able to endure the little amount of ads that will be displayed; that's how 9Anime earns money after offering you such a great service, and who knows; something useful for you may pop-up in the ads.
If you are looking for a reliable source for anime series that will keep you occupied for weeks, then Anime Season is the website you should visit. If you are to watch all the series available in Anime Series collection, it will take you nothing less than a decade to finish them all, that is how big Anime Season collection is.
The website design is visually appealing also, and streaming a movie on Anime Season website is quite easy; it is just a 'find and click the play button' task. All available series are well arranged in categories such as recent, most watched, series by name in alphabetical order, genres, and so on.
Anime Season video quality is great, and streaming anything from this website is absolutely free.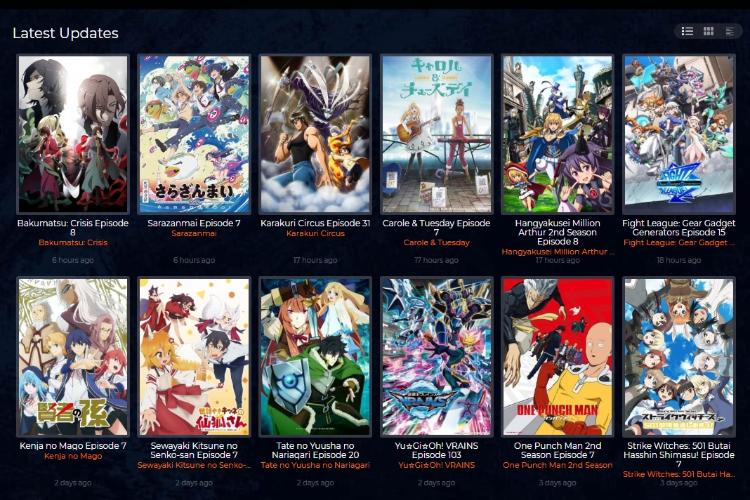 This website is indeed a streaming website for anime freaks; it meets every requirement of those that are obsessed with anime movies. You do not need to sign up for an account; you only have to get on the website, find an anime to stream and start streaming it for free.
AnimeFreak boasts of a very robust anime library, and locating any anime is easy. Color and layout of the website are friendly as well, that alone can keep you from leaving; it gives you the real feel of the anime world. The first visit to this website will make you choose it as your favorite website to stream anime movies.
AnimeLand is another one of the worthy alternatives to Kiss Anime; this website gives users the privilege of selecting video quality that suite their device, internet connection speed, and data plan. Video quality range from 480P to 1080P, even the minimum video quality is sharp and crisp on small and medium-screen devices.
AnimeLand database is one of the most updated anime database, so finding new movies each time you visit is guaranteed. Though the website features ads but compensates by offering its service for free and you do not need to create an account.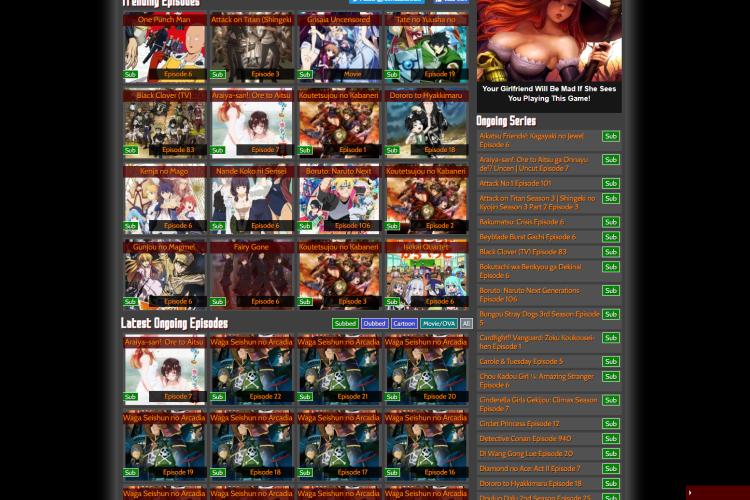 Anilinkz is another website to stream excellent anime movies and series free of charge, what makes Anilinkz outstanding is that there are subbed and dubbed version of anime movie found on the website, that leaves you the option to choose the version you prefer, not every anime streaming website have time to do this.
Anilinkz is well updated, newly released anime movies are always available on the site within 48 hours. Thus, it is a reliable site to visit first when looking for new anime movies and new episodes of the current series. The website interface is clean, site navigation is easy, video quality is great, and the overall streaming experience is excellent.
8. MasterAni.me
After using this website, it is up to you to judge whether it is better than Kiss Anime; MasterAni.me is very similar to Kiss Anime and features everything being featured by Kiss Anime, if not more. True fans of anime movies will find it hard to not fall in love with MasterAni.me.
From usability to accessibility, MasterAni.me is a lot better than Kiss Anime; streaming does not require signing up or making a payment, all you need is a compatible version of Flash Player and a stable internet connection. The home page is full of recently uploaded movies and series, exploring further is not hard with the easy-to-use navigation menu.
MasterAni.me keeps user anticipating by revealing the list of anime movies that are scheduled to be uploaded. Streaming anime movies from MasterAni.me does not incur any charges.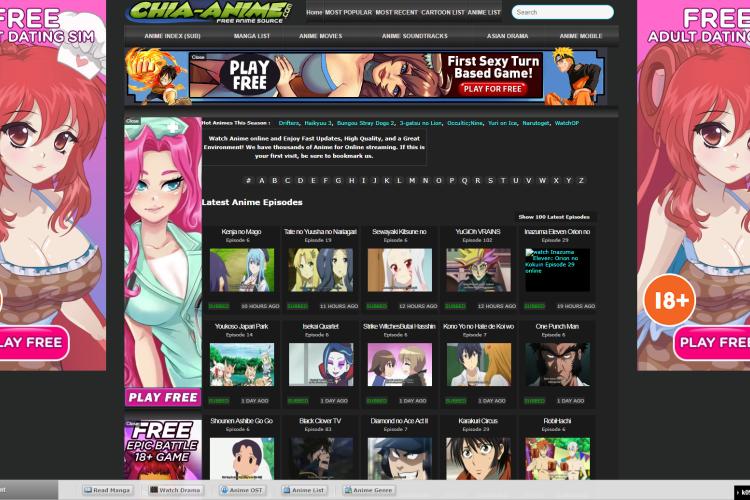 Do not despair when you are unable to access Kiss Anime, Chia-Anime is one of the few websites that can satisfy you with everything you crave from Kiss Anime. Chia-Anime is a worthy alternative to Kiss Anime in every way. The site not only provides streaming service but you can download your favorite anime movie as well.
Chia-Anime provides dubbed and subbed contents, and the majority of the available contents are in high quality. However, you may be put off by ads displayed on every page of the website; these are not pop-up ads that interrupt the streaming process, so be rest assured that you will enjoy streaming anime from this website. Chia-Anime streaming service is entirely free.
Anime Streams is another website that offers free high-quality contents for users to stream from anywhere around the world. The website features a vast collection of anime series, videos, and movies. You will always find something new and exciting to watch on this website. Anime Streams also offer subbed and dubbed version of movies.
The website simple color and layout is fascinating, the collection arrangement is neat, and navigating the vast library is effortless. Find a specific movie or series is easy, you can narrow it down using the categories or filters function, or you could just locate it with the search box. But who knows? You might just find something else interesting while browsing the categories.
Anime Park is one of the suitable anime streaming websites to replace Kiss anime; the website features over forty thousand anime videos from various genres, plus you can also download movies directly to your device to watch later or share to friends.
Website is minimalistic and will not consume much data. Streaming on Anime Park is free, and all contents are in HD quality. Animes are well categorized under suitable titles and genres such as romance, adventure, drama, action, etc.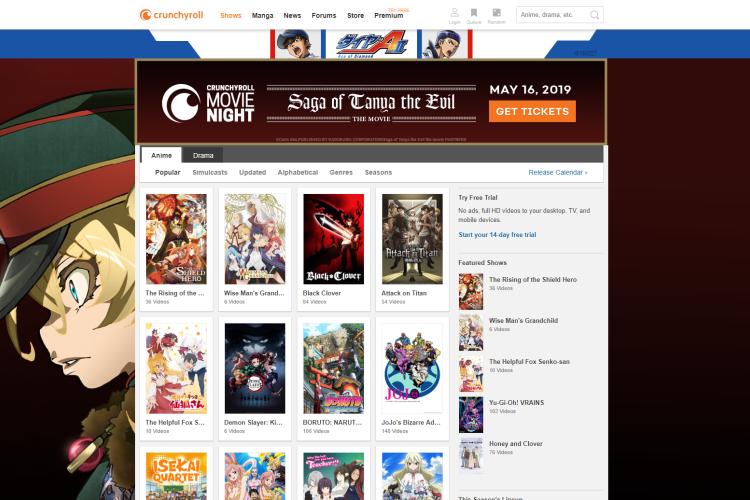 Users who are already using Crunchyroll to stream exciting anime movies are already grateful for finding the website. The website was founded in 2006 (over a decade ago) and has never failed in satisfying users with amazing anime collections.
One of the characteristics of Crunchyroll is that it provides anime in other languages other than English and the traditional Japanese, thus making it a place to visit for anime lovers from other languages such as Spanish, Italian, German, and so on.
Crunchyroll is a licensed movie streaming company and the site hosts over twenty-five thousands of anime series, and finding your desired series shouldn't be hard. Crunchyroll required signing in before you can access movies, it is not completely free but once you are logged you will find a mix of free and premium contents to stream.
There are other websites you can stream from, but the websites listed above only focus on anime contents alone, thus making them the most reliable source for anime movies and series. However, there are other websites also where you can stream anime contents seamlessly. Examples of such website are Crackle, Amazon Prime, NetFlix, etc.
Conclusion on Alternatives to Kiss Anime
Kiss Anime is an excellent anime streaming website, but you should never be left with no option when the website is down, or you don't feel like using it. The websites listed here are available to offer you equally amazing streaming services, so why not check them out, and maybe you will find an anime streaming website you can pick as your new favorite.