9 Top Music Streaming Services - People are moving away from the not-too-fashionable channels through which they access music. The growth of digital technology has enhanced a lot and is changing the face of how music lovers listen to music and what kind of audio enthusiasts listen to. No doubt, listeners nowadays shy away from physical recordings and abandon the classic method to keep their music album online music libraries. In fact, since after rising to its peak in the early 1990s, sales of CDs and VCDs have plummeted drastically, giving way for the increasing plateau of vinyl sales and online music libraries. Despite the manner in which this decrease has occurred, the rate at which people listen to music increases daily. While the offline technology is going into extinction,different music streaming services keep popping up, with the number of music and songs available for listening offering a wide range of songs, features, and quirks.
List of Best Music Streaming Services
Yet, amid the varied amount of music, only a select few make the list of the top 10 music streaming services. In this article, we have spent quite a lot of time to make our selections and come out with the most popular services online. Similar to our list of best online movie sites, our collection is based on top music streaming services that are suitable for all different categories of listeners. It does not matter whether you're involved in the high audio resolution, music recording, music discovery, or audio streaming, the selection here will fit in squarely into your niche. These are the best sought-after and in-demand streaming services you can find in the market. Take a look at them; use them for your listening pleasure.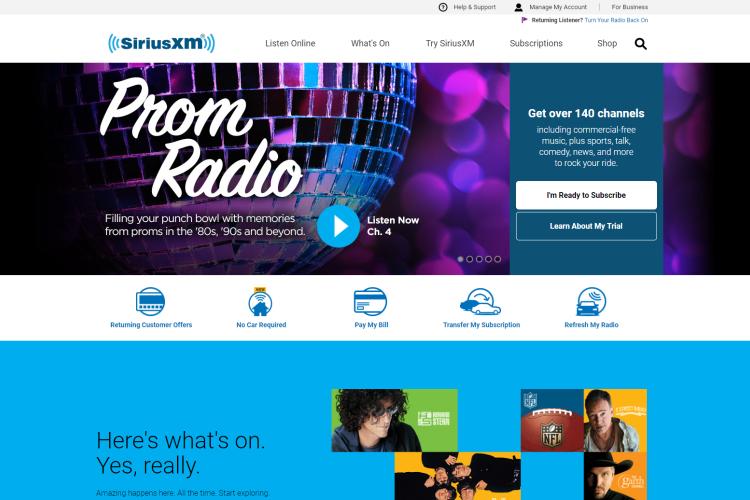 SiriusXM Internet Radio's crisp audio is an online streaming service channel that offers numerous live stations. As a must-have talk radio, the service is great for radio-streaming fans. Listeners can pause, rewind and playback streaming and live program. The station recommends for users a number of hot and trendy songs. However, the channel does not display a song's lyrics and does not feature the Start Now feature.
Highlighted features
· Several kinds of music, sports, and live talk channels.
· Ability to pause and rewind tracks.
· Useful Tune Start alert system.
· Song recommendations.
· Incredible channel customization options.
· Exclusive content.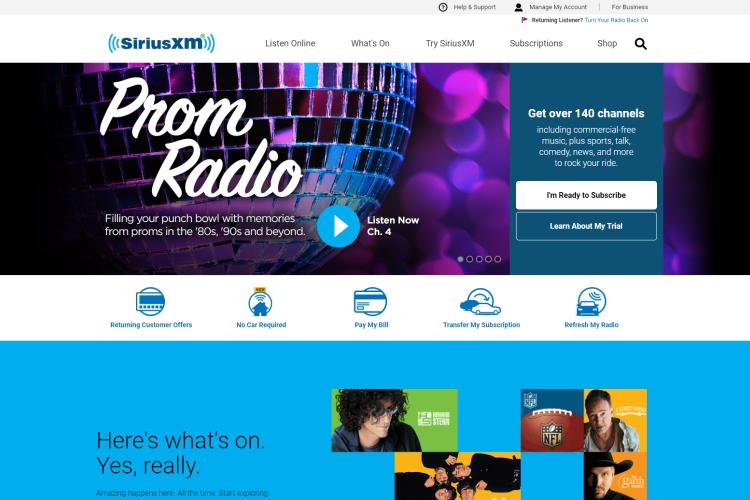 Spotifyis one of the best music streaming services you can find out there. The service comes with a number of incredible features. Within the system, you can wide range of great catalog of new, trendy, hot and old songs. You can find all of these songs and they are pretty much available for your listening pleasure on the internet. You can have access to these songs for free, but with limited options. However, if you subscribe to the paid version of the service which comes at £9.99 per month, you will have access to all services that Spotify offers. Besides the general paid version, Spotify also provides the family package. The number of listeners who can use this family plan at the same time is up to six.
Highlighted features
· Simple to use
· Easy to relate to the interface.
· Available for use on
· Mostly free; but paid version goes for £9.99/month
· Features bpm playlists suitable for athletes
· No parental controls
Users can't stop kids listening to tracks under PG.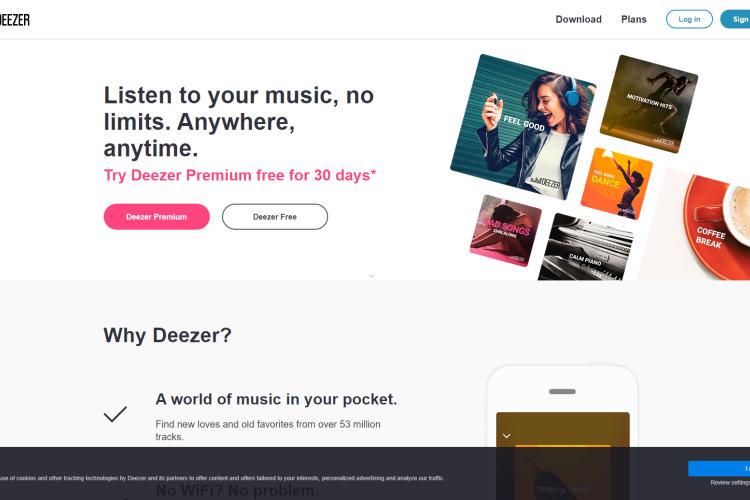 Deezer serves an excellent purpose for music enthusiasts. The service is cool, for all manner of music streaming. It is home to a large number of new and older tracks. This is one of the best services for family with kids. With the family plans on Deezer, you have opportunity to slab kids from watching explicit tracks and under parental controls. So, kids may have no access to music with explicit lyrics. The service comes with features with allow music listeners and enthusiasts to curate and customize their playlists based on your preference and musical tastes. However, the system does not allow users access to high-profile songs and tracks. Hence, songs from crow-puller musicians and international popularity have to subscribe to. Sorry, if you're a fan of Jay-Z, Beyoncé, Rihanna, etc., you may have to subscribe to the monthly service, before you can access their songs and albums. On Deezer, you'll have access to limited six track skips within an hour.
Highlighted Features
· Available on the monthlyprice of £9.99
· Limited access to the freeversion
· Great for family withkids
· Come under Parental Controls
· Users can personalize and curatelyrics and songs
· Explicit lyrics can beblocked from kids.
4. YouTube Music - Site Link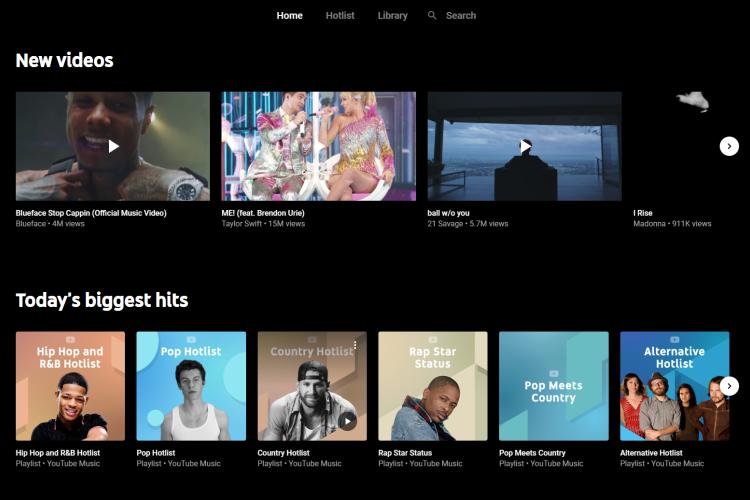 YouTube Music is excellent music online streaming service that is great for both music audio tracks and music videos. So, if you need an app that houses both tracks and videos, then YouTube Music is available for you. The service is available both for the free and paid version. The free version interestingly is littered with a lot of adverts including ads from other free streaming services. However, the service let you select individual artists' tracks. This option often offers you exceptional service where you can play and skip tracks as many times as you like.
When you're in a trade-off, YouTube Music doesn't give you the option to swap to another app where you can continue listening to your music. However, you can subscribe to the £9.99 a month plan, which gives you the option of listening to the songs in the background while you also download tracks even when you are offline. The app also offers you what is called handy Mixtape that downloads up to 100 songs for you automatically. That depends though on the frequency of your listening and usage of the app. Even if you wrongly type the name of artists or title of songs, YouTube Music will auto-correct it and give you possible or suggested options.
Highlighted Features
· Option to play a skip track at will
· Frequency of listening is vital to access to downloads
· Suggested search options
· Ads from other free-streaming services
· Quality audio and video albums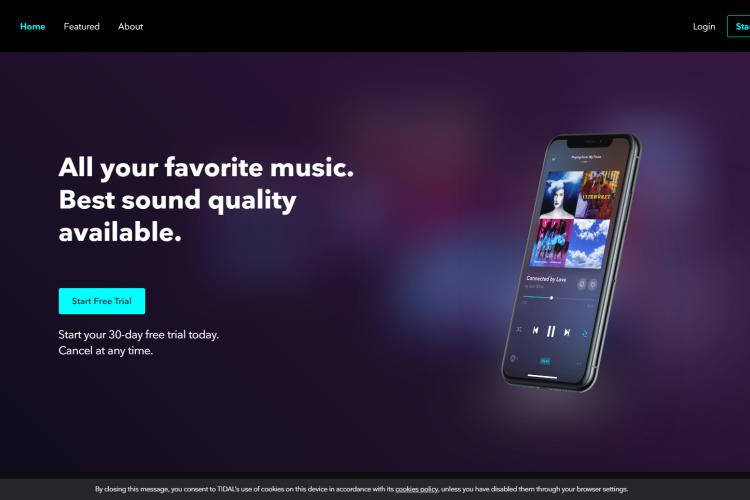 Tidal is one online streaming music service that offers quality sound system. So, if you're looking for a music streaming app that will deliver the lyrics to your hearing with ease, then, choose Tidal for your listening pleasure. Although it comes as an expensive service, as you will have to part with about $25.99 per month to be able to use the service. This price is for those who want to use the high-fidelity audio service of Tidal. But know that what you get is a wide range of great music, old, new, hot and trendy. Once you subscribe to this service, you will have access to top singles and albums from the charts. You are also given access to play as many as 130,000 music videos and listen to exclusive playlists. In that process too, you can customize your playlist and have already-curated playlists on your service.
Highlighted features
· Costly
· Access to thousands of auto-curated playlists
· Quality audio
· Access to artist discographies and video links, channels, and social media
· Offers fun, cluttered service
· Access to lyrics as music is playing
6. Amazon Prime Music - Site Link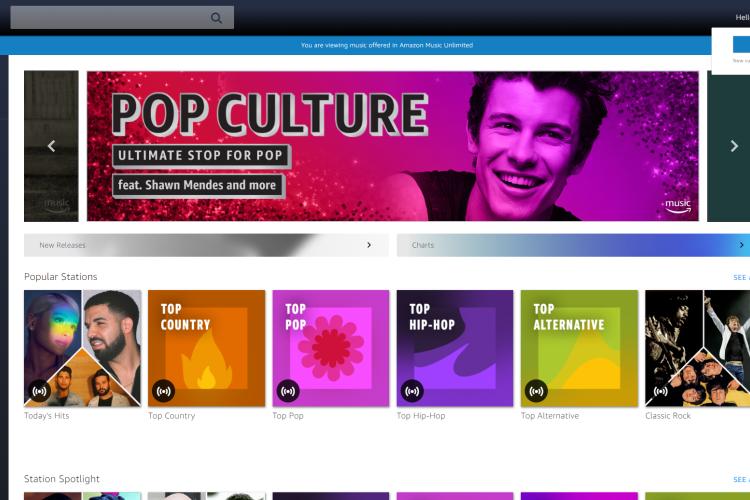 You can always guess that anything coming from Amazon is a quality product. Live music streaming can only get it's best using Amazon Prime Music, one of the services that have proven excellent since its launch over the last ten years. Prime Music is part of Amazon's Prime subscription package for numerous functions. Guess what? If you're looking at listening to music just in the manner, your radio station will offer t to you in a mixture of different artists and songs all at once then it is better to choose Prime Music. But be sure that the number of tracks that will be made available is limited (2 million tracks) if you compare that to subscribing to Amazon's Unlimited Music which offers you more than 40 million songs and artists.
Highlighted features
· Limited curated playlists
· Over 2 million tracks available for download
· Quality recording and streaming
· $21.99 a month to upload a track (250 tracks)
· Offers an option to skip tracks
· No playback ad interruption
· Offers options to stream over free offerings from other services.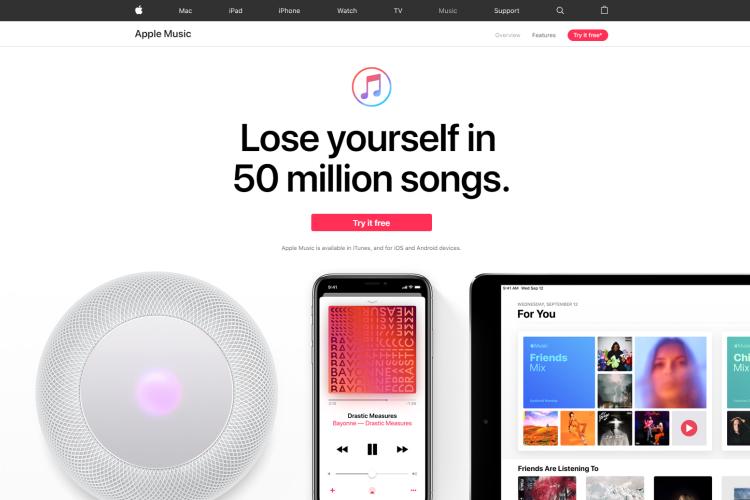 If you want a music streaming service that offers clear and uncluttered service, then search no further as Apple Music is there to serve all you need in this regard. Added to that incredible option is that option for you to easily navigate to your favorite artist and song or track within a short time. Besides, the service houses quite a large number of tracks and songs from which you can choose seamlessly. Apart from the volume of songs, Apple Music also offers you great and trendy songs including old and new ones, (Taylor Swift's 1989 is a great choice here). Don't try to look for Jay-Z or Beyonce track here because they prefer their part-owned streaming service.
Highlighted features
· Used by select artists to premiere their albums and singles
· Available for both online and offline use
· Contains customized and personalized playlist features
· Works with iPhone music
· Available for download of tracks for offline use
· Features Parental controls
8. Google Play Music - Site Link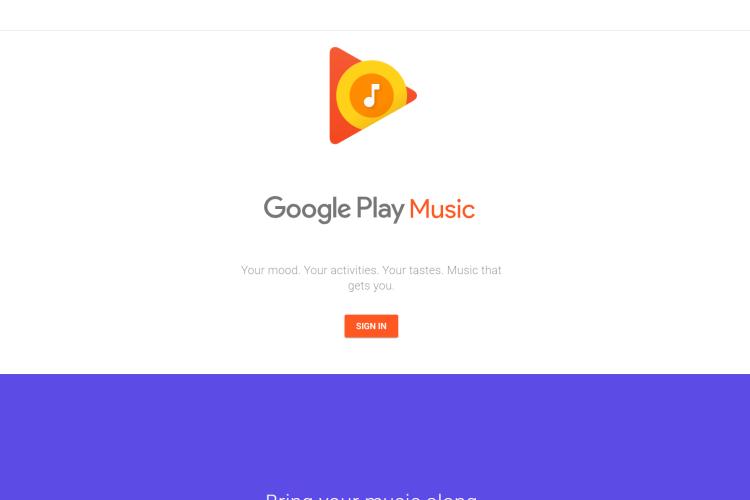 Google Play Music is one online streaming service that gives good audio quality. It offers a lot of music on its app. You'll have access to quite a number of songs. The service also provides you with options to link up with YouTube videos. You have options to purchase to a wide range of tunes from the Google Play Store. There is the availability of handy music locker which allows you to block songs with the exclusivity of controls. It comes as an affordable and highly competitive service plan. It comes with a family plan. However, the set-up is not excellent; no lyrics and has not much non-musical content. Google Play Music is a unique service that offers more than your typical streaming music service.
Highlighted features
· Links users to YouTube videos
· Contains huge musical database
· Available on Google Play Store
· Options to purchase a wide range of tunes
· Affordable for family package
9. Pandora Premium - Site Link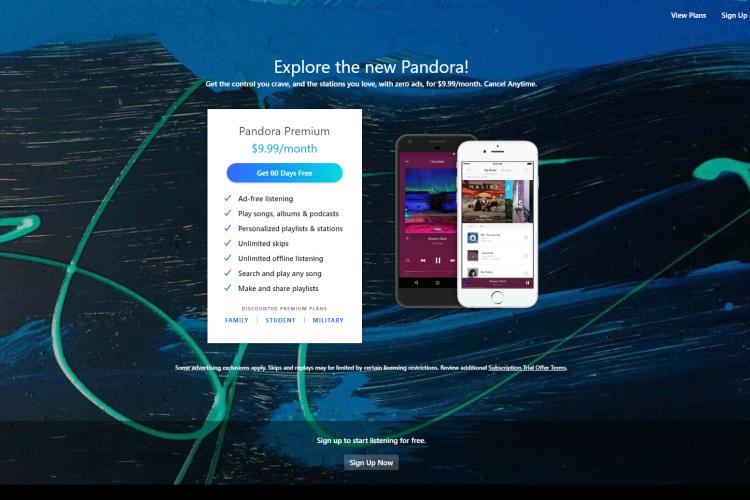 Pandora has made our best top selection for a number of reasons. One feature that this online streaming service possesses is unlimited skips. You'll also enjoy unrestricted replays of music and songs that you love. Even popular and hot tracks are available on Pandora. It comes with ad-free listening with Pandora Premium. The Pandora service is a great device for good song recommendation. It comes with lyrics that are clear and easy to read. It comes with breezy lean-back experience. The family plan gives you access to showcase tour dates. However, you can't have access to live content. On-demand streaming of tracks is not available on Pandora. Unlike in some other apps, where you can browse with categories, Pandora doesn't offer that service.
Highlighted features
· Lyrics available
· Unlimited skips and replays
· No live streaming of in-demand music
· Great for a wide variety of songs
Conclusion
Never let yourself be disappointed by a range of worthless service streams out there. The selection here are the best available ones you can find in the market. The music industry is so vast and lucrative that many things of low quality could be promoted in the name of quality. You'll have the best of quality and the enjoyment of your life if you settle for any of the above-listed online streaming services. You don't always have to have data to view live artist. Sometimes, you run out of data and want to watch them play. You have those options available in some of the services that made our selection here. Don't dull yourself or be fooled by the pool of streaming services out there. You'll come back to thank this article if you use any of the mentioned streaming services. Good luck!