10+ Best Free MS Visio Alternatives - Flowcharts and Vector Diagrams present a step-by-step visual to processes. An ideal flowchart is neat and comprehensive. The two key elements to it are its:
· Structure.
· Content.
It is important to have the right structure to a flowchart. This is where Microsoft Visio comes in. The tool is excellent at generating flowcharts and its extensions. The software has a variety of templates and features. It is a powerful tool for you to create your plans in a meaningful way.
List of The Best Free Alternatives to Microsoft Visio
But as neat as the software is, you need to know the Best Free Alternatives to Microsoft Visio. It is not a free software, and the economic packages are not affordable for everyone. The Microsoft Visio Alternatives are your way around this problem.

LucidChart is a versatile alternative to Microsoft Visio. Its application has pricing packages, but the online designer is free. The access to the Online Diagram Tool is in the title link. Follow it to visualize your ideas for free!
LucidChart has a number of useful features. The software has use in Professional, Business, and Educational fields. You can work as an individual and as a team, on the same project file. This makes collective work much easier in comparison to other similar tools.
It works in collaboration with Microsoft Visio as well. You can import and export Visio files to and from LucidChart. The interface is clean, with helpful tips to completing flowcharts and projects.
The software is compatible with different computing platforms. Start Diagramming right away with the powerful and versatile LucidChart!
2. ASCIIFlow Infinity - Site Link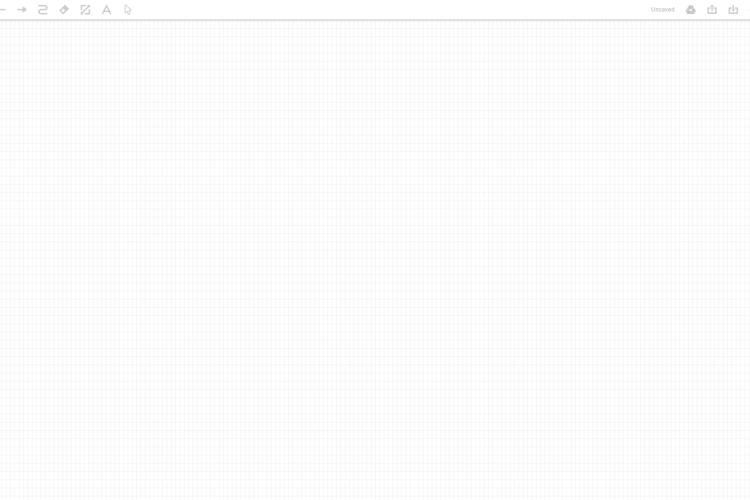 ASCIIFlow is the extension of the ASCII Art concept for flowcharts and diagrams. The tool works on your Web Browser through the link in the title. It is the quickest way to start on diagramming.
ASCIIFlow Infinity is unique in its simplicity. The tool is not as versatile as other flowchart creation software. But it serves the purpose to generate clear flow diagrams. It has a very simple interface with drawing tool options:
· Draw Boxes.
· Draw Connecting Lines.
· Draw Arrows.
· Freeform Drawing.
· Erase Square Areas.
· Resize/Move Boxes and Lines.
· Select, Copy, Cut, and Move.
You get to sync your drawings to your Google Drive to retain them. There are also options to Import and Export the diagrams to other software. The tool has limits in its capabilities in comparison to Microsoft Visio. But it is free and enables you to design right away.
The efficient tool is your way to create ASCII style flow diagrams!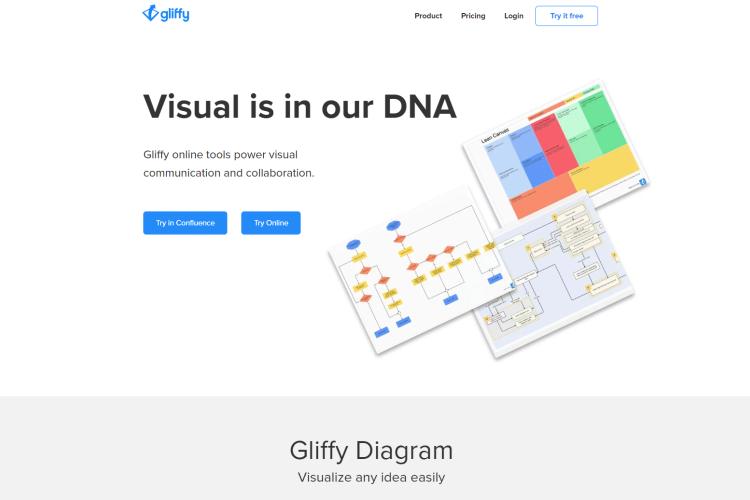 Gliffy is a HTML5 Editor that serves as an excellent alternative to Microsoft Visio. The full product has different pricing packages. There is support for multiple computing systems for the software. But there is an online editor as well, available through the title link.
The Gliffy interface is easy and fun to use. You can drag and link shapes on the window to create diagrams. There are comprehensive templates for multiple category projects. They ease the diagram creation process.
Gliffy also provides options to save and share your project to other platforms. There are easy ways to modify the flowchart as well. The software enables a team to work together on a single project. All these features make for an excellent alternative to Microsoft Visio. Gliffy is the perfect counterpart, and it will not cost you a dime.
Go with easy-to-use Gliffy online tool to create meaningful flow diagrams.
4. yEd Graph Editor - Site Link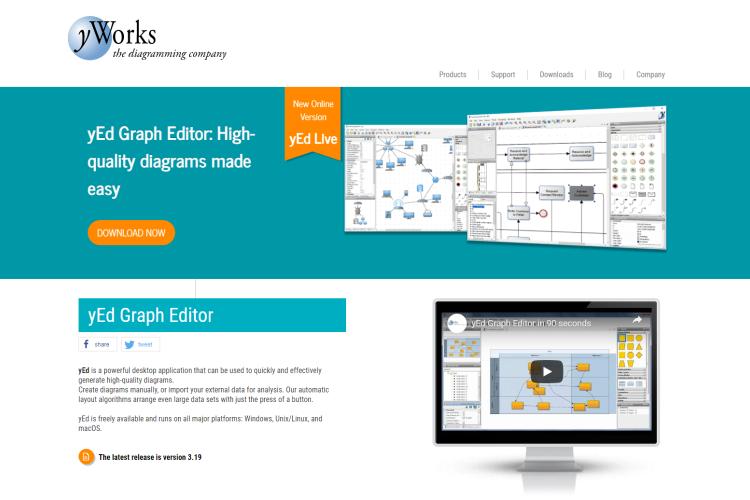 yEd is a flowchart creation software that has a Java script. Any Operating System that supports Java, runs the yEd Graph Editor. The major inclusions are Windows, Unix/Linux, and the Mac OS.
yEd is a High-quality diagramming tool. It works as a Desktop Application, and needs installation on your system. its interface is amazing, laced with a ton of features. From flowcharts to complete networks; the possibilities are enormous with yEd. The platform gives you a lot of flexibility.
There are multiple layout options for flowcharts. This helps link the content in unique ways. You also get to link the diagrams with other sources. The software supports a number of output extensions as well. It makes the tool versatile for all users.
To top it all, yEd Graph Editor is free to use. Start off with the software by following the link in the title.
Graphviz has a DOT script written by AT&T Labs Research. It is an Open-source software with a lot of applications. The main features of its technical ability are Visual Interfacing and Networking.
Graphviz has "Roadmaps" for modelling purposes. These include:
· dot.
· neato.
· fdp.
· sfdp.
· twopi.
· circo.
All these graphical models have a unique purpose. They enable flowchart representations in different layouts. Each layout gives a different structure to the flow diagram. This makes reading as well as arranging data much easier.
Graphviz has a number of graphical output formats. It makes the representations compatible with other programs, and uploading on the web. You can edit your flow diagrams in a lot of ways to make it representable.
There are complications with using Graphviz. The software has a tough learning curve. But it is a powerful, multipurpose tool once you get comfortable with it. Start learning more about Graphviz through the link in the title.
6. LibreOffice Draw - Site Link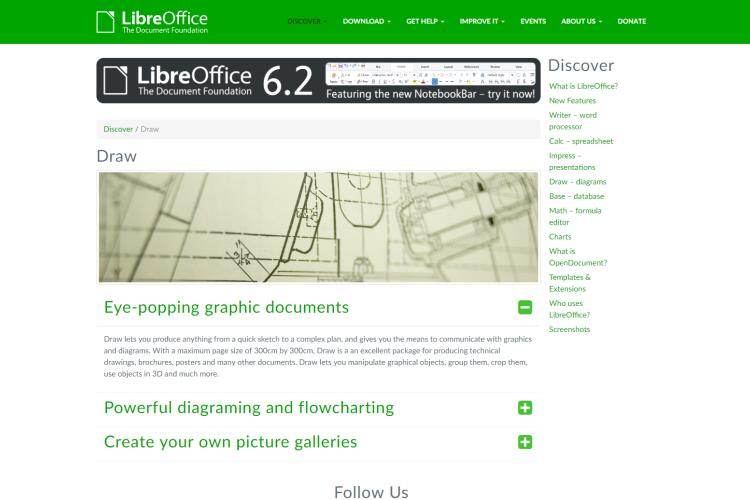 LibreOffice Draw is an another Open-source software. The Document Foundation built it as a graphical representation application. The tool is free to use, and provides many features similar to Microsoft Visio.
The Draw Tool of LibreOffice is one of a kind. You get to develop anything from graphical objects to flow diagrams. There is an option to group different set of objects as well. It is helpful in linking different representations with ease.
The software is simple and fun to use. LibreOffice has tips and tools that make it easy to use for beginners. Its various features help you as you build along. You can save your flow diagrams in different formats as well. All this makes LibreOffice an amazing software. its flexible toolkit is second-to-none for graphical representations.
Draw your flow diagrams and graphic documents with LibreOffice in the title link.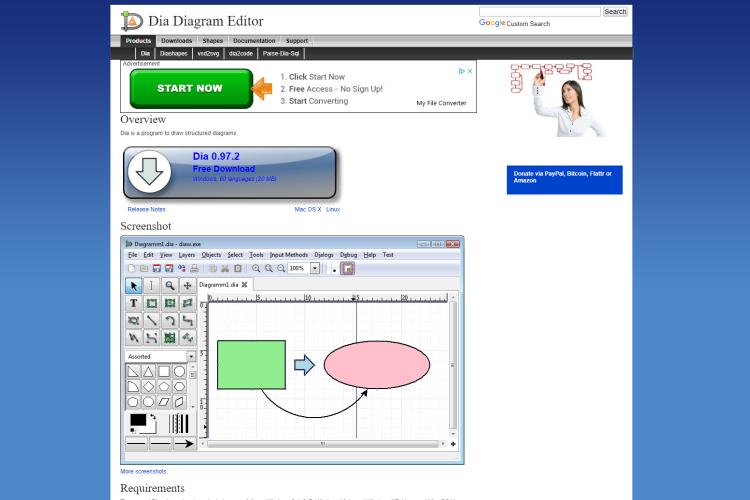 Dia is a C language software by Alexander Larsson. It is another Open-source software. It has compatibility for Windows, Mac OS X, and Linux. The tool is free for everyone to use. Its abilities have a close resemblance to Microsoft Visio.
Dia has a simple but powerful interface. It enables you to create anything from flowcharts to database models. The software has a wide array of tools for the purpose. It also has a Python integration. It generates coding themes for drawings.
The Dia output extension is specific to the software. But there is support for it with other similar programs. It is a simple process to export a Dia file to other programs.
Build your flow diagrams and charts from scratch using the Dia title link.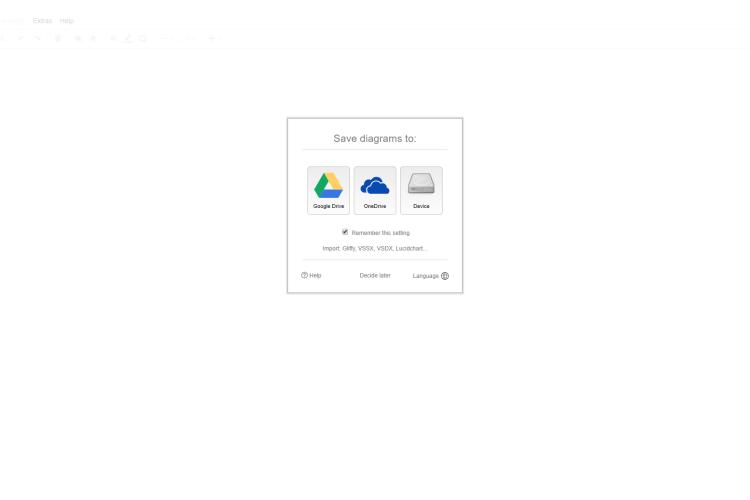 Draw.io has the best and easiest access. It is an online platform for diagramming and flowchart design. It gives you quick way to create graphical designs. Since it is an online application, you can access it through the web browser.
The Draw.io interface is clean and simple. The software lets you cloud sync your designs. You can save flow diagrams to your Google Drive as well. Other than that, it has options to import files from other similar software. You can work on a project as a team on a single sheet.
The graphical features of Draw.io are basic. You can create different types of flowcharts and diagrams. Its tools and links are descriptive, and designing is easy. But that is the most you can do with the application.
Use the title link to get to the Draw.io online application on your browser.
9. Pencil Project - Site Link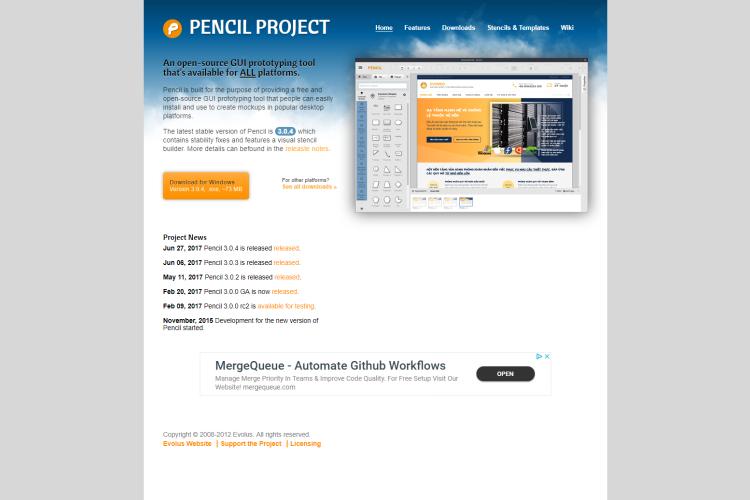 Pencil Project is another Open-source program. The Graphical User Interface prototype is available to everyone. It is a free software that lets you build diagrams and graphic designs.
Pencil Project has a wide range of use. It is easy to use for beginners and professionals. The software is compatible with all Operating Systems. This gives Pencil Project a lot of versatility. You can use the software on any computing device.
The program output file has export options to other software. The Pencil Project extension has support for other platforms. It also has a web integration.
The software receives periodic updates. The purpose is to remove bugs and improve performance. Get the latest version of Pencil Project through the title link.
Creately has a free online interface. It is a powerful tool with many creation options. You can work with a lot, from flowcharts to sequence diagrams.
The tool online tool has a simple interface. It has cool visual templates to work with. You can work together in a team on the same project as well. It is a robust free alternative to Microsoft Visio.
Create diagrams online through the Creately link in the title.
Conclusion
The 10 Best Free Alternatives to Microsoft Visio are excellent flow diagram tools. All these platforms have their pros and cons. But they enable you to do the same things as Visio.