10+ Best Free DJ Software - DJing has recorded a pretty much growth as a trend in the entire world these days. It has also become a well-known fact that many people appreciate live streaming or performances not just at clubs alone. But on lots of other events and platforms which includes fashion shows, parties, home parties, weddings, and so on.
Becoming a DJ is not quite difficult these days. Everything you will need as a beginner in the DJ niche such as Hercules Starlight, maybe Numark DJ2GO2, laptop, and the perfect software to begin mixing your preferred tunes off the beat can be easily accessed online.
How to select a good free DJ software for real shows.

We have so many software for DJ that you can get on different platforms accessible on the internet. You can easily get them for free while they still offer you your desired and best experience as a DJ. So, if your plan is to start DJing business and the balance in your account is straining you, don't mind. I will show you a way out. I will show you some platforms where you can get DJ tools free of charge. All you need to do is download, test, and keep trying.

In this article, we came up with some good software or DJ tools. One can download directly from these websites for free. One thing they all have in common is their different features relevant for your DJ engagement.
Though, the selected platforms have more or better features than the others on our list, we highly suggest that the app is first of all downloaded to see if it will suit the work with which you would want to use it for.
According to the rule, the one you should choose ought to contain features that are straightforward and can be accessed easily with in-built controls, mostly if it is needed to be employed on your ever first DJ job.
List of Best Free DJ Software
However, It is always cumbersome to select the free software that will match your DJ needs perfectly, whereas there are lots of options for you to make your choice on the paid softwares for DJs. If you are looking to purchase software for your DJ need, Ableton live and Tractor Pro still remains the highest software used globally by DJs that you will have to pay for. However, if you don't want to pay for DJ software but you still want the software that will serve you with professional features. You are in the right place. We collected top best software applications for DJs that will serve you as a pro and you won't have to pay a dime for them.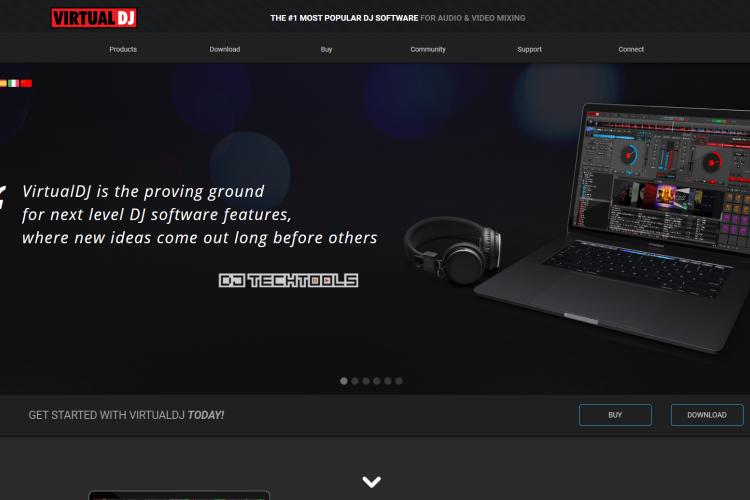 Virtual DJ has been rated as perfect software for DJ that is free. With Virtual DJ, you can edit, record and even mix audios from different sources. It comes with a friendly interface that is not difficult to use. Its most recent version 8 is the upgrade from the old version. It now comes with so many professional features. Using the sandbox pro feature you will be able produce a mix though the audience still follows the music. It also requires you to create an account on their website to be able to access their online based features that has more professional tools you can work with.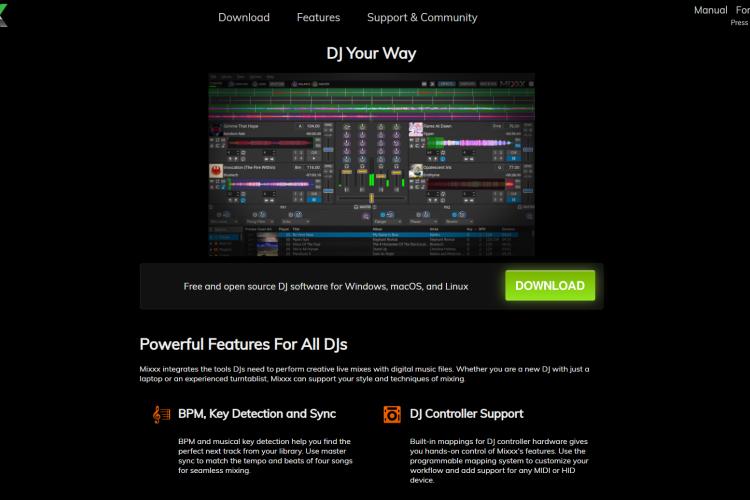 Mixx was as well one of the first software for DJ that you can use freely. It is also free and offers an open source tools for DJ. It works well when you are mixing, matching audio records and programming for live streaming or just learning. It's Beat Looping, Auto DJ, BPM detection and Intuitive Pitchbend features gave it the portfolio as one of the most amazing softwares for DJ around. One can easily and instantly learn MIXX through manual, wiki and FAQ online. To get more support you have the option to join the forum of the Mixx community where you will meet and ask other Mixx software users for help.
First, it is more useful than some the software we listed in this article because it can be used on Mac and Linux PCs. Its FX chaining, RGB waveforms and its ability to detect mixing or key harmoniously makes it a sweetheart for any DJ during shows in the club.
It is recommended for any DJ that is often away from his own home equipment and he is looking to create a playlist.
For maximum impact, and to avert any issues or challenges that might emanate while using Mixxx, it is advisable to test the functioning ability of the software thoroughly before you start working with. That notwithstanding, Mixxx comes with every necessary feature needed to kick start or do your first DJ job.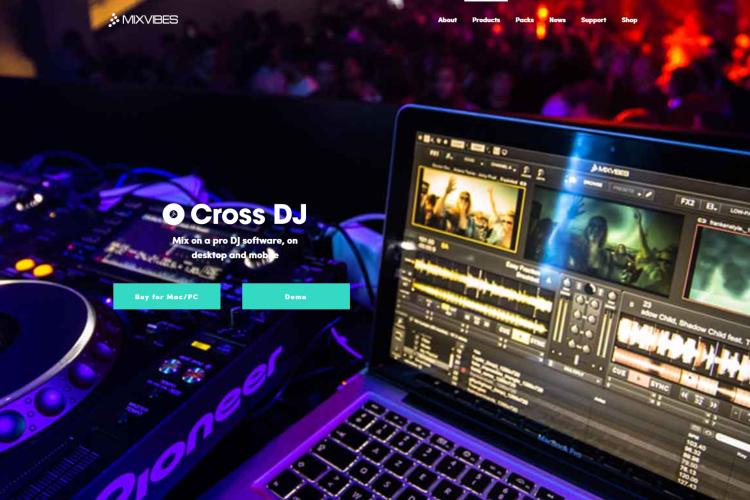 Cross DJ is another phenomenal tool for DJ. Its interface is simple, and it has four video mixing, waveform videos that are customizable and amazing players. With Cross DJ, Mixing videos are as simple as when you are mixing audios. Sometimes, it can even be easier to use than using Virtual DJ. It also works well with inputting your webcam video streaming into your editing mode and simply sync the audio with the video. Even though Cross DJ Has a version that is paid for, it has a version that is free and it will take care of about 99% of what you want to use it for as long as DJ is concerned.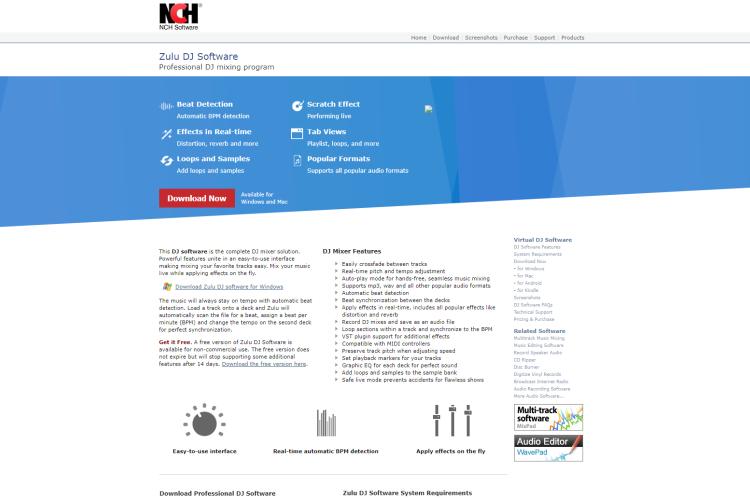 Zulu DJ comes with six cool decks and it is better than most DJ mixer or software which comes with just four decks. It can assign beats to any imported file, MP3 or any audio in any format after scanning it. You have the option to make the beats high or low per time and it can give effects to fly to help it generate very powerful effects to the audio production.
Zulu Dj is most appropriate for beginners who are looking for a real straightforward and simple application.The tool enables you mix your tracks live and still apply effects to it; adjusting the tempo, adding real-time pitch, cross-fading the songs, syncing beats, and so much more.
Are you looking for additional audio software with a perfect effect? Zulu DJ allows third-party VST plugins for anyone who is interested. As a User, you can get different audio record formats such as, mp3, wav, & many others on their decks collections for DJs. Just mix them live, record the mixes and then save it as your audio records.
5. PartyCloud Online - Site Link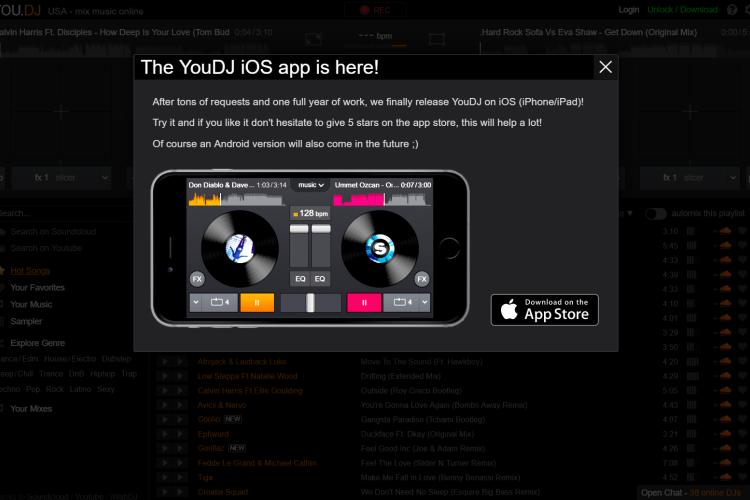 With PartyCloud Online, you need none software for DJ. Get a mixer for your PC with this online tool for your DJ task. However, you should know that trusting on any online tool for DJ roles can be called foolishness. Just create your amazing music using this tool on the internet. It is just an online based DJ service provider that has over twenty million music database on a sound cloud.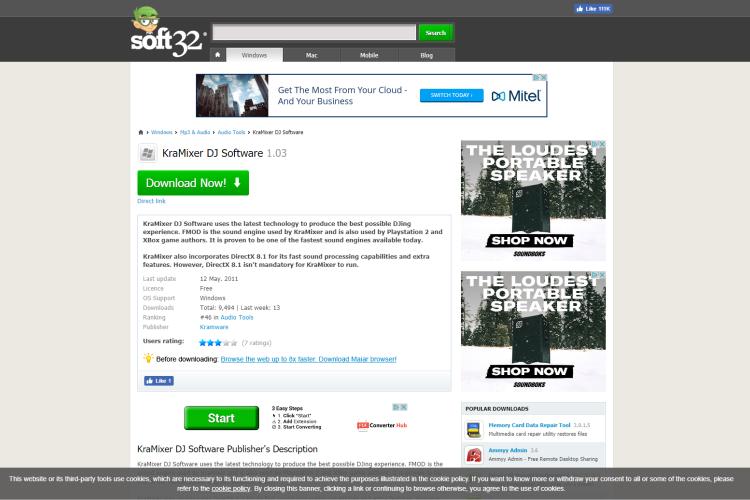 Here is another reliable good free DJ tool. It comes with an FMOD engine that generates the right sound such as the one used for Xbox. It also contains features such as BPM that automatically matches over 8 sound effects that are built into it. It has a Cueing Headphone great for a software that is free.
If what you are looking for is a basic DJ too that works as a pro that has an algorithm with high quality? Stop looking! KraMixer got you covered. It is well-known for producing audio quality sounds because of it FMOD sound device. It has been proven to be among the fastest sound devices available in the market today.
Apart from that, this app is built with an instant BPM that blends well with the sound inbuilt sound with special effects. It is a good and decent master piece for a DJ tool. But then, you will need to read the agreement on the license carefully because this app can come to be embedded with three Malware or software programs. Try to remove them and then run a scan to remove the adware when you must have installed. We have only the Windows enabled version available for you to download free of charge.
7. TacTile Mp3 DJ - Site Link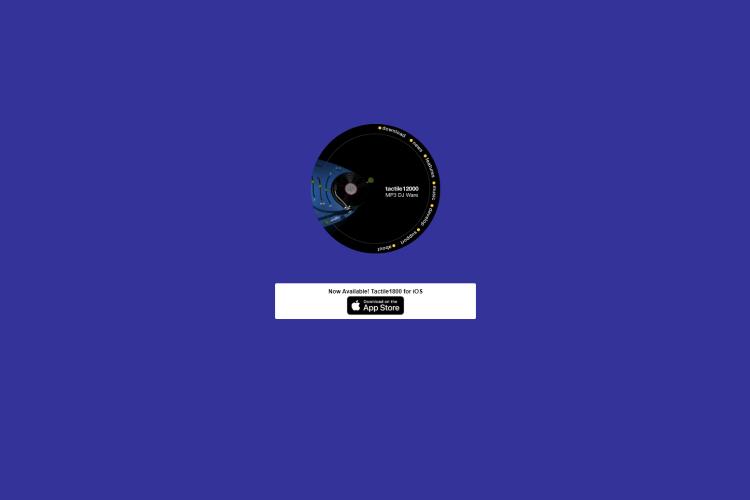 This tool is a mixer or software that is perfect for any file of Mp3, it's just that it doesn't have so many of the features that matches the other ones on our list. But it is a go to for free DJ tool. The tool is created with Macromedia Director alongside C++ plugin. You can download it on Sourceforge site.
8. Serato DJ Intro - Site Link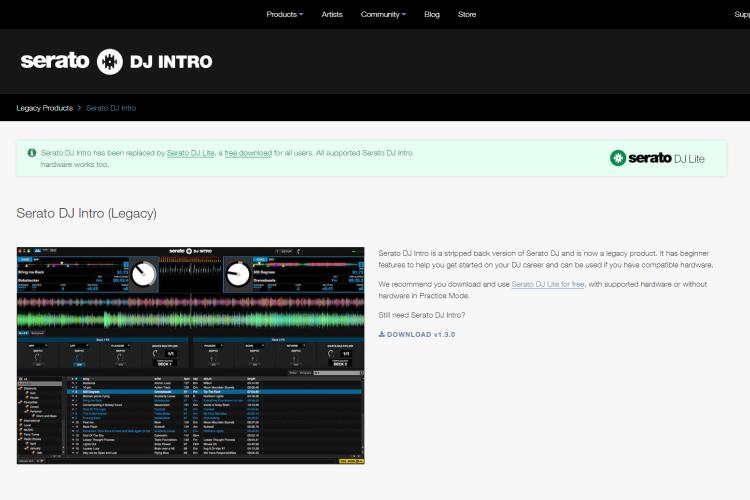 The intro in the Serato software is among the good free DJ tools you can download and it allows double deck pro mixing using your PC. You can use iTunes with it and it has the ability lock tracks for cool grooves. It is one of the most recent and it has recorded so many download on the internet. Its model player is able to play up to four samples that are short. This includes the two audio songs that you might be mixing using the software.
9. Blaze Free DJ - Site Link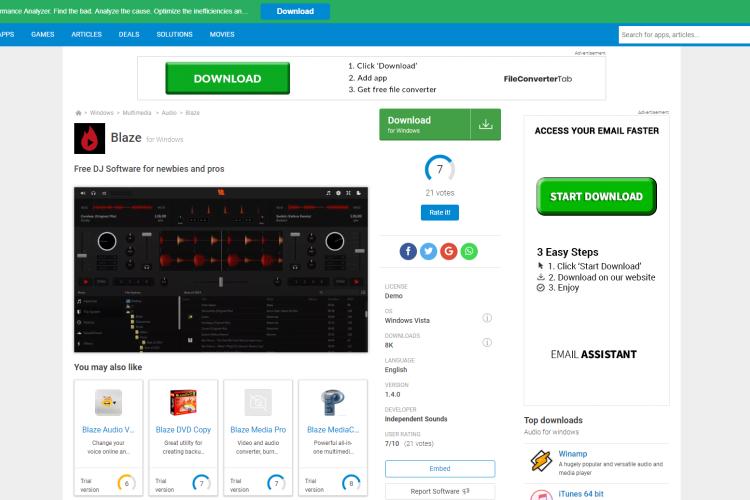 The blaze software is among the good free mixing software that has latent sound potency that is asio based. It allows colored spectrum waveform and it has the ability to detect BPM and it can sync as well. It is new and absolutely free but it has features that make it work like a pro.
This software is among the best in our collection of free PC DJ tools. Its in built-beat lock tool can make tracks play continuously alongside matching and fading audios records without interfering with the files. Just like its name, mix lite is perfect if you are a beginner trying to play around DJ tools. This tool has been designed to continuously play music using cross fading and matching beats in between tunes. DJ Mix Lite comes with in-built Beatlock Technology which marks it as beat-aware.
This technology doesn't interfere with the sound records; it will only analyze the files to find out beats so it will be able to fully produce automatic and quality DJ playlist. With that you will only have to fill out your track list and you are good to go. Optionally, there is a provision to edit the position & the length of the mixes, play it through your headphones assuming you would want to add some other tweaks to it. However, DJ Mix Lite can only be accessed on Windows PC just as KraMixer.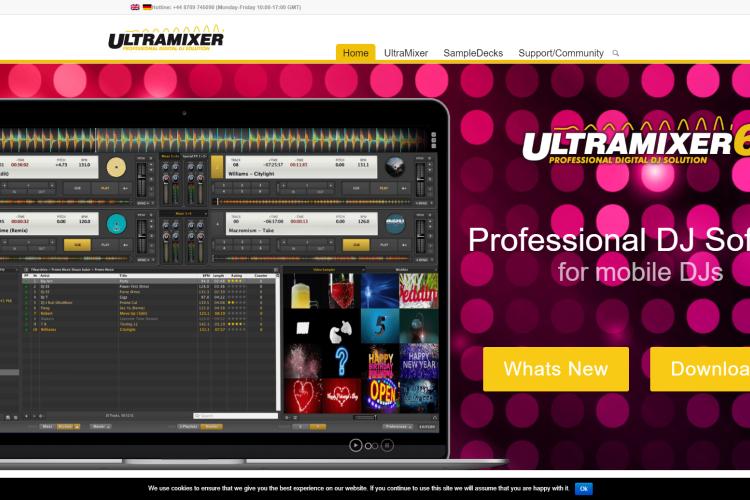 This software is also a good one. Of course it's among the one we rated best because it comes will simple features that has been inspired by upcoming professional DJs. Not minding that its keyboard control can make things a bit lengthy, it is quite a simple tool to use.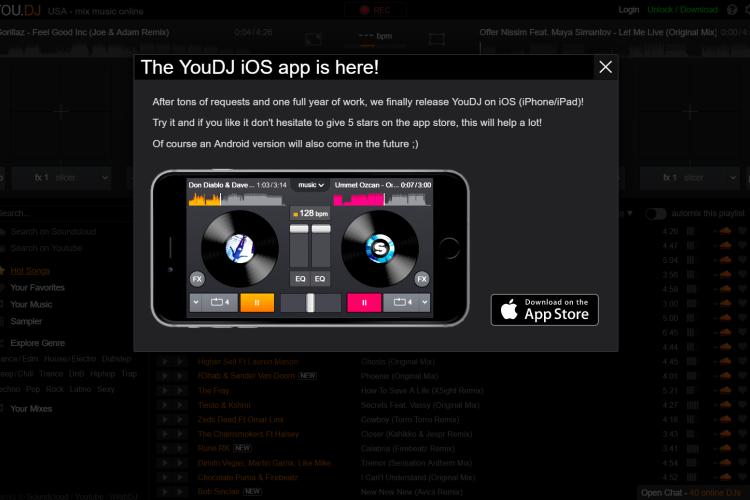 The YOU.DJ concept might appear to be a little innovative & unconventional in the first place, however once you open it on a browser, you will be dazed at what you would see. Just visit www.you.dj and begin mixing those favorite songs.
It comes with lots of pre-loaded tunes within its cloud-based software for Dj, but then, you can as well search out other titles on the Sound Cloud even on YouTube as well with the available search bar on the left hand side of the browser. Additionally, get ready to discover multiple genres and organize your tunes or how to organize your songs by producing customized playlists on the beat.
The surplus features and the functionalities available on this software will amaze you, especially if you look at it as cloud-based tool anyway.