50+ Best Websites for Free Printable Grocery Coupons - Spending more than your initial budget on grocery is an experience with many victims. Most times you are surprised at how your bills soar so high. But you've got to pay your bills.

"Create a shopping list and stick to it" This is the common advice you will always get. But does this really work? Especially when the price of groceries is ever-moving towards the high side.
However, that is one hell of experience we all face. Despite trying so hard to save on grocery.
Reports show that grocery prices steadily rise at about 2-3% yearly since 1990. USA Today reports that an average family of four spends about $146-$191 weekly on groceries.
Sure you are still in terms with your mathematics. If yes, you'll agree with me that the average family spends about $9,992 on grocery every year. That's a huge expense, you may scream! But the truth is that you can't avoid it
Good news! Coupon can help you trim this figure. Sure!
"Hello, I don't have the time to clip coupons for hours on end" Great! But you don't even need to clip those coupons again.
With lots of coupon sites and apps, you can print coupons and use in person. Some offer more flexibility where you can clip using your smartphones. See, you have them with you as you go.
List of Best Websites for Free Printable Grocery Coupons
Do you want to save more money every year? Yes, I think your response will be. Check out the best grocery coupon websites here.
Note that most of these sites are specially for grocery coupons. Others are general coupon websites that still feature grocery coupons

Good to go, I trust. Check out the top sites to get food and grocery coupon you can quickly print out here.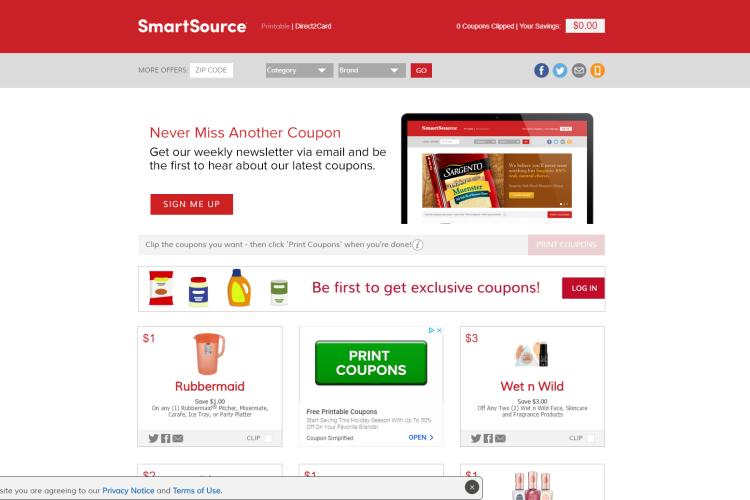 In need of a renowned and obviously one of the best grocery coupon website? SmartSource is where you should check.
You can get access to their fresh savings offer since the website is always updated - almost the clock ticks. They offer coupon various brands - Kraft, General Mills, just name it.
If you need an app on the go, SmartSource got you covered with their app for both iOS and Android.
They also provide you access to printable grocery coupons. More so, you can get a clip-free coupon loaded into your shopper card when you register for one. Using your card at checkout makes use of the coupon automatically.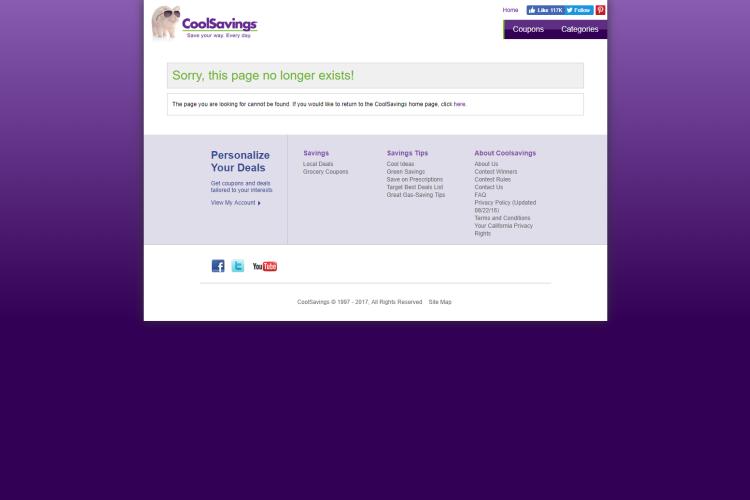 CoolSavings is the best pick if you need more discount on a wide range of products. You can get both online and printable coupons from CoolSaving's website.
If you need a reliable place for printable grocery coupons, CoolSavings is that place. This is because they always update their deals on a daily basis.
The ease of navigating and printing coupons on this website makes it a favorite site for many.
Besides having a vast range of printable coupons, they also provide a good selection of coupon codes.These codes are sure to even afford you free shipping.
3. Grocery Smarts - Site Link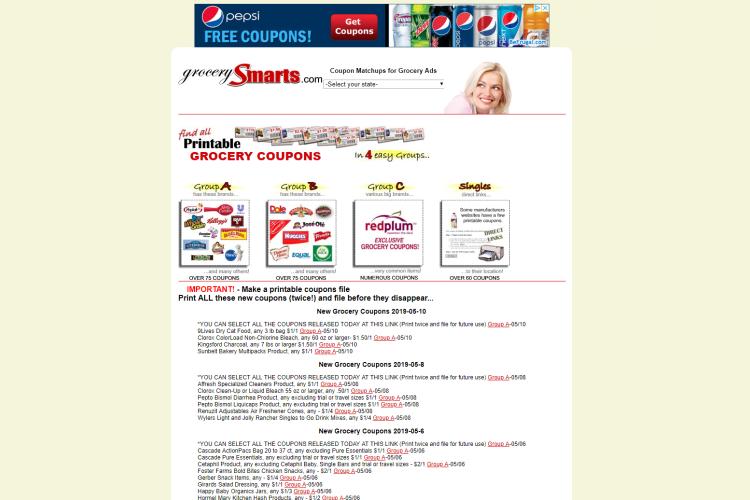 With Grocery Smarts, you can get lots of cash saving deals as well as coupons.
Grocery Smarts fits best for those who want maximum savings. This is because they combine in-store sales and manufacturer coupon. They also offer lots of printable grocery apps on their website.
Frankly speaking, Grocery Smarts's website is not easy to navigate like most of the sites on this list. On the site, you'll find options like A, B, C, and Singles. These are the coupon categories.
However, they still offer some flexibility in the search for coupons. By this, you can use the type of product - beverage, dessert etc as your search term.
If you are using Android, this app will help you more
4. Grocery Coupon Network - Site Link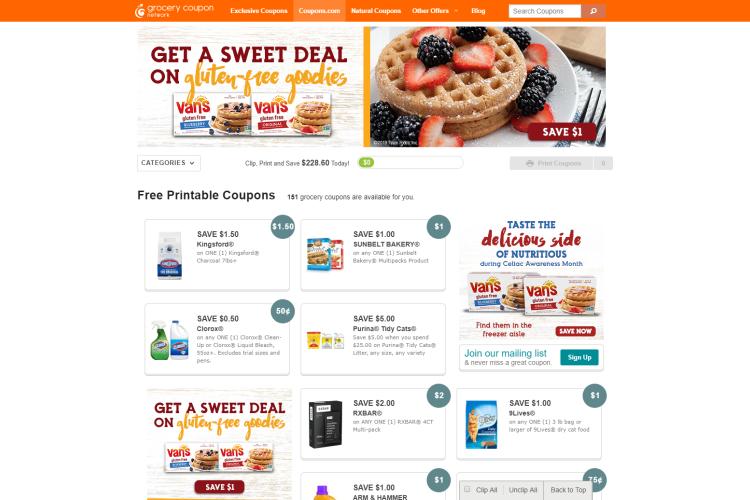 Grocery Coupon Network offers the latest coupon deals with an hourly update.
Coupon code, as well as printable grocery coupons, are all available on the website.
One unique feature of this site is that there is always a weekly coupon match-up for over 35 grocery stores. Such stores may be national grocery stores such as Kroger and Walmart or regional stores.
If you have an average family and you are using Grocery Coupon Network, you are likely to save $56/month.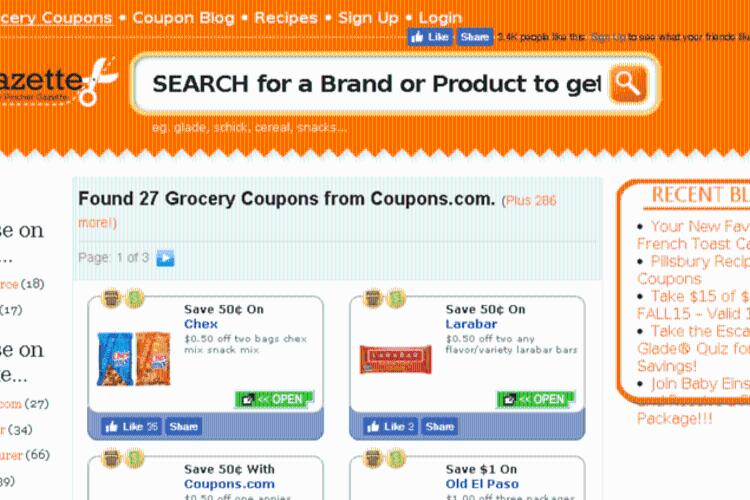 PPGazaette offers great stackable offers and grocery coupons. As a search engine for grocery coupon, it can find manufacturer and store coupons on the internet.
Better still, you can search for brands and products yourself. But you can decide to look up the available coupons that are listed in the site.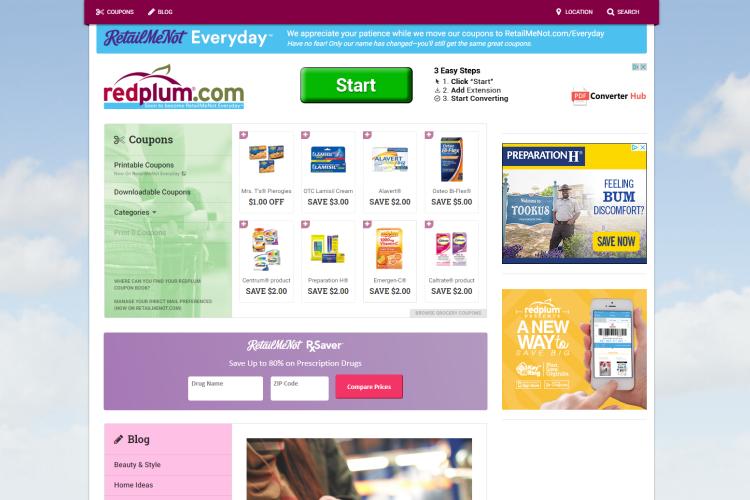 RedPlum is the only website that offers RedPlum Coupon Books via mails or newspaper.
Without much popularity, RedPlum offers one of the best grocery coupons. On their website, Printable and Downloadable are the two categories of coupons.
With the printable coupon, you can clip and use it immediately at the grocery store. The downloadable coupons are only loaded onto a registered grocery loyalty card.
Although RedPlum may have a small coupon selection, they off enormous savings.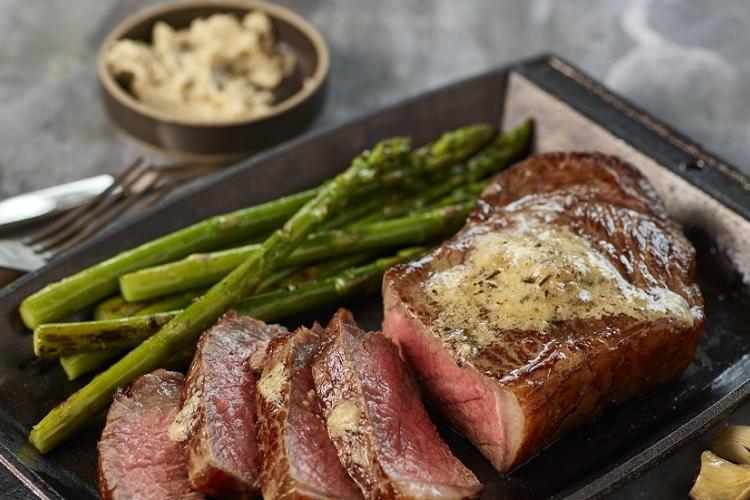 Mambo Sprout is one coupon that is best for those into organic foods.
It provides recipes, information, and advice about organic food. Also, it provides an amazing selection of coupons for organic food. With Mambo Sprout, you can enjoy both a selection of e-coupons and printable coupons.
This is one of the most renowned and prominent coupon sites. Do want to know why?
They offer a large number of coupon which will almost always align for a product you always love buying. They also offer both e-coupons as well as printable coupons.
So, with this, you can always check out Coupons.com whether you are buying online or from local stores.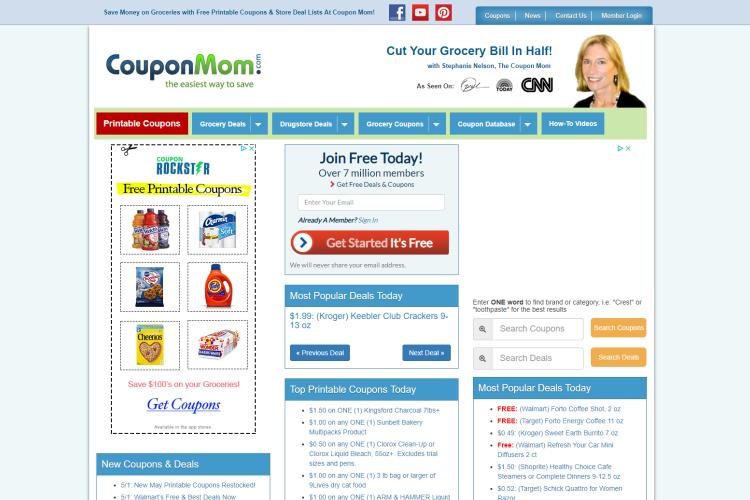 CouponMon is another great name in grocery coupon. This website offers an amazing selection of printable grocery coupons for laundry and food. They also offer coupons for drugstore.
CouponMom is popular for one thing. It allows you to check coupon state which can give you easy access to local coupon deals.
Finally, CouponMom offers so many selections of coupons. This been well applauded and mention on CNN and The Today Show.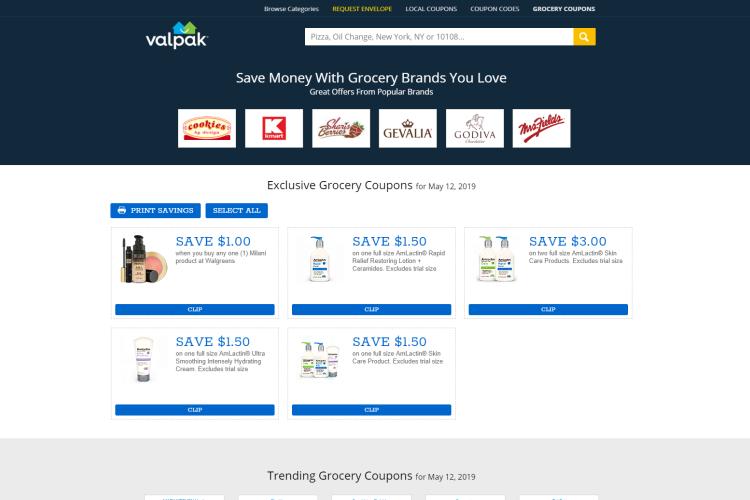 If you need pizza or pet food, be ready because you can also get an average selection of coupon here.
Valpak offers printable grocery coupon for popular brands, and you can use this in the US and Canada.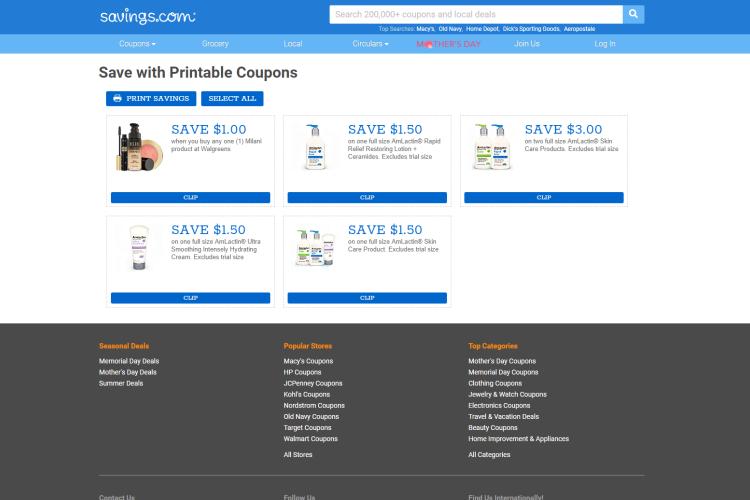 This website is a renowned site with lots of fans due to the great offers it gives.
Savings.com offers a great discount with a variety of promo codes, coupon for lots of brands and products.
You can find a huge selection of printable grocery coupons that undergo update regularly on this website.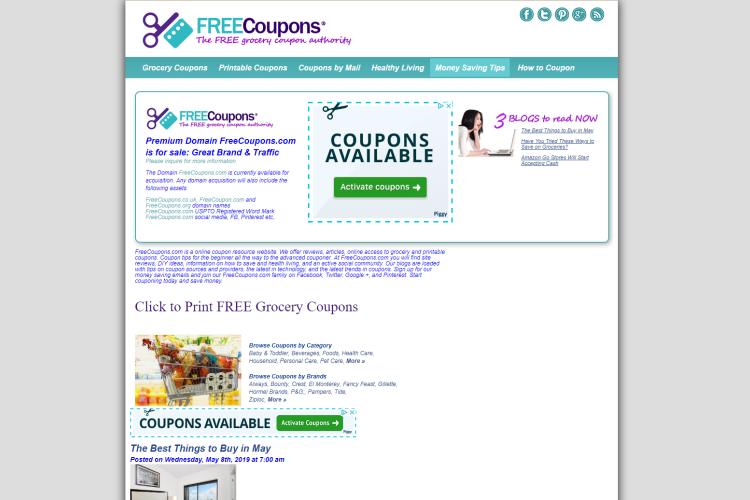 Free Coupons is another site to find amazing grocery coupons.
Free Coupons offers various selection of coupon codes and printable coupons. They also have coupons for popular products and brands.
Here is the shocker! Signing up for Free Coupons' newsletter earns you a VIP coupon.
13.P&G BrandSaver - Site Link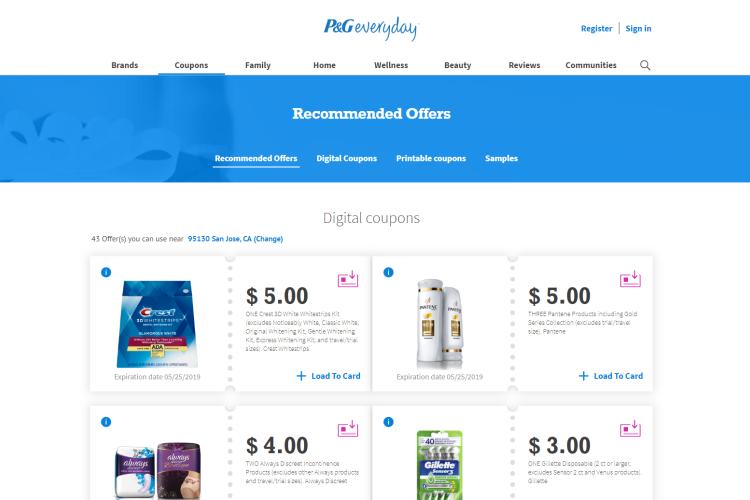 Consider visiting this website if you need to save some bucks when buying grocery.
You can find printable coupons for lots of Protctor & Gamble brands. Mind you, Protctor & Gamble is the company hosting this site.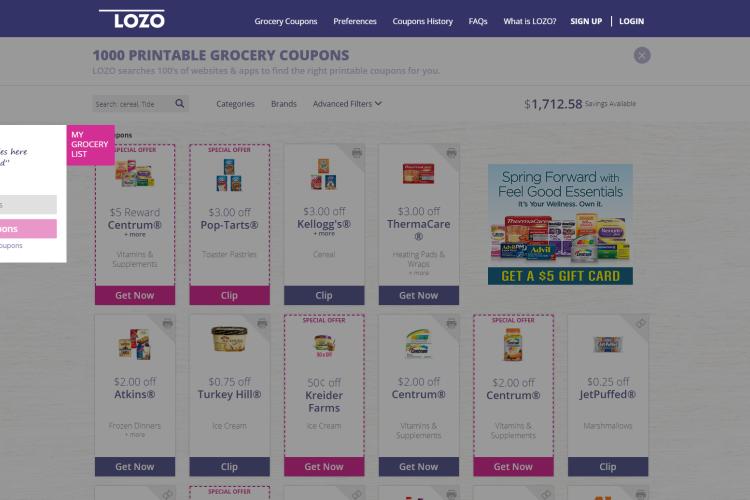 When it comes to the ease of finding grocery coupons, this site ranks high.
All you need to do in this site is to enter your grocery list and it will instantly find matching coupons for you. With this, you can save the time to scan through coupons you need for something else.
If you need an adventure of the collection of coupons, you can choose to search all by yourself.
Site List for Free Printable Store and Manufacturer Coupons
You can also use these manufacturer's and grocery store website to check for coupons on their products.
This is also another great way of cutting cost and saving more on your grocery.
Grocery Store Coupon Sites
Do you know of some top grocery stores? If yes, check here for their coupons links. If can also find other small stores' website selling grocery here.
Site List for Printable Manufacturers Coupons
Many grocery brands also provide their customers with coupons directly.
Need some?Check this list out for top brands behind popular grocery store products with printable coupons.
Take Away
Everyone needs a reliable way of cutting cost when buying grocery. Finding such a way seems almost impossible most of the time.
But, thanks to coupons provided by grocery stores and manufacturers alike. That's to say you can now shop without paying so much attention t what is remaining in your wallet.o
With these websites, you can enjoy enormous selection of coupons without killing your time on the manual search.
Check these sites out and enjoy the most out of grocery coupons. Good luck!