Watch Videos Online with Friends - Many people would agree that seeing the exciting movies or TV series in real time- with friends and loved ones, is one exciting feeling on its own. Asides the fact that you can also engage in discussions concerning the scenes and what you're guessing to happen next, it also helps to solidify the bond you have with these persons. But then, we all have to carry on with our various engagements, and sometimes this means moving distances apart from our movie partners- and those people who would readily join us on the couch when the movie is on.
However, quite several software developers have thought about the possibilities of bridging these gaps. Consequently, there are now effective applications that allow you to watch videos online with friends in real time. In fact, these applications keep you well connected with your friends- while the movie or TV scenes are on, and you wouldn't feel their absence so much.
Now, although you wouldn't be able to share fruit salads or popcorn from the same bowl, you'll be able to maintain that interactiveness and the bond that makes everything interesting and lively, again.
Watch Movies Together Online with Friends

Following the list of best free movies, below are some eight great apps to watch videos online with friends in real time. Each app has been described according to its feature, and the procedures for putting them to use. Note that all of the apps possess their great features, hence the lists have not been arranged according to an order of relative priority or significance.

MyCircleTV Online Video And TV Viewing Service - Site Link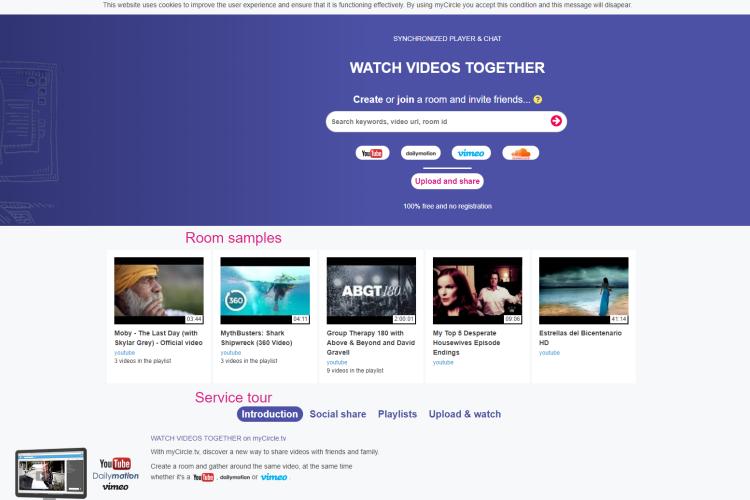 There are quite several distinct features that you'll love on the MyCircleTV- all of which are surprisingly free. You wouldn't need to worry about the distance between you and your movie or TV partners since this app allows you to stay connected for several hours. It's likely that you'll be so excited using this app for the first time, because the things you benefit for free, are a huge lot that you may not have come across before.
Firstly, one of the most conspicuous solutions that the MyCircleTV services bring to your table is the VoIP voice calling infrastructure. With this addition on the platform, users can connect and speak to themselves as they see their favorite movies or TV shows. All you need to do is invite your friends via email, Facebook notifications, LinkedIn, and even Twitter. Once they're joined in on the MyCircleTV website or mobile application, you can proceed to sync your movies and hear yourselves talk about the movies for several hours.
Although the services are free, users register on the platform- in exchange for value-added services. For instance, registered MyCircleTV users are allowed to upload up to 5GB video contents to a provided cloud storage- where it can always be accessed and seen with your specific friends.
The Watch2gether App - Site Link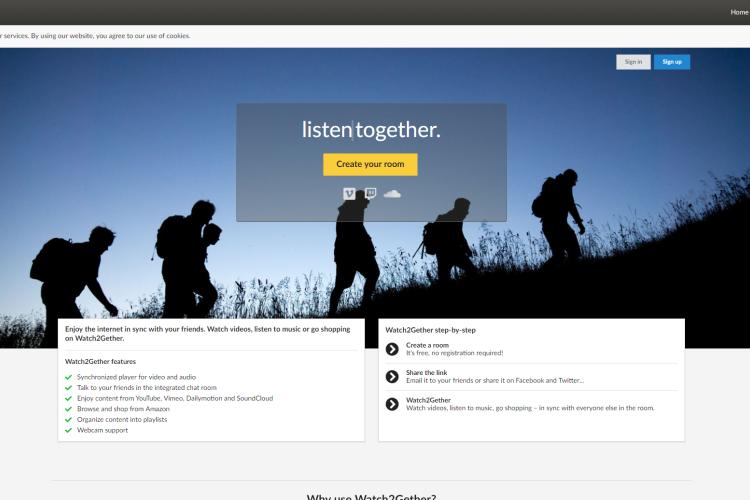 Watch2gether is another top application for watching videos online with friends. The application works fine, and there are no long procedures to get you started with it. In fact, a lot of online video users think this is one of the simplest apps to use. The Watch2gether operation roadmap allows users to watch movies or TV shows from remote locations, and in real time.
Asides video syncing, you may also synchronize and share audio files, with the people you care about. Watch2gether supports video contents from Dailymotion, YouTube, and Vimeo, while SoundCloud audio files are also supported. One good thing about Watch2gether is the fact that users don't need to open a user account before they can use the video syncing and chat functions. Once you're on the app, simply go to the 'create a room' option, after which you'll be required to provide a nickname. A nickname is required for each time you intend to use the platform's services, and it's just to identify your video viewing and chat room.
Other benefits of using this application include the Webcam support- which allows you to carry out video interactions with the friends in your chat room, as well as an ability to search and shop for Amazon-listed products.
The Rabbit™ Video Syncing App - Site Link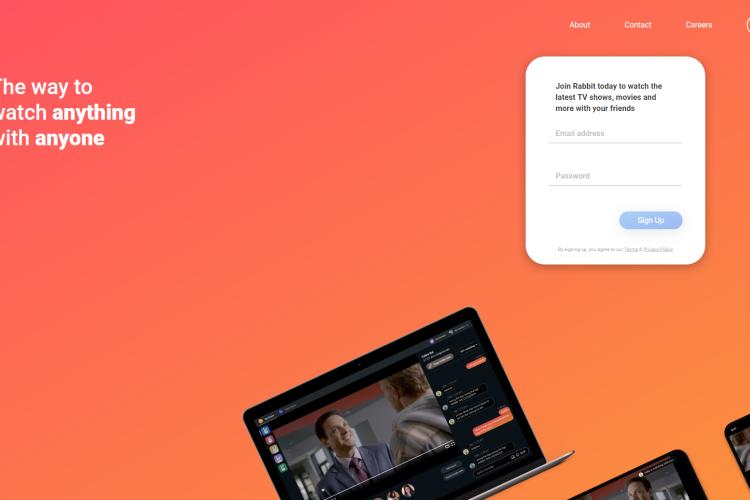 If you've seen anyone who enjoys syncing and watching videos with friends regularly, then such persons really could be using the Rabbit™ app. The Rabbit app is now used daily, by thousands of online video viewers worldwide. Asides the fact that the app has become quite popular amongst users, it is truly very useful for watching videos online with friends.
When using the Rabbit app, note that what you're able to share across board with persons, is much more than the Netflix or YouTube video you're syncing. Rabbit allows you to share the entire browser dashboard so that you're able to share other contents like saved documents, and even text messages. The platform can facilitate all of these using the WebRTC, which also ensures that video syncing is fast enough, and with the reduced waiting time.
Almost anyone can use the Rabbit syncing website, without getting stuck- thanks to its simple but apt user interface. The application doesn't need you to go through many processes or click many buttons before you enjoy its services. In fact, you may begin to watch your desired videos with friends- immediately after opening a user account. Usually, Rabbit asks you to create your rooms, in which you'll be able to add your friends and all those you want to share the videos. Aside from communication through text, note that the application also allows you to communicate with the various people in your room, via video calls.
Lastly, the Rabbit website has provided android and iOS apps- for enhanced user experience, while all of these are free.
The Netflix Party Video App - Site Link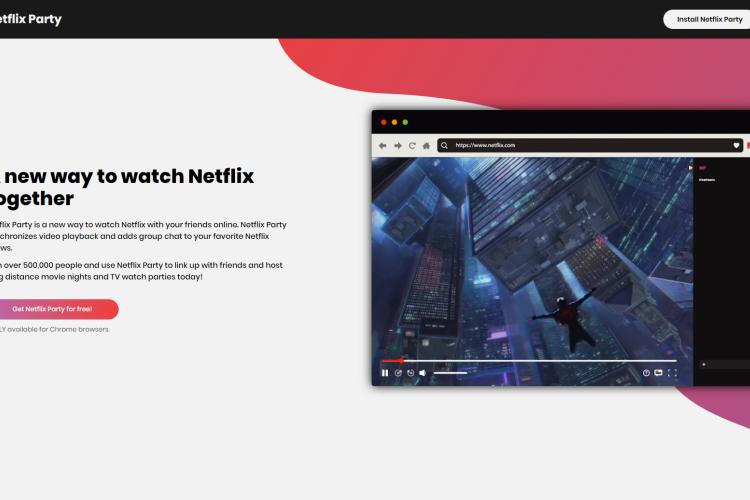 As the product name indicates, Netflix Party is designed primarily for Netflix users who wish to synchronize and share the videos across several computers. Given this, the application is actually a Google Chrome extension- which is intently made to be so, to facilitate its ease of use. Hence, the extension works just fine on the chrome browser, and you'll have connected with your friends' computers in only a few minutes. Consequently, you'll also be able to sync and watch the videos almost immediately, as there are no user account opening requirements. However, since it is a chrome extension, the Netflix Party only works on the Chrome browser, meaning it would only work on a Google Chrome browser. Hence, you necessarily have to install the browser before you can use this provision.
Now, this application is an ideal one for many Netflix users, since it allows them to share Netflix videos with their friends- who have not gotten the service subscriptions. All you need to do is share the video links with them- via the Netflix Party solution, and then they can subsequently enjoy the Netflix actions.
The Syncplay real-time video playback synchronizer - Site Link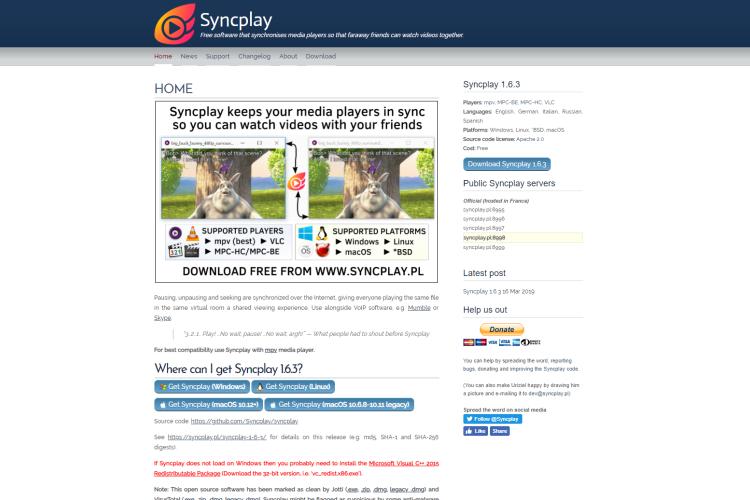 Syncplay is definitely another great app for watching movies online with friends, in real time. There are not much required of you, as the features are quite easy and straightforward to use. The requirements for successfully using the solution includes finding or setting up a server, as well as ensuring that you have the compatible video player on your devices. Supported media players on the platform include MPC-HC, VLC, KM player, media player classic, MPV, as well as the Mplayer2.
When the Syncplay application is running, users get connected to the room and server you've created, and you can see them in the notification panel. Before making the sync with other friends' computers, make sure you've prepared the movies that you're going to share, locally on your computer or whatever other devices you would be using. The platform is quite flexible, and users can easily pause or rewind the scenes that interest them, from any of the computers.
Lastly, note that all permitted functions on the Syncplay program are free to access; just secured the connection, plug in the videos, and play.
The Gaze Perfect Video Synchrony App - Site Link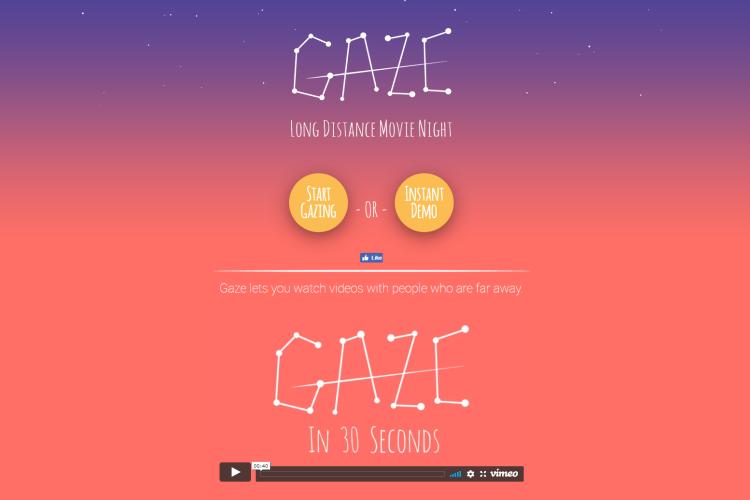 If you're the type that loves to stream and share your videos from YouTube, then the Gaze synchrony app could do a lot for you. There are no lengthy processes and no pre-registration needed. The gaze is easy to use, and you could be streaming and synchronizing the videos in real time, all within the spate of a few minutes. Simply log on to gaze, and then start the YouTube streaming processes, via the app. Once you've clicked on the video of your choice, you can then copy the room link and forward same to your viewing partner. If you wish to sync other files asides YouTube videos, you may send the files to your viewing partner- so that you both have the files on your devices. After this is done, Gaze would allow you to sync and view the video files, without a hitch.
However, note that the Gaze platform only allows two synchronized users, hence you can only connect with one other person, at a time. Consequently, this type of arrangement seems to fit for dating couples, who need to relish the movie moments together.
The Plex 'Watch together' VR Video Synchronizer - Site Link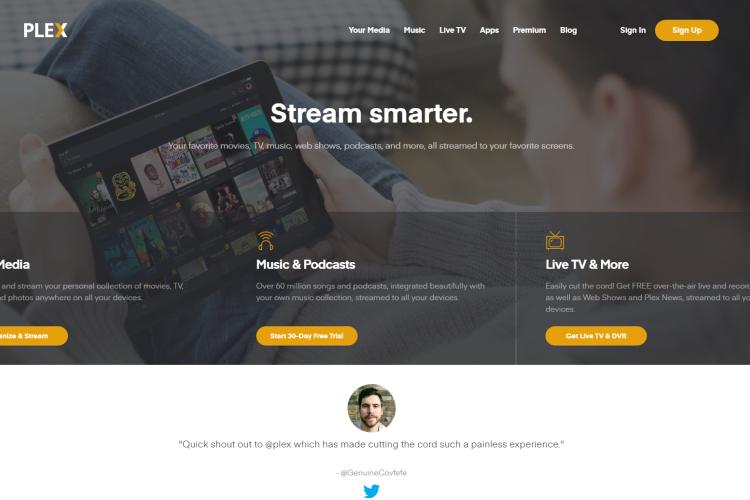 The Plex VR 'watch together' is one ingenious video synchronizer, that is sometimes referred to as the social viewing app, as it were. It might also qualify as one of the most sophisticated apps to watch videos online with your friends. However, if you're looking for a VR-enabled way to sync and watch videos with friends in real time, then you should be looking at the direction of the Plex VR video synchronizer.
What happens on the Plex VR is that the platform allows users to share virtual reality structures, via the Plex supported modules- to give everyone a more enhanced viewing experience. Note that all shared videos on the platform, are sourced directly from the user's Plex media library.
Other features on the Plex VR includes a customized Duplo avatar figure for each synchronized computer. To bring optimum satisfaction from the viewing sessions, the platform allows individual user participants to customize the screen sizes and positions of the screen, to follow their preferences.
Note that this application allows only four synchronized users at a time- together with the video syncing creator. Again, you need to have Google Daydream, Oculus GO, or the Gear VR supported hardware devices before you or any of your attached users can effectively make use of this video synchronizing solution.
The Sync Video Synchronizing App - Site Link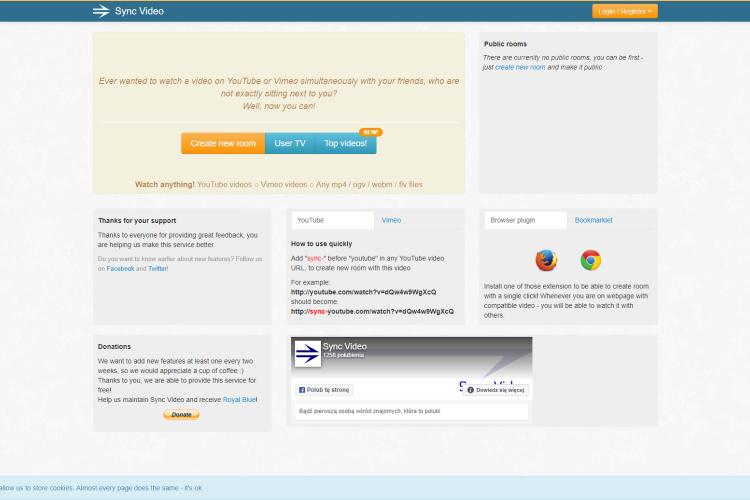 The Sync Video app was definitely created with an intent to fix some of the inadequacies of a number other video syncing apps in this category. For instance, the application allows an increased level of user privacy- which means that users and their video viewing/chatting partners, can now reservedly have a virtual room to themselves, on the platform. Given this, all intending users of the platform are necessarily mandated to create a user profile, which they retain and make use of- for every time they want to stream and share the video with others, in real time. Hence, it is like your personal space on the Sync Video platform, which of course is granted for free. This does not mean, however, that you cannot create newer rooms and add newer members- each time you need one.
Basically, the Sync Video platform allows users stream and share YouTube and Vimeo videos in real time- although those videos may also be saved away unto the user's playlists- for future viewing. For whatever room you've created, intending participants can and would only be able to join in, if you've issued them the invite notifications.
Definitely, more useful applications in this category, are expected to hit the internet soon. People would most readily like the idea of using them because they fundamentally bring them close to the people that make their viewing experiences worthwhile, while also helping them save on the enormous costs that should normally go with the use of these services.