Buy items/services? Check!
Sell items/services? Check!
Make money? Check!
Find free stuff? Check!
You can have access to more amazing things on craigslist.org; sell service, participate in discussions, get involved in community services, or even find hookups (not necessarily the sexual type of hookups though) and create a network, and so on. In the world of buy sell advertisements, craigslist is a force to be reckoned with; the website now has active users in over 70 countries around the world and receives over a million web traffic daily from some of these countries.
As excellent as craigslist is, you may have a reason to look for an alternative, and with all craigslist's features it will not be easy finding an equal alternative but is not impossible. Some alternatives are as excellent as craigslist, or even better than craigslist in some aspects, 18 of such alternatives are reviewed below:
Free Sites like Craigslist for Free Classifieds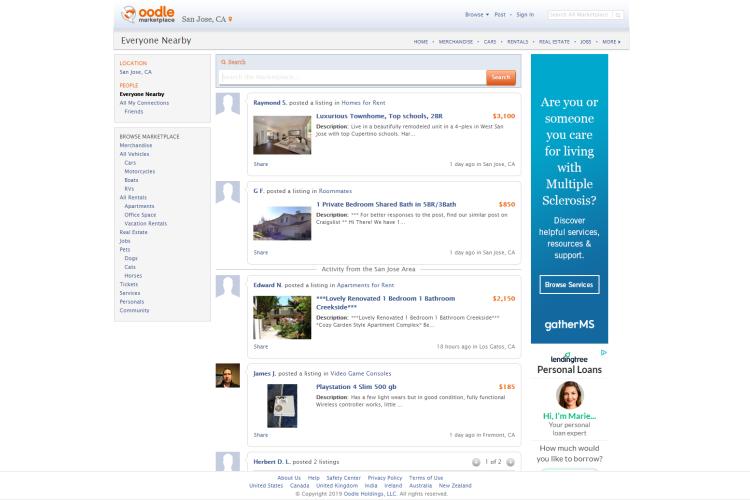 The number one worthy alternative for craigslist is Oodle; the website is used by millions of people around the world and features almost everything craigslist features, Oodle is one of craigslist's biggest rivals. Some of the popular categories on Oodle include Merchandise, vehicles, Rentals and Real estates, Jobs, Tickets, Services, Personals, community and so on.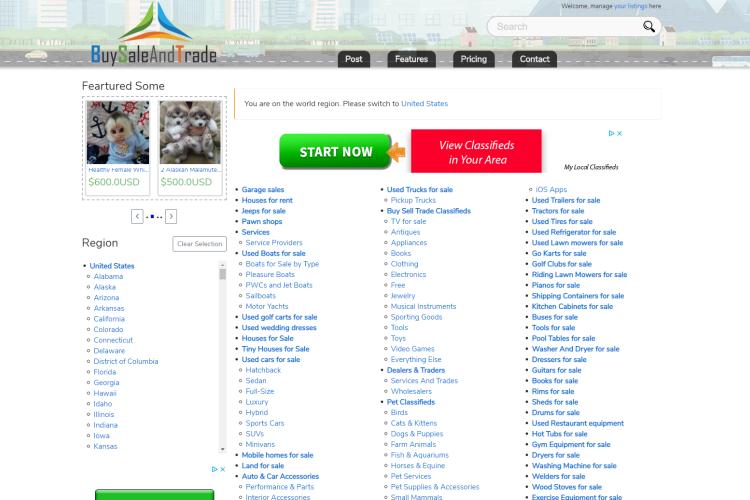 This website is widely regarded as one of the most efficient Craigslist alternatives; a larger percentage of BuySaleAndTrade users will even argue that it is better than Craigslist. The website has gained popularity in all continents of the world; Europe, America, Asia, Australia, Caribbean, you name it. Even in Africa, the website is very popular in Egypt, Nigeria, Cameroon, and South Africa. It should not come as a surprise that BuySaleAndTrade is popular, the site features 'music' and 'adult' categories which are both lucrative in the entertainment industry.
Publishing your ads on BuySaleAndTrade is easy and straight-forward; click the 'post' button, add ads contents, i.e., texts, videos & pictures, confirm the contents of your ads and publish. You can use the 'nearby cities' option to boost your ads, the option only cost USD$0.25, or you can use other sponsored options to make your ads appear on the homepage.
Most used categories on BuySaleAndTrade include Local Places (tourism and accommodation services), Automobile, Rentals, Jobs & services, Real estate, Dating, Rentals, Adult, and Musicians.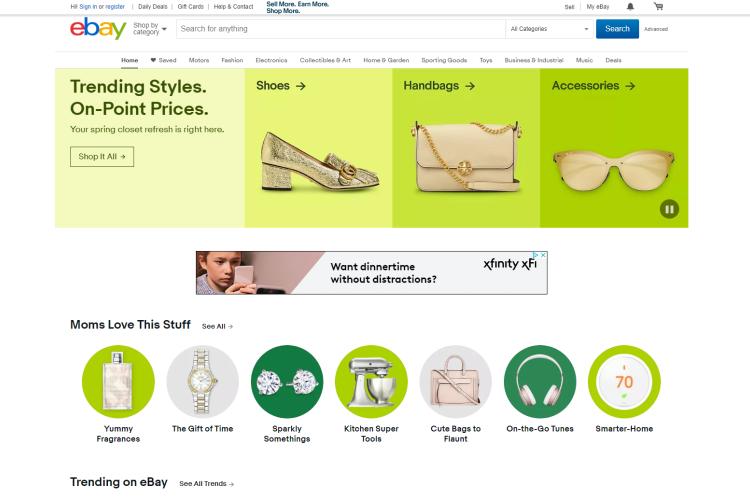 Close5 is the former eBay Classified website; the website is a great place to sell items locally. Close5 has an awesome app that makes it easier to buy and sell items online. The website receives huge traffic from different places around the world can be used as an alternative to Craigslist. Popular featured categories are Housing, Home & Garden, Electronics, Job, Pets, Cars & Vehicles, Resume writing and other similar services.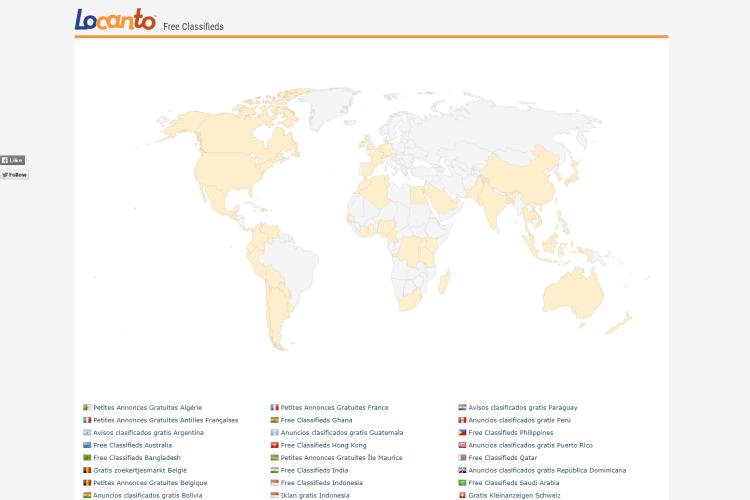 Locanto primarily focuses on the United States but quite popular in some other countries as well; buyers and sellers from Canada, Austria, Australia, and South Africa tops the users' list of Locanto. The website allows customizing your advertisements with pictures and HTML codes. Each posted ads on Locanto is active for 60 days; then you can reactivate it or delete it. Locanto also features learning classes where you can enroll for a course and receives tutorials from capable tutors.
The website is an excellent Craigslist alternative and most active categories on the website include Classes, Community, Events, For sales, Vehicles, Services, Personals, Real Estate, and Pets.
Like Locanto is focused and extensively used in the United States, so is Gum Tree is widely used in the United Kingdom, there is a significant number of users from Australia and South Africa too. Lately, Gum Tree is becoming one of the top used classified ads website in the United States as well. Gum Trees offers some of the things you can find on Craigslist and thus the website can be used as an alternative, popular categories on Gum Tree include Jobs, Services, For sales, Vehicles, Property, and pets.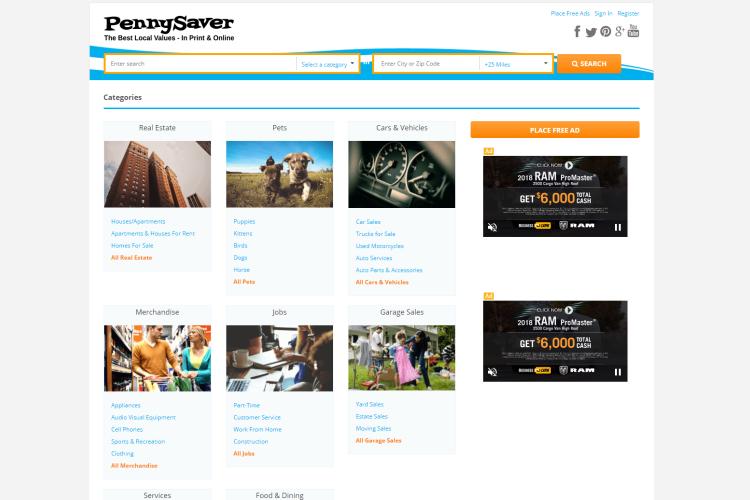 PennySaver classified ads website helps buyers find the best values for the past 50 years, and in the long run the website can help buyers save more than a penny on goods & services purchased locally in the United States. Posting an advertisement on PennySaver USA requires registration. With it many various active categories, it can be listed as a credible alternative for Craigslist. Top categories include Arts, Entertainments, Cars, Merchandise, Food, Pets, Real estate, Jobs and Services.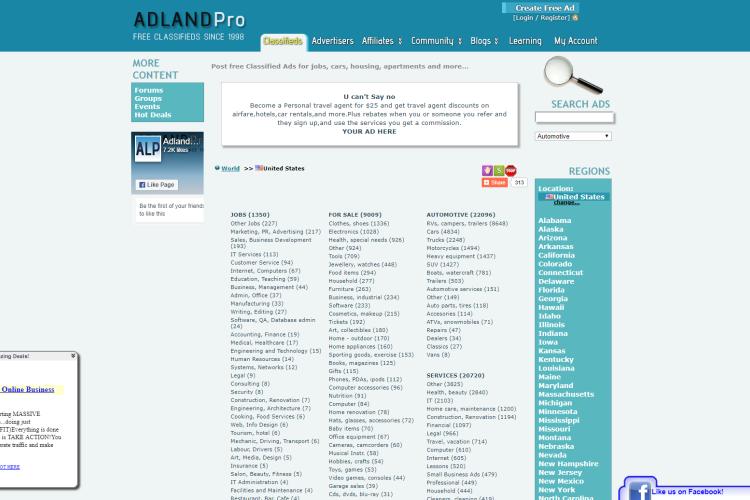 AdlandPro was created in 1998, which means more than 20 years of providing classified ads services, if it could still maintain popularity and consistency service to this day, then it is a worthy alternative to Craigslist.
You need a user account before you can use Adland Pro, the creation of account reduces insecurity in the seller-buyer relationship, i.e., you can have a full and verified profile of someone you are dealing with. You can report abuse and suspicious users to the administrators, thus making Adland Pro a very safe place to buy and sell.
Most used categories on AdlandPro include Business, Pets, Ebook and online tutorials, Announcements, Automobiles, For sale goods, Real estates, Jobs and services.
USFreeAds - Site LinkUSFreeAds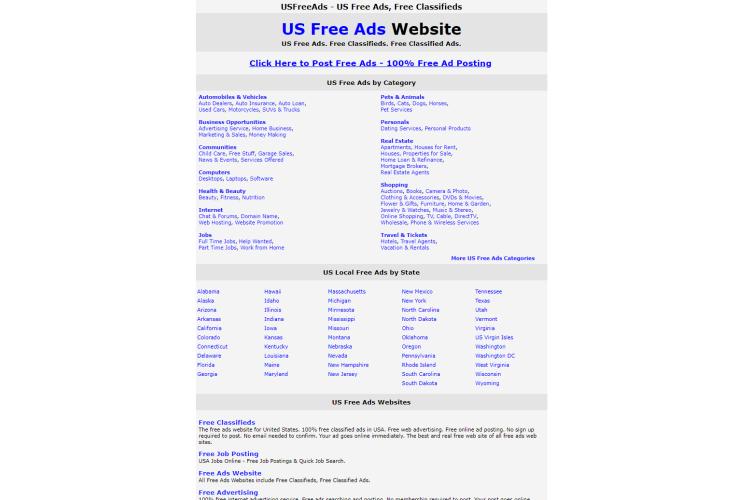 Usfreeads impresses with its site design, but the design doesn't really matter as long as the website can perform the function of making posted advertisements reach the right audience, and this Usfreeads can surely do. The website has lots of features that give it the privilege of making the list of alternatives to Craigslist, sellers can upload ads as HTML content or plain text, and you will need to register an account before you can upload ads.
Ads are arranged hierarchical order based on states, country, area and lastly categories. Most active categories on Usfreeads website include Pets & animals, Home & Garden, Automobile, Games & models, Health & fitness, Clothes and Footwear, Hobbies and leisure, Collectibles, toys, Sports, Electronics, Jobs & services.
Geebo's secret tool that makes it a credible alternative not only to Craigslist but to other classified ads websites is the users' welfare local-community-oriented transactions. Geebo takes every report seriously and would do a thorough investigation on any case of irregular transactions between its users. For more secure transactions, the website offers various safety tips to execute while transacting with others, and would even recommend meeting in person before transactions.
Most popular categories on Geebo website include Farm and construction equipment, Merchandise, Real estates, Rentals, Employment opportunities, Resume writing and other services.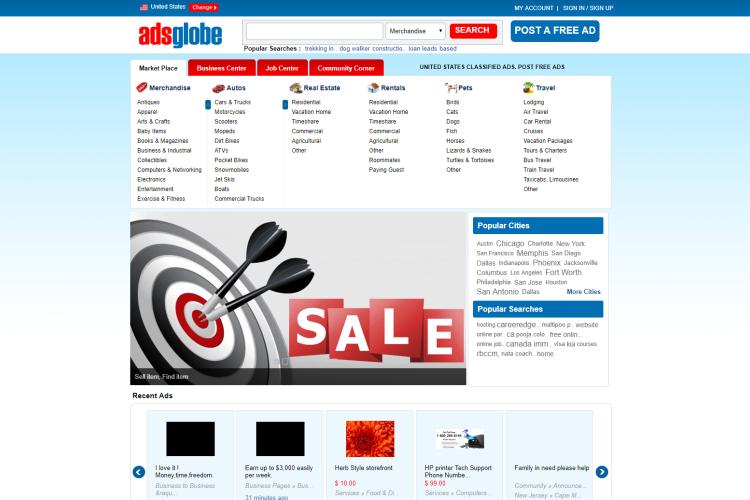 Ads globe is pretty much a global classified ad service provider because of its worldwide popularity; the website almost matches Craigslist's popularity internationally. Ads globe has a feature that automatically detects your location and suggests ads relating to such location, and posted ads will also be added to the same detected location. But if somehow the detected location is wrong, or you desire to post or see ads from other locations, you can change the location using the 'Change Location' option.
A user is required to sign up before he/she can post ads on Adsglobe, there is a more convenient signup process using Facebook instead of using traditional signup form. Popular categories on Ads globe include Merchandise, Automobile, Pets, Rentals, and Travels.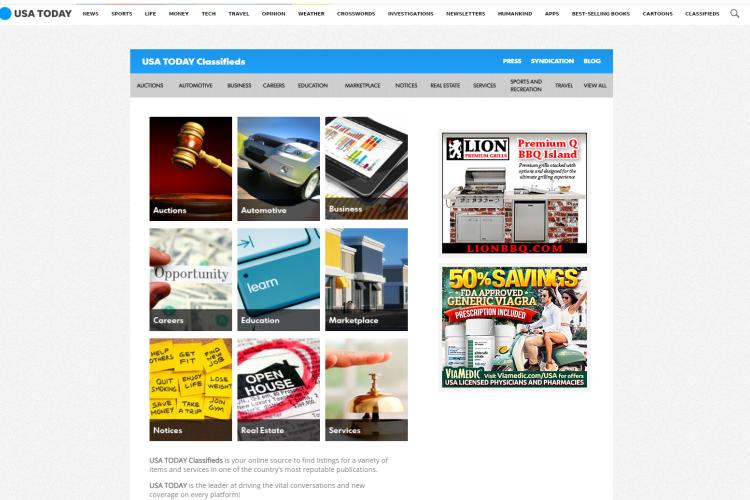 The United States of America is not a small country, and you will be assured of reaching more audience when you advertise with one of the USA's top news agency. USA Today is the advertisement section of the renowned USA Today Newspaper. When it comes to popularity in the United States, USA today can match Craigslist.
Popular categories in which you can advertise in USA Today include Auctions, Automobile, Career/Jobs/Services, Education, Local Businesses, Real estate, Sports and Recreation, Travel and more.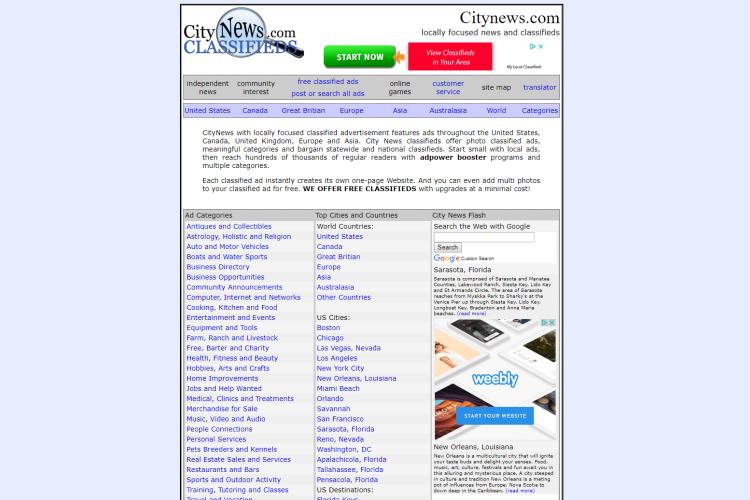 According to CityNews home page, they offer their classified ads services in Europe, Asia, Australia, Us, Canada, Britain and other places in the world. Thus with this widely used service, it can be put on the list of Craigslist's alternatives.
CityNews ads posting service is free but you can convert your ads to homepage featured ads with just USD$3 per ad. Furthermore, your ads can be included in 'attention getters upgrade' or 'bold listings' for just USD$1. CityNews ads services are more focused on homes and utilities; the most popular categories include Kitchen, food and cooking, Home improvement, Medical and clinic equipment, etc.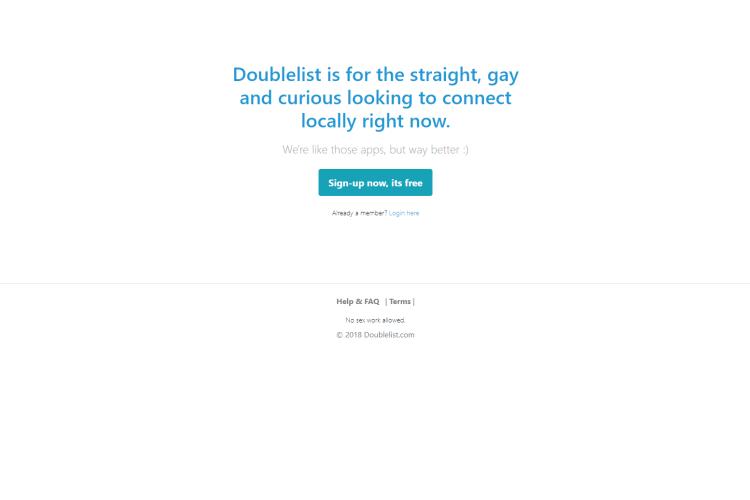 When it comes to a term of 'classified sex ads', it can be said that Double list is better than Craigslist. The website features lots of sex-related classified ads but does a lot of job in monitoring improper usage of the ads services; such as curbing advertisement from sex traffickers and fake/suspicious ad posts. Double list is SESTA compliant and employs over 200 staffs to monitor ads posting 24/7. Before you use the website, you must sign up with accurate information that requires verification with your phone number.
Popular categories on the website include Connect now, Friendship, Sexual education, Entertainments, etc.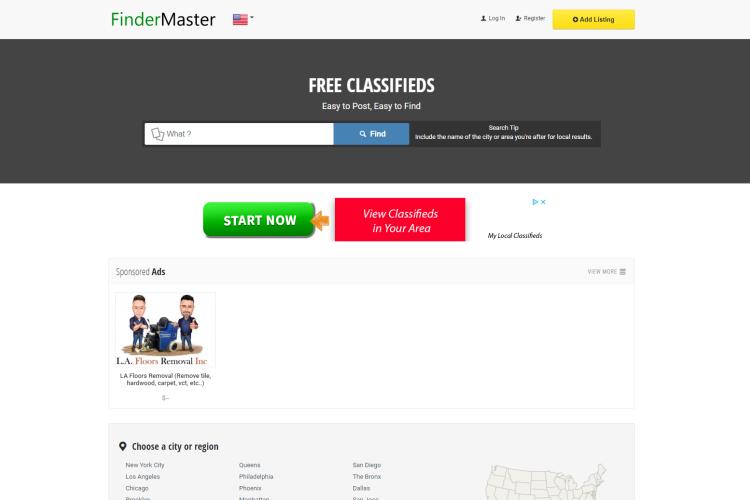 FinderMaster has all it requires of standard classified ads website, in fact very similar to Craigslist and can be used as an alternative. The website design and navigation make it easy to find and post ads; you can select specific locations to find and post ads, FinderMaster auto-detects your location, but you can edit location if need be. FinderMaster is actively used in over 100 countries across all continents.
Popular category on FinderMaster website are Real estates, Household products, Multimedia, Pets, Community, Job offers, Events, Health equipment, etc.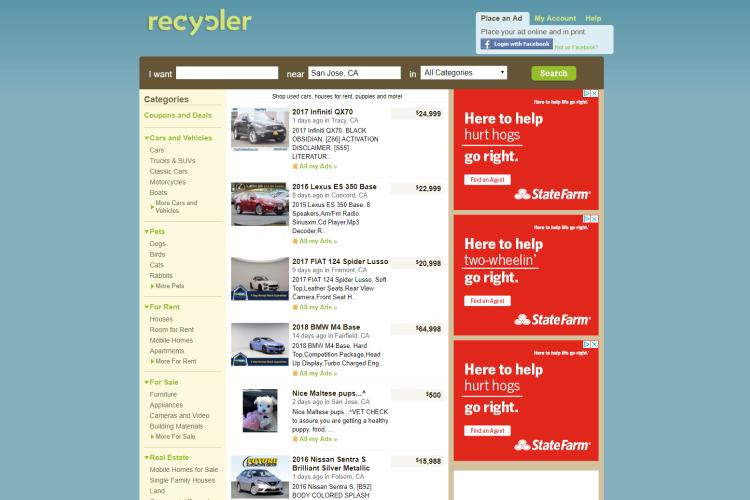 The simplicity of buying and selling processes on Recycler can only be compared with that of Craigslist, and this is the reason it worth mentioning in Craigslist's alternative. Recycler does not only deal in used items but brands new items as well. Recycler is popular around the world, and millions of users use it to buy and sell stuff.
Well-known categories on Recycler website include Cars, Pets, Jobs, Real estate, and more.
U-Exchange can serve as an alternative to Craigslist because of its bartering system; you can exchange items you have for items you need, provide both items are valued at the same price range. This is rare of many classified ads website, and there is no commission taken on the service; it is free.
With U-Exchange you can post ads to exchange all kinds of tangible items, you can also exchange services. Full guides on how to go about the exchange process are provided on the website.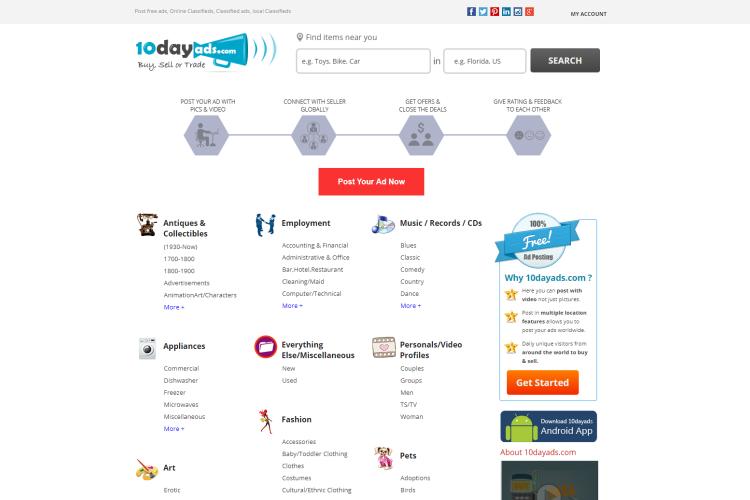 Posting your ads in multiple categories and locations is not the only feature that makes 10DayAds a credible alternative to Craigslist, the website allows you to add images and videos to your ads as well. More Craigslist's similar feature is the ability to review sellers; this ensures scammers will be reviewed negatively and be easily identified.
10DayAds feature an extensive list of categories, but the most popular ones are Antique and collectibles, Business& Office, Electronics, Jewelry, Dating, Employments and so on.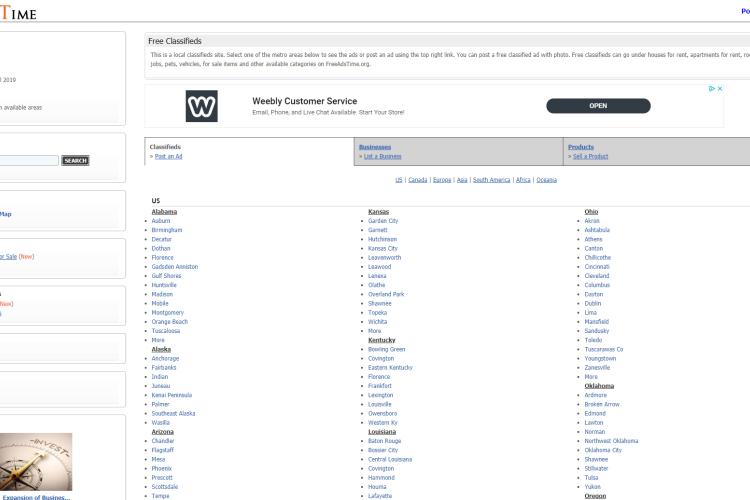 This website is another classified ads website that must not be left out of Craigslist's alternatives based on its popularity. The website features common classified categories and is being used by users in over two thousand cities around the world
Popular categories are Jobs, Vehicles, Services, Pets, Rentals, Musician and community.
Conclusion on Best Craigslist Alternatives
With these listed websites, you do not have to make use of Craigslist if you don't have to; they are equally capable of rendering the services you will find on Craigslist.org.