Best Free Manga Drawing Software - You probably have heard the word 'Manga,' and maybe like so many other people, you must have been wondering what the word could mean. The word sound like a name from the African continent but is the term for comics/cartoon graphics from Japan; Manga are mostly created in Japanese language, people refer to it as Japanese Cartoons or anime.
In or outside Japan Manga is being read by people of all age; adult or kids, there is always a suitable story to fascinate everyone, and maybe this is the reason for Manga popularity. The Manga business has now become lucrative; many people are ready to venture into the niche and start creating drawings for exciting stories. You can generate Manga drawings with just any graphics creating software, but there are traditional Manga drawing software that requires less time and even lesser graphics knowledge to create fantastic Manga graphics.
List of Best Free Manga Drawing Software

These traditional Manga drawing computer applications let you quickly create and edit Manga drawing in just a few clicks, only creativity is required. Finding the best Manga drawing software may consume your time, and this is the reason the top 10 are brought to you. Not all these software are free, though partially free; they offer trial version that you can test and decide if they worth spending your money on; Explore them below:

1. Smith Micro Manga Studio - Site Link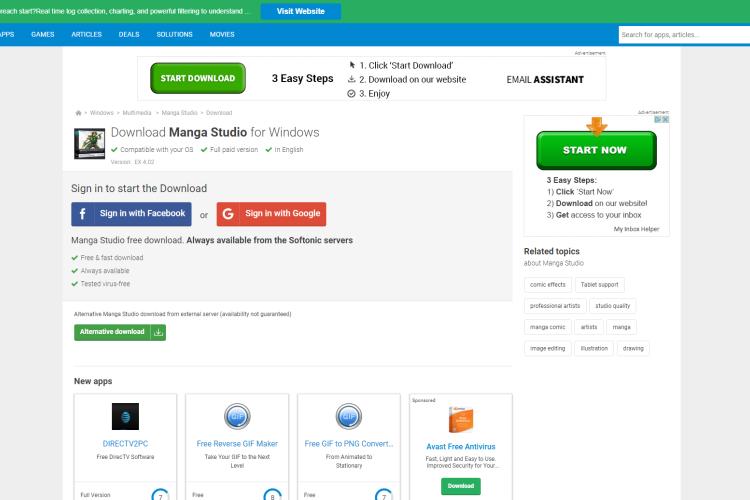 Unlike some other software on this list, Smith Micro Manga Studio is exactly for Manga creation and nothing else, and it is free. The software is suitable for both rookie and professionals; it is being used to create standard Manga drawings.
Smith Micro Manga Studio features everything you need to create fantastic Manga graphics; you can start from scratch and create a unique character with vectors, shape, and lines. There are loads of color swatches and tones, pen and brush styles, lighting, etc. You can change how you view the scene with perspectives and other controls. Smith Micro Manga Studio supports pen pressure of touch-screen PCs, tablets and other pen-enabled devices.
How to download Smith Micro Manga Studio
You can get the software from its official website, but to save you from the hassle; open your web browser and visit https://manga-studio-ex.en.softonic.com/download, sign in with your Facebook or Google account, the download will start as soon as the provided sign-in details have been confirmed. You can visit the official website for installation guides, and to download free/paid plugins/add-ons.
2. PNG OpenCanvas - Site Link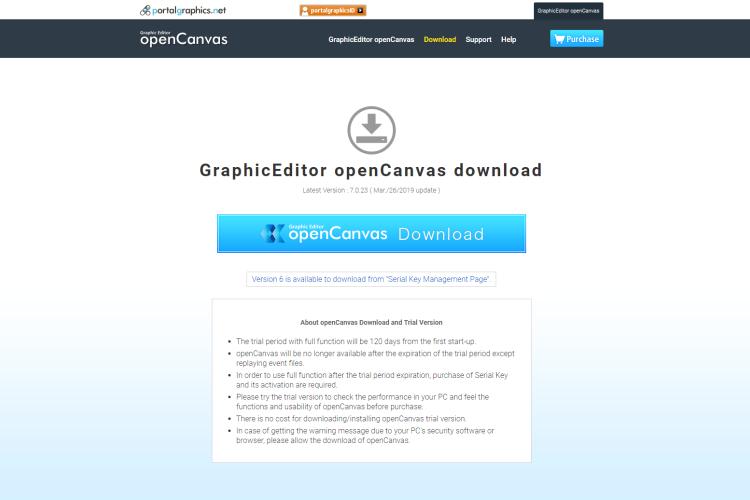 OpenCanvas is one of the most popular digital painting software out there; the software is available in both English and Japanese languages. PNG OpenCanvas has many great features that make creating Manga drawings looks like a child's play; straightforward user interface, various color pallets, raster-based and various-sized pens, markers and brushes, etc.
With the multi-layers system in OpenCanvas, in-depth editing and detailed inking are possible, and this is the reason why the software is famous for digital inking. You can create multiple drawing simultaneously on different docked tabs or switch to full-screen to give you more boldness while drawing.
How to download OpenCanvas
The latest version of OpenCanvas is 7.0.23, and you can download the trial version at http://www.portalgraphics.net/en/oc/download/. Here are some information about OpenCanvas trial:
• OpenCanvas trial period last for 120 days (3 months) from the time of installation and will no longer be available after trial.
• No cost required to download or install the OpenCanvas Trial version.
• OpenCanvas trial version has all features unlocked.
• You can purchase an activation key or upgrade at http://www.portalgraphics.net/en/oc/purchase/.
3. Adobe Photoshop - Site Link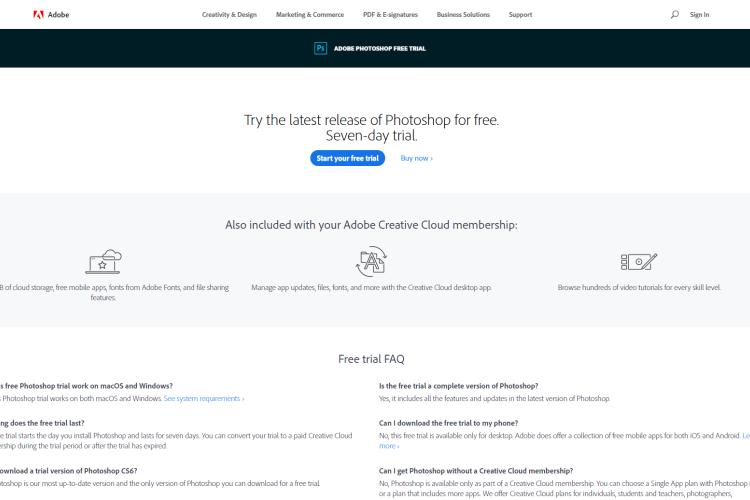 Adobe Photoshop is the ideal software for all-round graphic designs, and it can also be used to create professional Manga drawings. The software offers all tools needed for creating HD-quality anime, and you also gives full privilege to create anime from nothing, starting from sketching to coloring, lightening, etc.; from the very scratch. One of the features that make Adobe Photoshop stands out in creating Manga drawing is that you can make a hand sketching on paper, scan and import it in Photoshop, then start coloring and add other stuff, isn't this amazing?
Adobe Photoshop has the most extensive variety of brushes and pen tools, and it offers more ability for precision drawing with rulers and grids. Photoshop is supported on screen-touch devices.
How to download Adobe Photoshop
The latest version of Adobe Photoshop is 'Photoshop 2023,' and you can download a trial version at https://www.adobe.com/products/photoshop/free-trial-download.html. Here are some information about Photoshop 2023 trial version:
• The trial period lasts seven days from the day of installation.
• The trial version includes all features.
• Students and teachers get up to 60% on activation.
• Activating Photoshop 2023 also gives you Adobe cloud membership.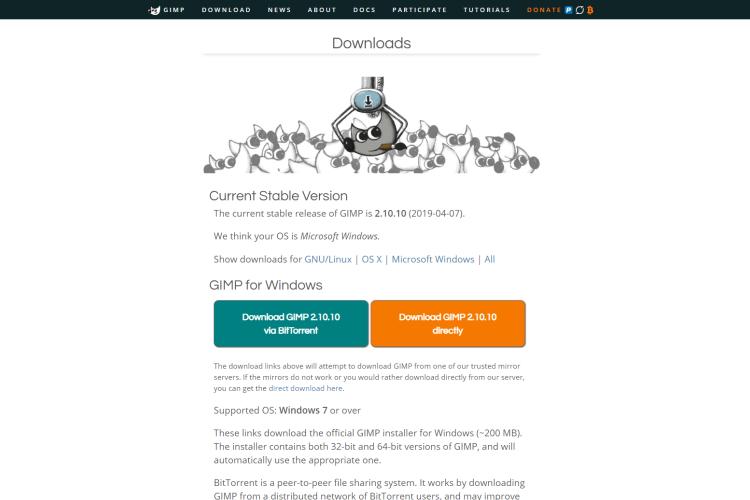 GIMP is an acronym for GNU Image Manipulation Program, a light-weight graphics creator and editor. GIMP is as efficient as Photoshop and other top graphic design software, even more preferable for its painting features. You can use GIMP to create professional Manga drawings, with its various tools such as transform, scale, free selection, free-hand drawing, multi-shaped pen and brushes, color pallets, etc., you can arrive at something unusual in a short time. GIMP supports screen-touch devices and is entirely free; it is an open source software supported by users like you.
How to download GIMP
The latest and stable version of GIMP is 2.10.10 that was released on the 7th of April, 2023. Visit https://www.gimp.org/downloads/ on a web browser, select your platform and download the installation file directly from gimp.org server or via BitTorrent.
5. Corel Painter - Site Link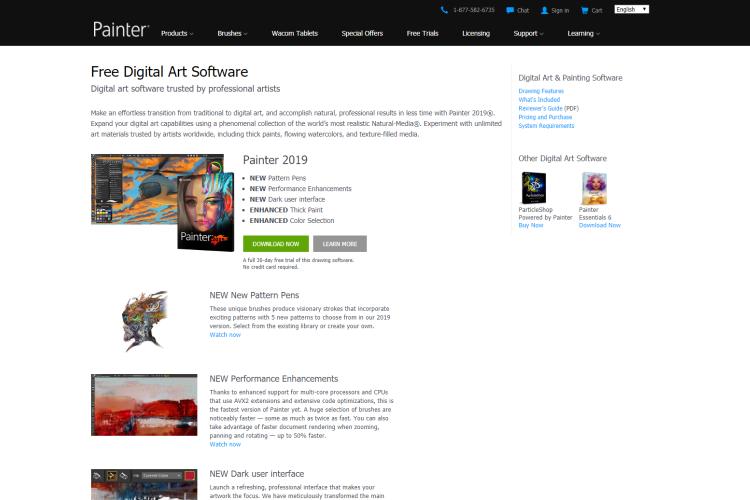 Every graphic design enthusiast out there probably knows about the Corel Graphic Suite and would know how it handy it is, another product of Corel is the Corel Painter. Corel Painter is the software that you can use to draw a futuristic Manga artwork; resources to achieve such are unlimited on this software. Corel Painter has many digital painting features such as digital brushes, watercolor, pastels, oil paints, styled pens and brushes, chalks, and so on. Corel Painter has good pressure sensitivity for screen-touch devices; this is why it is one of the artists' favorites software for making anime because using it feels like drawing on paper with a pencil.
How to download Corel Painter
You can download the latest trial version of Corel Painter from https://www.painterartist.com/en/free-trials/, the trial version is fully-featured and has improved with the following;
• New Pattern Pens and brushes
• New Dark User Interface
• New Performance Enhancements
• Enhanced Color Selection
• Enhanced Thick Paint, etc.
6. Clip Studio Paint - Site Link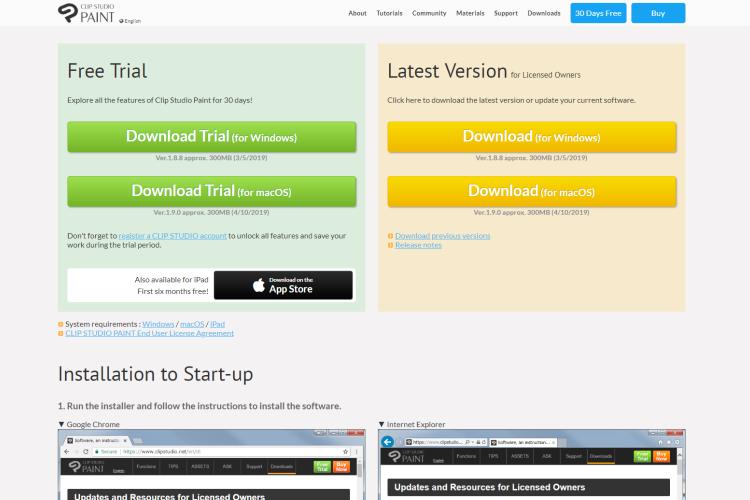 Clip Studio Paint is one of the top pick software for creating professional Manga drawings, with its many influential artwork tools anyone can create fantastic Manga artworks with ease and in the shortest time possible. Clip Studio Paint is ideal for paper-pen artists as well as professional digital painting artists; there are many tools to make use of and create an intricate anime.
Clip Studio Paint allows in-depth coloring, tracing, and other editing functions. Airbrushes, selection tools, pens, etc. are few of the tools featured in this software. Its speed and flexibility make it suitable for creating Manga Drawings.
How to download Clip Studio Paint
The latest version of Clip Studio Paint is 1.9.0, and you can download it from https://www.clipstudio.net/en/dl, the trial version has all features unlocked and lasts for a period of 30 days.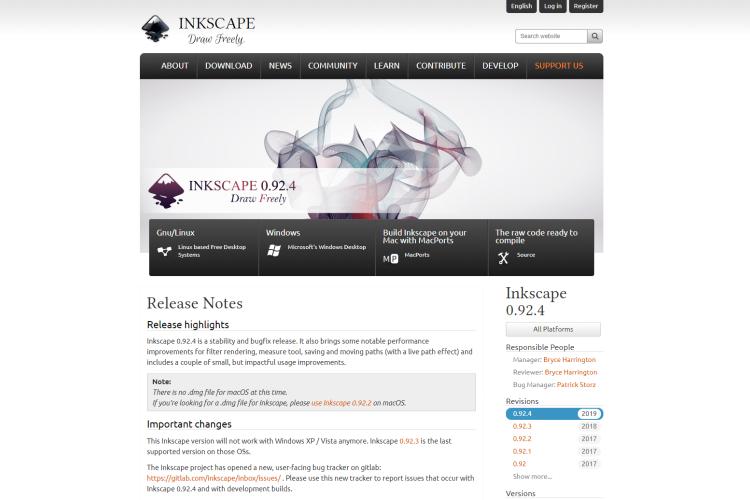 Very similar to the renowned Adobe Illustrator, Inkscape is vector-based and can be used to draw beautiful Manga characters and scenes. Like Adobe Photoshop you can also sketch on paper, scan the sketch and import for coloring and other tasks you need to perform to achieve standard Manga drawings. Supported imported file formats are JPEG, PSD, GIF, TIF, PCX, PNG, PMG, etc. you can also save or export your finished project in the file formats mentioned earlier. Inkscape is open-source software thus making it free to use for personal and commercial purposes.
How to download Inkscape
The latest and stable version of Inkscape is 0.92.4 which has experienced a lot of improvement in the aspects of measure tool, saving and moving path, filter rendering, etc. visit https://inkscape.org/release/inkscape-0.92.4/, wait for the page to load and select your device platform to start the downloading process.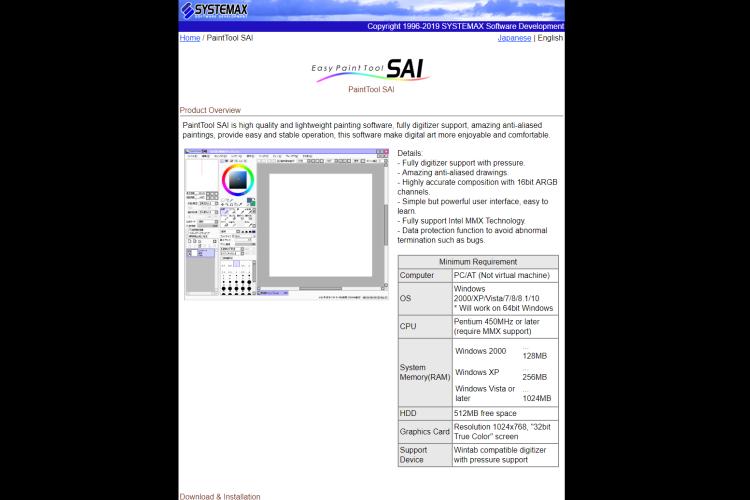 This is a Manga art creator/editor designed by Manga originators themselves; made by Japanese. Due to its source, it was designed to be capable of anything about Manga drawing and is one of the Manga Artists' favorite. Systemax PaintTool SAI is light-weight Manga drawing software, and its system requirement is minimum, thus making it run fast on most PCs and other devices, its easy-to-navigate user interface is another feature that contributes to usability.
Systemax PaintTool comes with a variety of indispensable built-in tools such as brushes, pens, textures/patterns, colors, shapes, and more. Using this software is one of the easiest and quickest ways to get Manga drawing done. You can download additional tools not initially included as an add-on.
How to download Systemax PaintTool SAI
The latest version of Systemax PaintTool SAI is 1.2.5, and it can be downloaded from https://www.systemax.jp/en/sai/, the software offers 31-days free trial period with all features included. Saving finished works will be disabled after the 31-days trial period, i.e., you can continue to use the software, but you will not be able to save or export your works.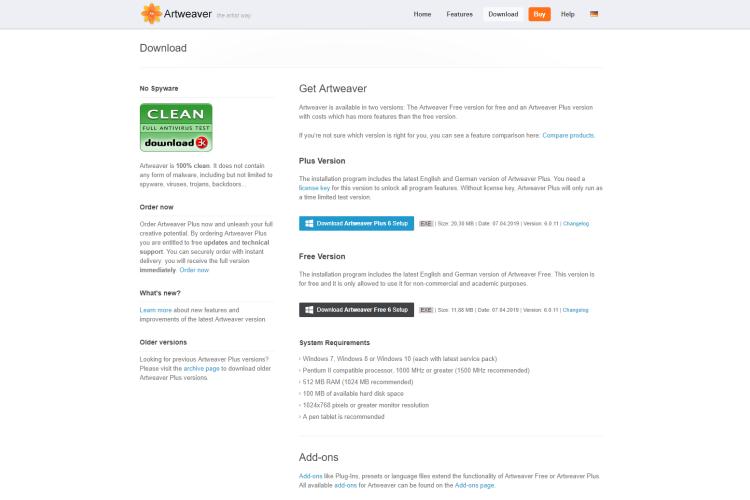 Artweaver is another Manga drawing software that is suitable for artists of all levels; beginner, intermediate and professional. Artweaver simplicity is one of the reasons why it is selected among the bests; starting from the selection and cropping tools, to; preset brushes and pens in different shapes, types and sizes, different tones of color pallets, and so on. With the editable text tool, you can also add typography to your Manga artworks.
How to download Artweaver
You can either download Artweaver Plus 6 which is the premium version that will require a purchased license key to activate. Or the Artweaver Free 6 which can only be used for academic and non-commercial purposes. The link to download either of the setup is https://www.artweaver.de/en/download. You can find system requirements and other information right on the page.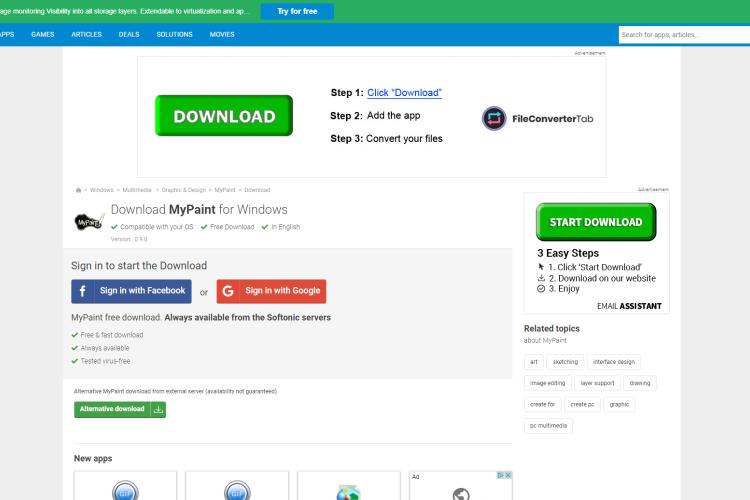 My Painter is the Manga drawing software to choose for simplicity and tools customizability; all tools such as pens, brushes, crayons, chalks, etc., are fully customizable. Each customized tool can be saved and added to existing tools. Other features such as luminosity, hue, saturation, lighting, Easy-to-use multilayer, sketch importation, etc., are supported.
How to download My Paint
My Paint can be downloaded from its official website, but it seems the download and installation process posted on the website may be too complicated for some, that is why you can use the second option.
Visit https://mypaint.en.softonic.com/download, click the 'download' button, login with Facebook or Google account and the downloading process will start immediately after your login has been authenticated.
Conclusion
Even if you look for best Manga drawing software elsewhere, 8 out of 10 from those listed here we still be included. So whether you plan to be a commercial producer of Manga anime, or you are a student using Manga drawing for a project, or you are just creating Manga characters for fun, you will be thankful for choosing any of these ten software. Not having a Manga drawing software should not be your excuse for not becoming a professional Manga artist, choose free Manga software if you can't afford the paid ones.