Best Sport Streaming Websites - Sports fans all over always want to keep in touch with the latest happenings and news concerning their favorite sport or sports team. However, a busy life makes it hard to keep up with the constant stream of information. Sport live streaming sites exist to help fans follow up in real-time, whenever and wherever.
Thus, if you love soccer, tennis, rugby, basketball, boxing and other sports, streaming sites are made for you. You can watch live games and events, as well as replay all the action whenever you have the time. So do not let a busy life, family or gatherings get in the way of following your favorite sport, sportsperson or team.
The internet has made it possible to do all this. Smartphones, tablets and other devices can access different streaming sites and bring you on-the-go information and events. Furthermore, some of these websites offer applications that make it even easier to access these events. Sports leagues and bodies recognize the large percentage of people who are interested in ditching cable services and rather stream their events. These bodies provide access to their content through these streaming sites.
Many sites offer streaming services to millions of people all over the globe. Each of these sites professes to deliver impressive services and what not. The Internet is full of sites that promise these services (seamless live streaming and other stuff). However, many of these sites are dodgy at best and dangerous at worse. How, then, can you find a good streaming website?
Interested in movies instead ? Check out this awesome list of free movie sites.
List of Best Sport Streaming Sites
We have compiled a list of the best free sport streaming websites. The websites on this list have been tested and found to offer great services. Some of them are completely free, while others offer a trial period after which you have to pay some fee to continue enjoying their services.
Let's look at the best sport streaming websites. This list is in no particular order. The factors considered in compiling this list include the volume of content offered, accessibility, and word-of-mouth reviews from those who have used them.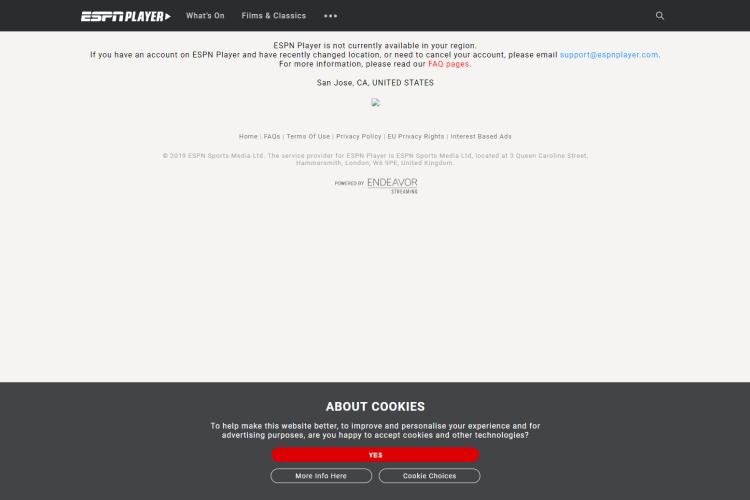 ESPN is a household name in the sports world. Realizing the need to catch up with changing times and consumer appetite, ESPN offers live streaming services. You can watch ESPN from wherever you are by streaming over an internet connection.
ESPN normally offers news, highlights and some other stuff free to users. Available mainly in the US, fans of sports like soccer, tennis, cricket, UFC, MMA, eSports, NASCAR, Chess, Horse Racing, Polo and others find satisfaction with ESPN.
All these events are streamed live at high-quality resolutions for your viewing pleasure. To continue to enjoy the great services, after a 7-day trial period, you need to pay a subscription fee. This allows you to enjoy access to a variety of sports and determine if you want to continue using their streaming service.
Furthermore, ESPN allows you to stream replays of games, so you do not miss a single second of the action.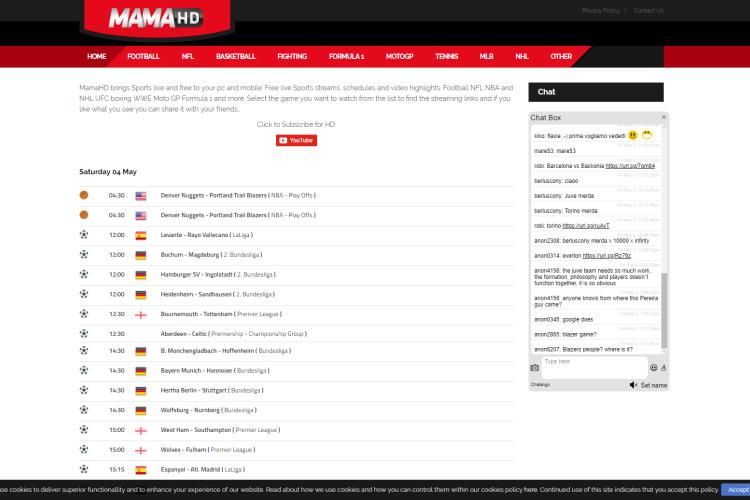 MamaHD is the holy grail of streaming services for diehard soccer fans. This site receives millions of visitors each month from all over the world. Although most of the users stream soccer, MamaHD offers live coverage of different sports. If so inclined, you can live stream Basketball games, gymnastics, horse racing, Formula1 racing, pool, and others.
This website also has a chat box feature that allows for conversations with fellow fans from around the globe.
The only disadvantage of this streaming site is that, due to the large volume of traffic it attracts, there are moments when it goes offline. However, this occurs quite rarely and is fixed as soon as possible.
Nevertheless, since this site offers its streaming services completely free of charge, its infrequent downtime is a fair price to pay.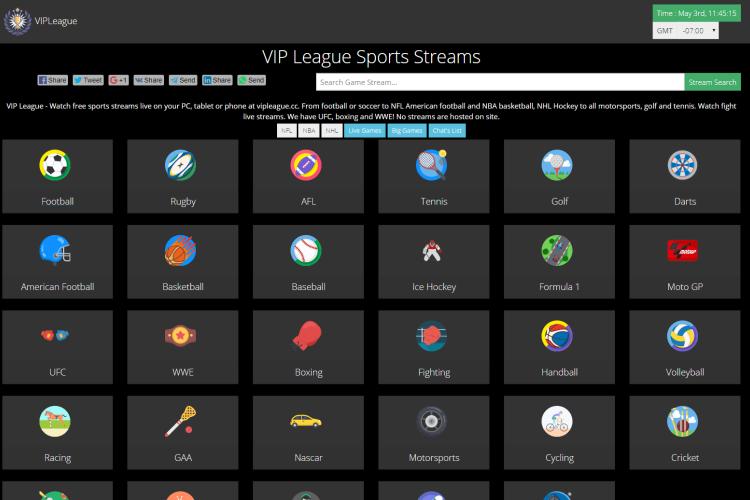 "Everything live and free" is the motto of this streaming website. VIPLeague is a multilingual website that offers live sports streaming services. It is available to fans all over the world.
It offers many sports for streaming. From the most popular sports like soccer and basketball to pool and UFC, VIPLeague offers "VIP services" at zero cost.
To enjoy streaming services, users are required to create an account. If you do not want to create "yet another account on the internet", you can download an extension to help you stream the game. It's a favorite fan website!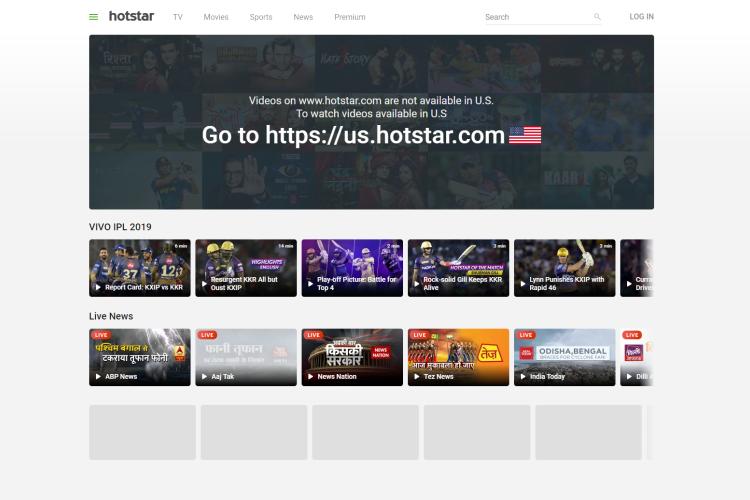 HotStar works best if you are streaming from India or nearby regions. However, with a good internet connection and a Virtual Private Server (VPN), you can bypass restrictions and enjoy the great services this website offers.
It offers a plethora of sports for live streaming. From cricket to football to tennis and baseball among others, this website is sure to sate the needs of every questing fan.
Furthermore, it offers all these sports at high-quality resolution.
These great services are free on a mobile app. However, if you plan to disconnect your cable to watch these sports on your desktop, you will have to pay a fee to enjoy without restrictions. Also, watching each live sports event comes with a 15 minutes trial period. After this grace period elapses, you will be hindered from streaming unless you pay a subscription fee.
On an unrelated but interesting note, HotStar also offers free movies and Television series.
The user interface is great and easy. Navigating through the website is very easy as the major events and most popular ones are neatly stacked up in rows.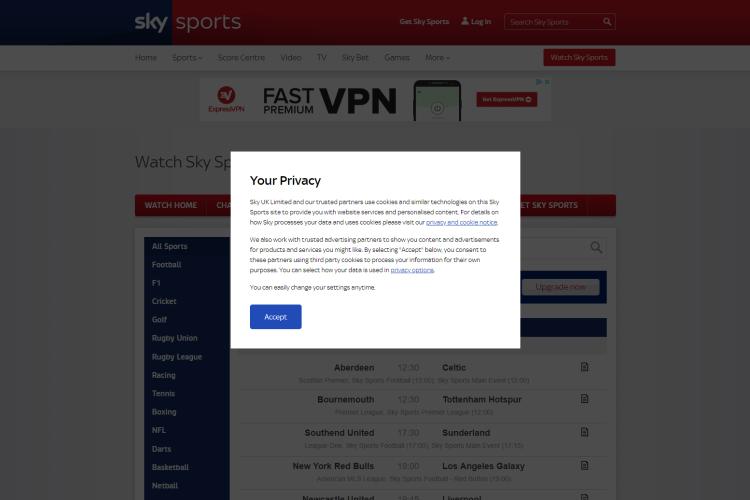 Just as ESPN, Sky Sports is one of the most popular sports sites and is a place to watch sports live. It is almost synonymous with sports broadcast and coverage.
Sky Sports has a large volume of sports available for streaming. These sports include football (League football), cycling, car racing, and golf, cricket and so on.
To enjoy Sky Sports services, you will need to pay a subscription fee. There is a free trial period available though. You can use this period to "test out the waters" so to speak, and determine if you will be paying for streaming services.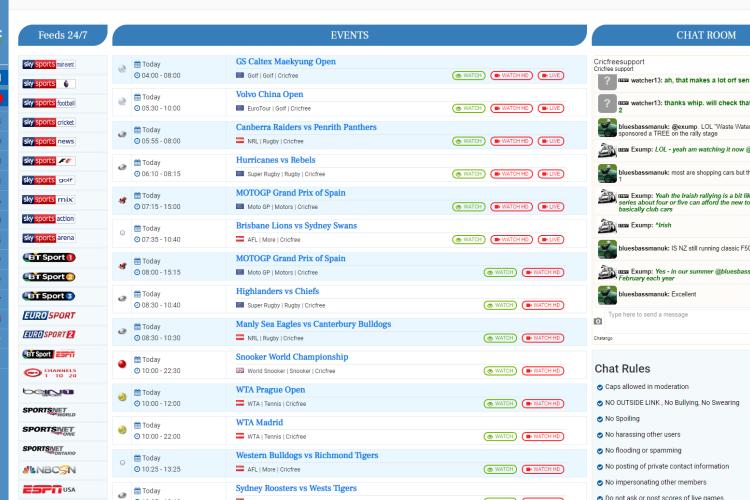 Cricfree is primarily dedicated to live streaming cricket games. That's literally what the name of the site implies. Luckily for sports fans, however, Cricfree also offers live streaming of different sports like soccer, football, car racing, baseball, and athletics.
This is good because it's such a great site that live streaming only cricket on will seem a waste. The user interface is up there with some of the best sites available. It is easy to use and is very user-friendly. The schedules of games and events can be easily seen on the website. This makes it easy to choose which games to watch and schedule when to watch them. It is easy to know which games are live or just replay.
It also allows for interaction with other users. The chat boxes are crisp and easy to use.
The only downside to using this website is the really annoying popup adverts. However, using a strong ad blocker can remove this issue.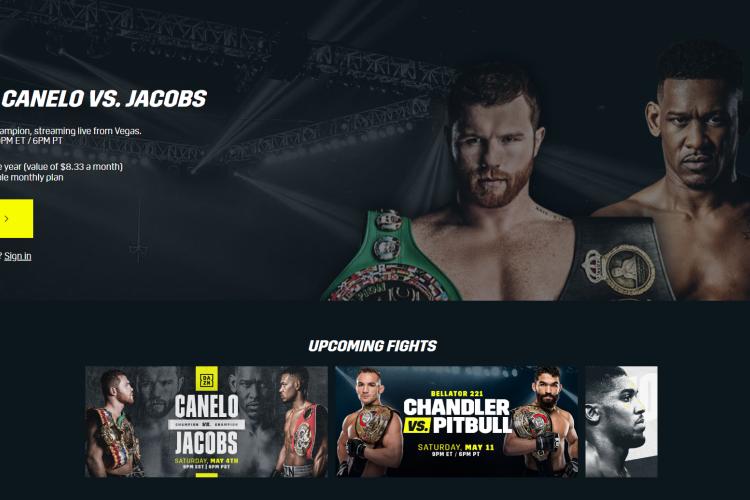 Originally created to satisfy the cravings of fans of fighting sports (kickboxing, wrestling mixed martial arts, sumo, etc.), DAZN has steadily expanded its reach and variety. Launched in Europe in 2016 and available in Japan, this website is now available in different countries around the world.
As a result of this expansion, DAZN has on its books over 8,000 sporting programs annually. Keeping true to its original focus on fighting sports, DAZN offers to subscribers 100 fight nights annually.
If you do not want to jump right in, you have a grace period of 1 month. This period allows you to enjoy the services of the website and determine if it is right for you.
This website is responsive. Thus it offers viewing on your phone, tablet, desktop, and Internet-enabled TV.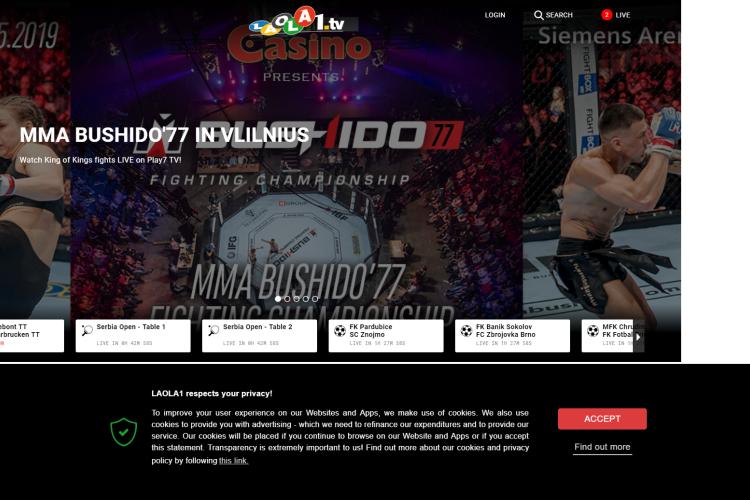 LAOLA1 is based in Australia. Notwithstanding, this sports streaming site spreads its reach all around the globe.
Fans who have known this site since at inception remember it for its La Liga football streaming service. However, LAOLA1 has spread out to provide streaming services for other leagues and sports too.
It offers many other sports, with each one delivered in crisp, crisp high definition.
To make it easier for users to identify their desired events, LAOLA1 groups each sport in its league and type.
This website offers free and premium services to users. Premium users enjoy the added benefit of recording events to watch at a later date.
Chatting with other users is open to everyone. Therefore, you can spend halftime or some other time arguing or discussing with rival fans from around the world. It offers not just La Liga football, but football from other leagues. It also streams different sports like hockey, NFL games, and basketball among others.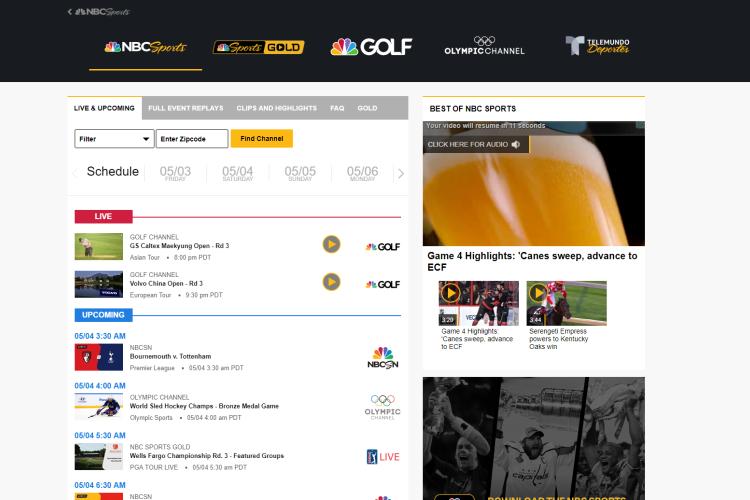 Like Sky Sports and ESPN that have already appeared on this list, NBC Sports is another website known for sports coverage and news. It is based in the United States and provides live streaming services to users.
Asides live streaming of sporting events, NBC also offers in-depth analysis, news articles and other information that fans might find useful.
Although NBC Sports offers a lesser volume of programs compared to other major streaming sites, it still has a lot of content you will find enjoyable.
This site, unlike some others, offers full replays of chosen events so you can relive each moment. If you missed the event and do not wish to relieve the entire event, NBC Sports has the advantage of saving all the best and most notable periods of your requested event.
If you have an NBC cable subscription, streaming sports events live on the website is free. You can watch it on your smartphone and on the TV too. Simply go to the secure website and input your cable provider details.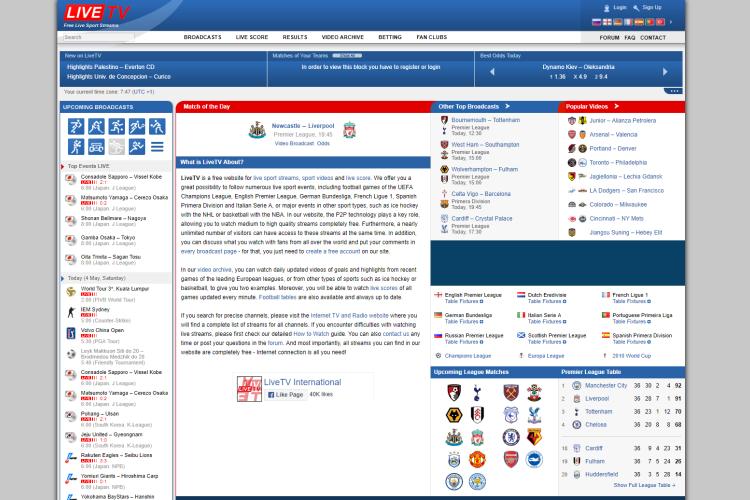 With a traffic count of over 25 million active visitors every month, LiveTV is beloved by sports fans all over the world. Many users are attracted to this website because of its simple, easy to navigate interface.
For example, LiveTV has a multilingual interface, with users able to navigate in 5 different languages. Live streaming can be enjoyed in Spanish, Russian, Italian and of course, English. Very big in Europe, LiveTV continues to increase its viewership count every month.
There is a large selection of sports and sporting events to choose from on LiveTV. This sports include darts, billiard, handball, gymnastics, tennis and other sports. Events and games are regularly updated so that interested users can keep abreast of latest developments (e.g. live score updates and real-time events) and not miss their favorite programs.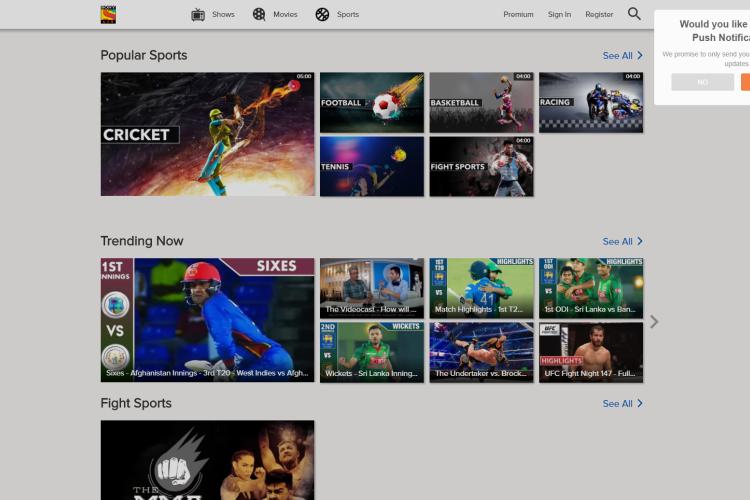 From the popular entertainment company, SONY, comes Sony LIV. This streaming website offers the opportunity to watch live sports from the comfort of your home.
Users enjoy many sports programs on Sony LIV like cricket, football, soccer, judo, gymnastics, cycling, tennis and basketball among others. Although it is free to use, subscribers enjoy added benefits like movie channels. If you are solely invested in sports, you can jettison this option and continue to enjoy your free streaming.
In cases of bad internet connection, Sony LIV gives you the opportunity to change the quality of your stream.
Conclusion
The websites above are some of the best free live streaming websites available. You might ignore this and go Google for free streaming websites, but most of the sites that come up might be dangerous to your privacy and device. In addition, they are likely illegal websites.
To be on the safe side of the law, use these legitimate sites listed above.
Thanks to the sites above, you can catch up on your favorite sporting events whenever and wherever.
So what are you waiting for? Visit these sites today and have a safe, fun and pleasant time streaming your favorite sports!