You might tag yourself as a Bollywood movie freak, but the fact remains that there are hundreds of movies you are yet to watch.

Why Watching Bollywood Movies Online Free?
It's no breaking news the fact that Bollywood churns out the greatest number of movies in a year on a global stage. This is probably the main reason why you are looking for the best sites to watch Bollywood movies online for free. Well, if that's what you want, then you need not go far. In this detailed piece, we will be sharing with you, some of the best sites to watch Bollywood movies online for free.
However, streaming these Hindu movies for free can be very risky. When you stream through unauthorized torrents or streams, you are opening yourself up for a malware attack. It could also lead to serious legal issues. If your problem isn't streaming unauthorized torrents or the legal issues, then there is a great chance that you are unable to access the movies you wish to see because the contents were geoblocked. For instance, there are sites in India that are currently blocked from streaming movies.
A lot of people often opt-in for pirated movies, but this can be counterproductive. Even though it seems convenient, it can yield a whole lot of issues. Know the copyright status of the movies you see. With that been said, let us take a look at our ultimate list of best sites to watch Bollywood movies online for free.
Using VPN to Stream Bollywood movies.
If there are Bollywood movies that you aren't able to see in your region, you need not worry. You can gain access to these blocked movies by using a VPN. This will protect your device from attacks while making you feel at ease.
Two words: "Geographical restriction". Many of these sites you stream Indian Movies on have been restricted geographically due to licensing problems. What this simply means is that if you are not from that region, you won't be able to view the movies.
With a VPN, you will be able to keep your location spoofed. With a VPN, you will be able to connect to servers from around the world. For instance, if you want access to Indian movie streaming sites, all you have to do is to connect to a server in India and get your India IP address.
One thing to note here is the fact that most sites on this list contain pop-ups and ads that could contain viruses and malware. But with a VPN, you are protected. VPN also protects you from being tracked since your IP address is hidden. Also, your data is encrypted; protecting you from hackers. However, you need to watch out for the type of VPN you purchase as some aren't as reliable as you think. A good VPN should include High-Speed Servers, a kill switch, Robust Encryption, Professional Customer Service, as well as having fast and stable connections.
Best sites to watch Bollywood for free.
So, you are wondering what the best Hindi - movie sites are. We've surfed the internet to make sure you don't have to. Here are 10 of the best streaming sites you should know.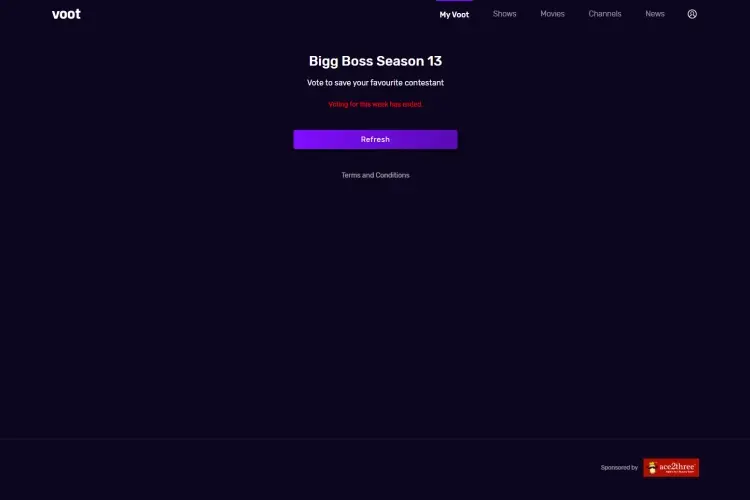 First on our list is Voot. It is undoubtedly one of the best sites to stream Indian movies. The platform has a wide selection that ranges from new releases back to classic movies. They also offer Bengali, Telugu, English and Kannad movies too.
For the privilege, however, you need to watch ads and sign up. Doing both will give you access to movie offerings. It is very easy to use thanks to a handy title search. Asides movies, you can also stream news, TV shows, and short films. They also have kids section dedicated to Toddlers and Teens. Voot supports different devices and has an app that is supported by iOS and Android. The video qualities are high and this cuts across all the platforms and applications, and of course, the streaming speed is something worth vouching for. Next on our list of best sites to watch Bollywood Movies is BoxTV. This site can only be accessed by people living in Singapore, the United Kingdom, India, United States and UAE. If you aren't from any of these regions, you need not worry. All you need to access the OTT (over-the-top) subscription service is through a reliable VPN. T Are you looking for a site that lets you access free Bollywood movies without asking you to sign up? Then Zee5 is your best bet. Signing up before gaining access to some movies can be annoying some times. But you don't have to go through that before seeing a movie you want. It has a collection of different movies and most of these movies are free. All you need to do is scroll through the movie thumbnails to see the ones with no premium badge on it. You can also access free India movies. From the classic movies to new releases, they've got a movie for everyone. Asides Indian movies, the site also offers movies in other regions too. if you are not interested in the movies, you can slide on to their news, short videos, and TV show sections. The site is very neat and easy to navigate.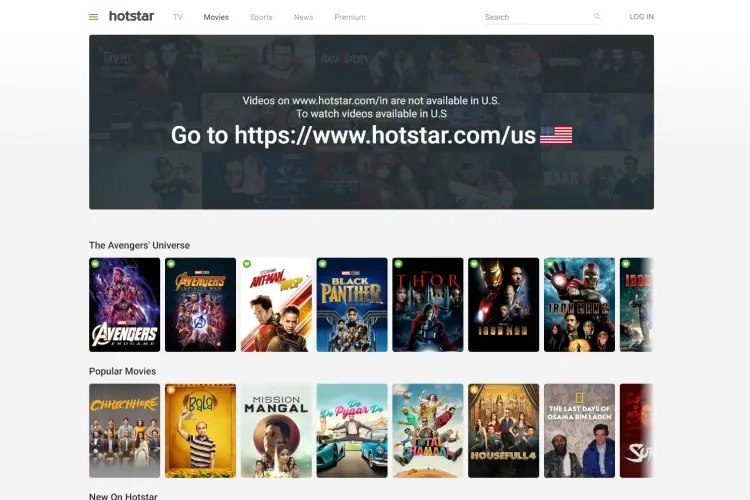 Hotstar unarguably has one of the most extensive collections of free Bollywood movies. Just like Zee5, you don't need to sign up before gaining access to the movies to offer. Why handover delicate personal info for movies when you can see them for free? Well, that's what you get with Hotstar. To find the free movies, surf through the categories for thumbnails that don't have the premium badge. Their movie selection ranges from romance, drama, and comedy. Recently, they added TV shows to the box. Are you a sports freak? They've got something for you as well. However, they have ads, but to avoid these ads, all you have to do is opt-in for their premium package.
5. Hungama Movies. - Site Link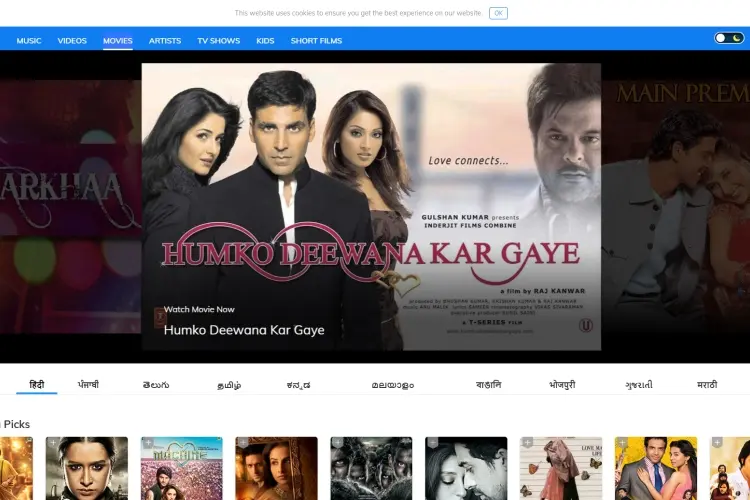 Hungama movies offer good quality movies and fast streaming. It is the ideal site for both new and old Bollywood movies. Interestingly, they also have a collection of over 3 million songs as well.
The site offers a wide variety of content, most of which are for free. For activities such as surfing through the platform, registering for an account, and listening to music, app users can make payment for these services using Hungama coins you've earned. Take advantage of the 30-day free trial.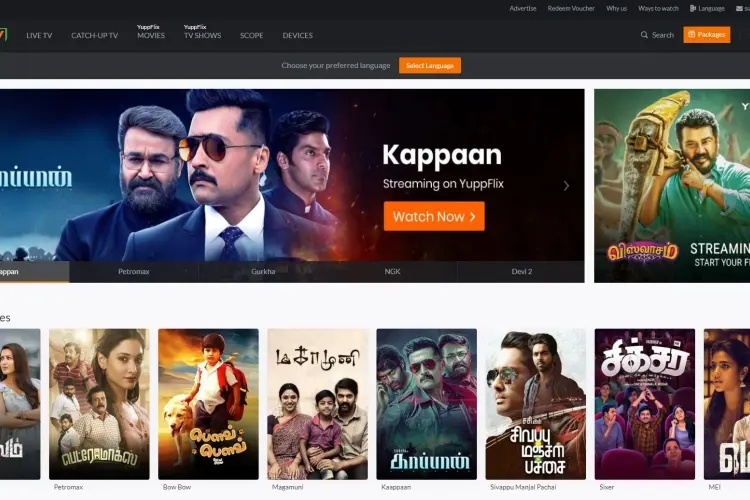 YuppFlix is a well-developed platform that lets users browse through an extensive movie collection. The movie collection on YuppFlix is available in Hindi and other languages. They also stream TV shows as well. The site offers a 14-day free trial for all users with 3 days in Malaysia and the Middle-East. The services they offer support to different devices, including Roku, iOS, Android TV, and PC. To access these services, you'll need to sign up, and of course, there are ads and different pop-ups too. If you wish, you can take advantage of their premium service.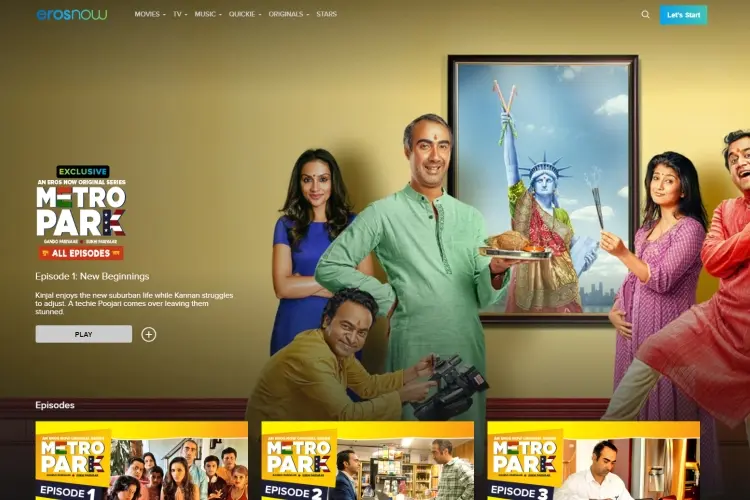 Eros Now is a top streaming site for Bollywood movies. The site is easy to use. One of the site's feature is that it lets you search for movies based on their titles, actors, and movie producers. The site has an impressive collection of regional movies and more importantly, Hindi movies. Asides the movies, they also offer music streaming platforms and TV shows.
The video quality of the movies and TV shows are decent. Also, the streaming speed is fast and reliable. The services they offer is supported by multiple devices and different platforms. You can access their service on Apple TV, Amazon Fire TV stick, PC, Android, and iOS.
They now offer a basic account. With your basic account, you will have access to a selection of free Hindi movies and TV shows. When you are opt-in for the premium service, you will get a 14-day free trial which will include their catalogue.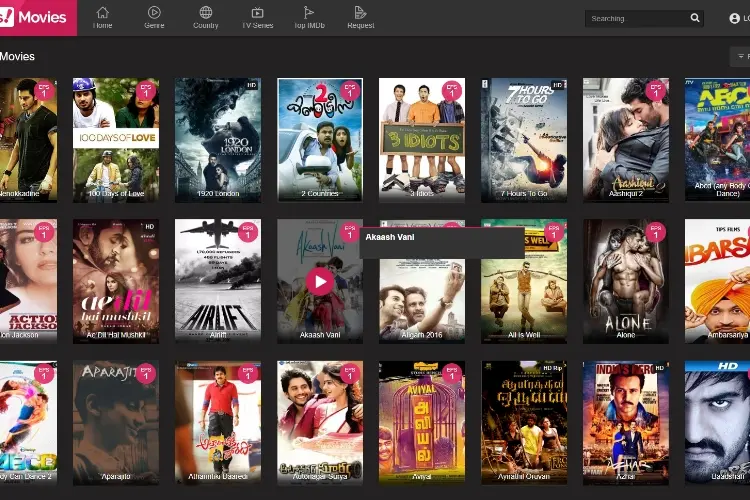 The last site on our list of best sites to watch Bollywood movies is "Yes Movies". The site is one of the oldest sites on our list. With Yes Movies, you don't have to download or sign up to gain access to their movie catalogue. However, the downside to the site is that most of the movie collection is old movies. If you are not a fan of classic Bollywood movies then move on the other websites. The site has ads and popups which can be distractive. It has over 5 streaming server links for every movie you wish to stream.
If we've missed any website, feel free to tell us about it in the comment section below. But these are some of the best sites to watch Bollywood movies. Leave your comment below, we'll be glad to read your opinion.